You are cordially invited to the last showcase at The Dark Room Theater. After over two years of some of the most unique and sensational comedic and musical performances, Snob Theater will be taking an extended hiatus. So to bring this show to a close, we have brought back some of our biggest supporters of our show as kind of an "All-Star" line up of comedians and musicians that have been with us since the beginning. We have brought back the hilarious Chris Thayer (Bridgetown Comedy Festival, Funny Shits), the charming Coree Spencer (Comedian on Comedian), the musical comedic stylings of Drennon Davis (SF Sketchfest, The Imaginary Radio Program), and all-around comedy legend Rick Overton (The Tonight Show, Late Night with David Letterman). Our musical guests will include the quirkiness of Foxtails Brigade's Laura Weinbach & Anton Patzner and the lovely and talented Debbie Neigher. This is your last chance to experience these artists in the intimate Snob Theater environment, in affect, seating is very limited. Thank you for supporting us for over 2 years and continuing to do so. This will not be without the usual special guests and surprises, so we hope to see your smiling face one last time.
Laura & Anton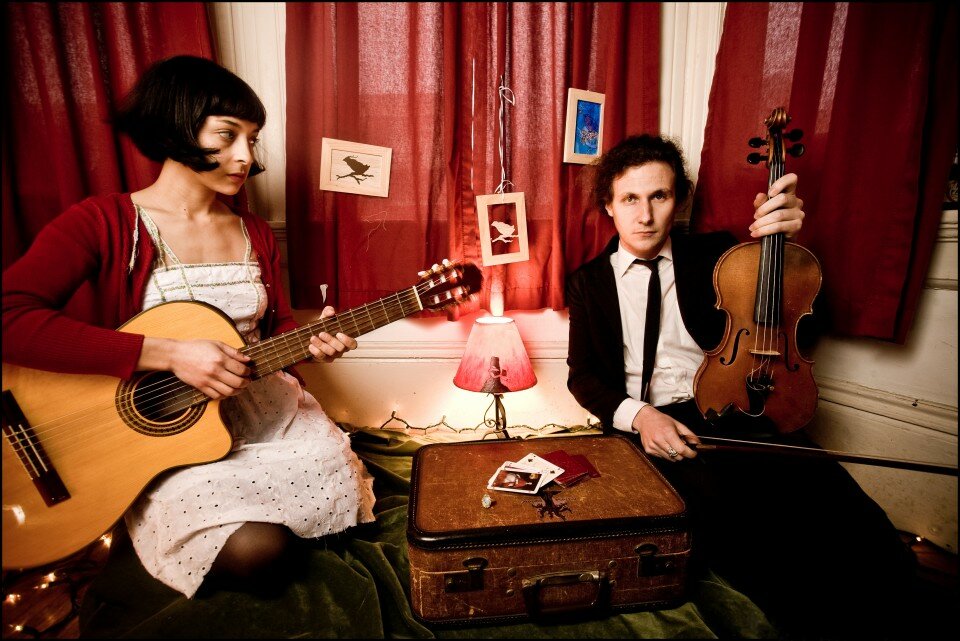 Crafted with care and covered in Victorian influence, Foxtails Brigade played Snob Theater in December of 2010 to packed house of stunned and entranced listeners. Fronted by guitarist/lyricist Laura Weinbach, her charm is not nearly as impenetrable as her cosmic poetry or, for that matter, the band's baroque-like music. The young Californian guitarist's latest album is an eleven-song piece that includes lush string arrangements by fellow band-member Anton Pazner (Judgement Day, The Devontionals) that drift nicely with Laura's combination of undeniable eloquence & flawless harmony. The result is an album that sounds unlike anything else. Entitled The Bread And The Bait, Laura and Anton will bring the album's magic to Snob Theater one last time. Be there to catch the charm. MP3: Laura & Anton – Day By Day from Reverie (2010)
Audio clip: Adobe Flash Player (version 9 or above) is required to play this audio clip. Download the latest version here. You also need to have JavaScript enabled in your browser.
Debbie Neigher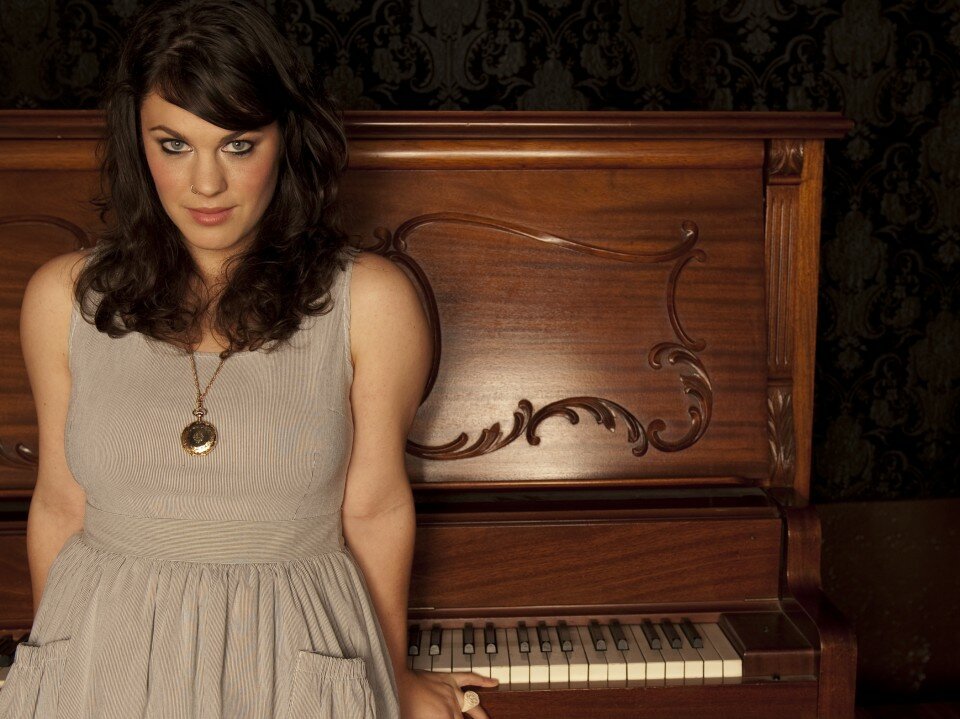 Since emerging on the San Francisco café circuit in 2009, this New Jersey-born artist has been hailed as a truly special talent. With an uninhibited imagination and acute sense of detail both in music and words, Debbie Neigher has gone from practicing on an out of tune piano in the living room of her parents house to hypnotizing growing crowds in San Francisco's Great American Music Hall. Continuing to showcase her amazing ability to turn the ordinary into the extraordinary with her unique and provocative vocal style and prodigious piano skills garnered through years of classical training, Neigher released her debut album, produced by John Vanderslice at Tiny Telephone Studio in San Francisco, last Spring to rousing critical acclaim. Debbie has performed at Snob Theater twice now and both times have left audiences speechless at her talent. She graces the stage one last time and we are very lucky to have her. MP3: Debbie Neigher – My My My from Debbie Neigher (2011)
Audio clip: Adobe Flash Player (version 9 or above) is required to play this audio clip. Download the latest version here. You also need to have JavaScript enabled in your browser.
COMEDIANS
  Our comedic line-up is full of comedians that have inspired the show and are very good friends and supporters of the Snob Theater vision. We have Chris Thayer who brings his unique stage presence and self depreciating jabs, with her quirky observations and brash sense of humor,  Drennon Davis with his Imaginary Radio music+comedy routine that amazes audiences, and all-around comedy legend Rick Overton, whose been in over 100+ film roles and have performed on The Tonight Show, Late Night with David Letterman, and Comedy Central and HBO. Also we have some impressive special guests lined up. Seriously, you don't want to be the one that missed this show.
Tickets are $10 ________ $1 off drink tickets will be provided for anyone willing to visit the nearby bars. ________ Doors open at 9:30pm Show starts at 10pm ________ The Dark Room Theater 2263 Mission Street, between 18th and 19th San Francisco, CA 94110 Call 415-401-7987 for info.