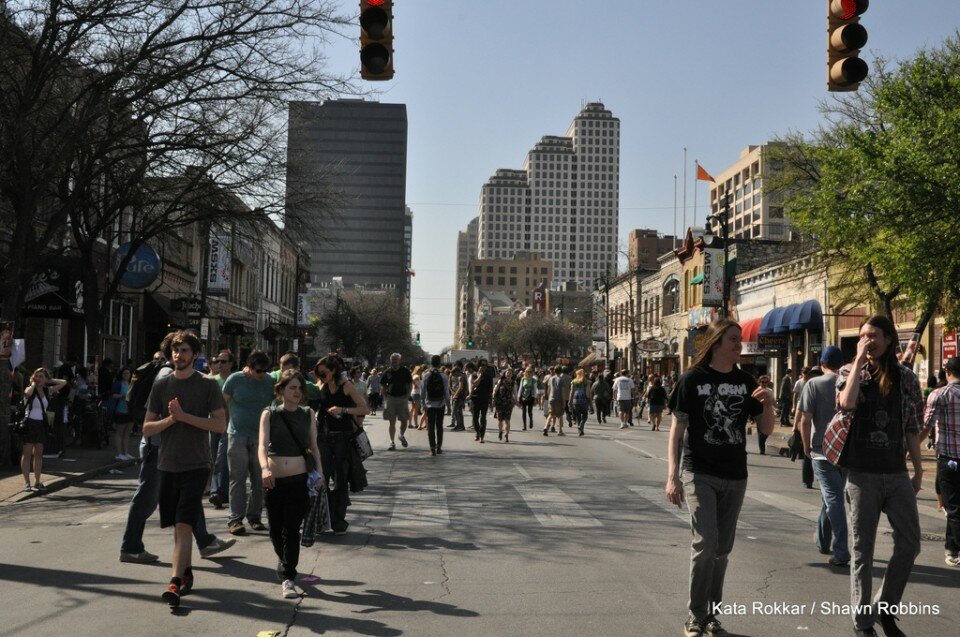 SXSW is pretty intimidating to those that want to trek across the musical Disney Land that is this crazy festival. To an audience member it's like a Cheese Cake Factory menu and your decision could end up being a serious mistake. Plus add long lines to shows you probably won't get into (The Roots, Fiona Apple, Grimes, Miike Snow, The Shins, etc) and the walking (OH THE WALKING!) from venue to venue can be daunting. Well we here at Kata Rokkar are going to make it easier for you to check out bands you might like. If you don't like one, well listen to another and maybe you'll like them. If you like none of the 15 bands I suggested on this post…we're no longer friends.
Anyway, this post is obviously Bay Area band heavy but some are just acts I've been digging for a few months now and would highly suggest you do the same. I mean, after you put down that Lone Star and breakfast taco. Take it easy on those by the way, your digestive system will thank you.
There a playfulness and youthful feel to Snowmine's afro-rock beats and brilliantly orchestrated pop cuts. But it feels mature already. Like they have already learned what makes their sound appealing and confidently exude it. Plus they created one of my favorite albums of 2011,  Laminate Pet Animal. With this new track though, the band seems to be ready for bigger things.
SEE THEM: Thursday March 15, 2012 8:00pm – 8:40pm @ Treasure Island 416 E 6th St, Austin, TX 78701
Audio clip: Adobe Flash Player (version 9 or above) is required to play this audio clip. Download the latest version here. You also need to have JavaScript enabled in your browser.
SNOWMINE – The Hill from LAMINATE PET ANIMAL (2011)
K.Flay; the Bay Area venom spitting hip hop chick is more than just your run-of-the-mill rapper girl. Her unique vocal style sounds furious, snarky, and gritty. Plus her hand picked beats that she performs on the spot during performances go from danceworthy to Sleigh Bells-style heaviness. She's one of a kind and it's about time people notice her talent.
SEE THEM: Wednesday March 14, 2012 8:00pm – 8:40pm @ Antone's 213 W. 5th St.
Audio clip: Adobe Flash Player (version 9 or above) is required to play this audio clip. Download the latest version here. You also need to have JavaScript enabled in your browser.
K.Flay – Stop, Focus from Eyes Shut EP (2012)
Producing light and atmospheric songs, Team Me posses a graceful beauty and create an epic sound with strikingly memorable tunes over which delicate vocals soar to angelic heights. Last year's To The Treetops! is a work of quiet brilliance, aiming for the epic without straying into the bombastic, offering cerebral arrangements while keeping things accessible. You pretty much can't go wrong seeing these guys.
Friday March 16, 2012 11:00pm – 11:40pm @ The Loft 215 E 6th St, Austin, TX 78701
Audio clip: Adobe Flash Player (version 9 or above) is required to play this audio clip. Download the latest version here. You also need to have JavaScript enabled in your browser.
Team Me – Show Me from To The Treetops! (2011)
Solo female singer-songwriter material can't get much more sincere than this. Jenny O. displays a special side of vulnerability that is rarely seen in the coffeehouse-singer scene and it's quite a thing of beauty. Her music is meant to be heard without interruption and taken for what is; a deeply spiritual unleashing of character that audience are bound to remember.
Saturday March 17, 2012 10:00pm – 10:40pm @ 512 Rooftop 408 E 6th St
Audio clip: Adobe Flash Player (version 9 or above) is required to play this audio clip. Download the latest version here. You also need to have JavaScript enabled in your browser.
Jenny O. – All My Wishes from Home EP (2010)

Ume, an Austin, TX staple band and one that the city will be forcing you to see one way or another (and for good reason), the band is a powerhouse of full rock madness. Front woman Lauren Larson makes playing live guitar into this kind of maniacal performance art that borders on utter insanity. The band is not without their ability to tone it down a notch (listen to "Gleam"), but within a split second, the band will unleash their powerful flying sidekick of a rock show on the masses.
Tuesday March 13, 2012 10:00pm – 10:40pm @ The Bat Bar 218 E 6th St
Audio clip: Adobe Flash Player (version 9 or above) is required to play this audio clip. Download the latest version here. You also need to have JavaScript enabled in your browser.
Ume – Gleam from A Benefit Dedicated to Esme (2012) 
It's easy to find the influences that paint the tracks of Teeel aka Jim Smith; exploring mashed-and-tight 80s slow jams, glistening dark funk, and turn-of-the-90s new age dance hits. He has straddled the line between passionate electro work and ironic twists, a trait which is very much appreciated in this over-saturated chill-wave genre. The music is also quite visual in it's execution and could easily be mistaken for a remix of the soundtrack to a 90s instructional video for how to tie a bow-tie.
Wednesday March 14, 2012 11:00pm – 11:40pm @ Buca Lounge 422 Congress Ave, Austin, TX 78701
Friday March 16, 2012 12:00pm – 12:30pm @ The Whiskey Room 503 E 6th St, Austin, TX 78701
Audio clip: Adobe Flash Player (version 9 or above) is required to play this audio clip. Download the latest version here. You also need to have JavaScript enabled in your browser.
Teeel – Triangle Waves from Amulet (2011)
Emily Jane White is gem of the San Francisco music scene. Her talents are hidden within our fog and only brought to surface by her rare US-tour appearances and frequent UK tours (they love her over there). I may have a bit of bias since we've had her on Snob Theater once already, which stunned our audience that night. Her dusty voice is not too far off from a Chan Marshall or Mazzy Star and her music is dark, dense, and always engaging. I highly recommend seeing her on a night that you want to wind down after a long week. She'll charm her way into your heart.
Wednesday March 14, 2012 2:20pm – 2:50pm @ Dominican Joe 515 South Congress Avenue, Austin, TX 78704
Saturday March 17, 2012 10:15pm – 10:50pm @ Maggie Mae's Gibson Room 512 Trinity St
Audio clip: Adobe Flash Player (version 9 or above) is required to play this audio clip. Download the latest version here. You also need to have JavaScript enabled in your browser.
Emily Jane White – The Law from Ode to Sentience (2010)
Seryn take the group aspect of Local Native-style chorus rock to an intriguing level. They offer a refreshing take on Texas folk-rock and blooms personality without much effort (so it seems). Seryn's sincere vocals are treated with melodic curvature and bendable harmonies, the breakdown turns from with-holding to cheerfully powerful. This band is on the cusp of breaking out and this festival ought to get them the push they need.
Friday March 16, 2012 1:00am – 1:50am @ Frank 407 Colorado St, Austin, TX 78701
Audio clip: Adobe Flash Player (version 9 or above) is required to play this audio clip. Download the latest version here. You also need to have JavaScript enabled in your browser.
Seryn – We Will All Be Changed from This Is Where We Are (2011)
As a Yellow Ostrich's song, Marathon Runner progresses, you slowly hear the band growing more comfortable in their tonier and hi-fi territory. Their new material is quite possibly the most gorgeous compositions they've created to date; Alex Schaaf offers an endearing and tender vocal performance, fitting his ease-into-Spring glow, while Marathon Runner adds a skipping, Costello note recalling a more early Dodos inquisitiveness while incorporating a newfound look to harmonizing vocal loops. We're looking forward to seeing how they pull it off live.
Tuesday March 13, 2012 11:00pm – 11:40pm @ The Bat Bar 218 E 6th St
Thursday March 15, 2012 8:25pm – 9:00pm @ Red Eyed Fly 715 Red River St Austin, TX
Friday March 16, 2012 4:15pm – 4:45pm @ Home Slice Pizza 1421 S Congress Ave, Austin, TX
Audio clip: Adobe Flash Player (version 9 or above) is required to play this audio clip. Download the latest version here. You also need to have JavaScript enabled in your browser.
Yellow Ostrich – Marathon Runner from Strange Land (2012)
We in the Bay Area have quote a few acts to be proud of when it comes to garage rock or hip-hop. But when it comes to melodic dance rock, we're kind of slim. That is, besides Geographer. Their new album, Myth, is exactly what we here in the Bay were looking for; a full length album that highlights the many strengths of this pretentionless and dance-worthy style that we have come to appreciate. Now go listen to them, it's easy to love.
Thursday March 15, 2012 11:00pm – 11:40pm @ Soho Lounge 217 E 6th St
Audio clip: Adobe Flash Player (version 9 or above) is required to play this audio clip. Download the latest version here. You also need to have JavaScript enabled in your browser.
Geographer – Age of Consent (New Order cover)
Avant-soul sounds weird in my head. But once you listen to THEESatisfaction's recently released track awE naturalE from their Sub Pop debut of the same name, you'll understand the growing hype behind this humble duo. The album is dropping on March 27 but you can still catch them at quite a few showcases this week. DO IT!
Thursday March 15, 2012 8:00pm – 8:30pm @ Kiss & Fly 404 Colorado St
Thursday March 15, 2012 10:00pm – 10:40pm @ Hype Hotel 504 Trinity Street, Austin, TX 78701
Friday March 16, 2012 11:00pm – 11:40pm @ Sony Club @ Red 7 611 E 7th St, Austin, TX 78701
Audio clip: Adobe Flash Player (version 9 or above) is required to play this audio clip. Download the latest version here. You also need to have JavaScript enabled in your browser.
THEESatisfaction – QueenS from awE naturalE (2012)
Once known as an instrumental version of The Mars Volta (many of the members are related to Volta guitarist Omar Rodriguez Lopez) , Zechs Marquise has taken on their own style of experimental psychedelic prog-rock and cranked up the weird. Their songs are sounding more akin to Battles and Holy Fuck with a healthy dose of crazy added to the mix. Seeing them live is no less amazing though. If you haven't seen this band in the flesh, it's time you witness the fury of this talented group.
Friday March 16, 2012 2:00pm – 2:30pm @ Musicmakers 517A S Lamar Blvd, Austin, Texas 78704
Friday March 16, 2012 12:00am – 12:40am @ Flamingo Cantina 515 East 6th Street Austin, TX
Saturday March 17, 2012 12:05am – 12:45am @ The Bat Bar 218 E 6th St
Audio clip: Adobe Flash Player (version 9 or above) is required to play this audio clip. Download the latest version here. You also need to have JavaScript enabled in your browser.
Zechs Marquise – Lock Jaw Night Vision from Getting Paid (2011)
Most bands with a large amount of members use it as an excuse to run around and act silly on stage. Typhoon on the other hand, utilizes each member as one cohesive entity that comes together like one huge marching band of indie rock (or whatever) awesomeness. The band is not unlike the name; a "Typhoon" of sounds that come together in one giant windy mass of harmonies. It shouldn't work, but it does.
Wednesday March 14, 2012 11:00pm – 11:30pm @ The Grackle 1700 E 6th St., Austin, TX 78702
Friday March 16, 2012 3:05pm – 3:35pm @ Home Slice Pizza 1421 S Congress Ave, Austin, TX
Sunday March 18, 2012 12:00am – 12:40am @ Swan Dive 615 Red River St
Audio clip: Adobe Flash Player (version 9 or above) is required to play this audio clip. Download the latest version here. You also need to have JavaScript enabled in your browser.
Typhoon – The Honest Truth from A New Kind Of House (2011)
The San Francisco birthed / now Austin, TX natives are tearing up the beach rock genre with intimidating force. Agent Ribbons have matured into a fine-tuned rock n' roll juggernaut that is both genre-defining and sonically daring. It's like Best Coast went rockabilly and I mean that in the coolest sense possible.
Sunday March 18, 2012 1:00am – 1:50am @ Maggie Mae's Gibson Room 512 Trinity St
Audio clip: Adobe Flash Player (version 9 or above) is required to play this audio clip. Download the latest version here. You also need to have JavaScript enabled in your browser.
Agent Ribbons – I'm Alright from Chateau Crone (2010)
Portland breeds some weird folkish bands, that's no surprise. But the worldly instrumentation and ethereal harmonies that project from Y La Bamba is unlike anything I've ever heard. The band meshes so many types of music like Depression era bluegrass, 50s soul music, and a Fellini-like style that epitomizes that very reason people go to SXSW; to witness something different.
Wednesday March 14, 2012 3:15pm – 4:00pm @ The Red Eyed Fly 715 Red River St, Austin, TX 78701
Wednesday March 14, 2012 5:30pm – 6:00pm @ The Grackle 1700 E 6th St., Austin, TX 78702
Friday March 16, 2012 12:10pm – 12:19pm @ Ballroom G Day Stage Austin Convention Center 500 E Cesar Chavez St.
Sunday March 18, 2012 12:05am – 12:40am @ Maggie Mae's Gibson Room 512 Trinity St
Audio clip: Adobe Flash Player (version 9 or above) is required to play this audio clip. Download the latest version here. You also need to have JavaScript enabled in your browser.