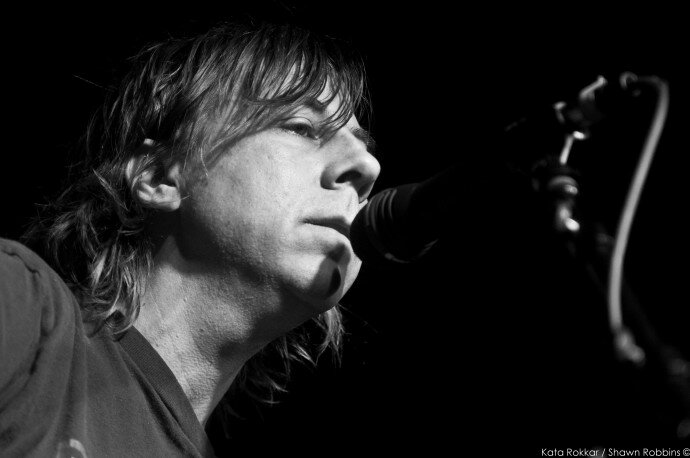 It's Day 3 of Noise Pop Music Festival and I'm not yet feeling tired of the nonstop musical onslaught that has descended on this fair city of mine. Thursday found me at the Bottom of the Hill with local superstars John Vanderslice and Thao Nyguen with local unknowns Garrett Pierce and Bird by Snow. First off, I love the vibe of a Vanderslice show; it's always very positive, non-pretentious, and welcome. So naturally I already knew what to expect from the headliners.
I arrived just in time to see the last song of Bird by Snow. All I could generate from the song was that it's heavily layered psych folk that's probably not that accessible. The band's sound is about as weird as their marketing techniques as they just released their latest EP on cassette. More power to them.
Audio clip: Adobe Flash Player (version 9 or above) is required to play this audio clip. Download the latest version here. You also need to have JavaScript enabled in your browser.
Bird by Snow – Lovers On Our Backs from Songbread/Another Ocean (2009)
Next up was Davis, CA act Garrett Pierce. I got a Vetiver / Bowerbirds feel from these guys as they played a healthy variety of sweet mellow numbers and a few power pop tunes that could easily fit in a mixtape involving the latest and greatest of the alternative folk genre. Pierce proceeded to ask the audience if they enjoyed TLC…just for shits. They didn't play a cover or anything; he just wanted to know if the crowd was cool enough to hang out with. So add their classic indie folk sound to their ridiculous stage banter and you've got a well oiled rock band ready for the road.
Audio clip: Adobe Flash Player (version 9 or above) is required to play this audio clip. Download the latest version here. You also need to have JavaScript enabled in your browser.
Garrett Pierce – Everybody Breaks from Everybody Breaks EP (2011)
Next up, John Vanderslice. Joining him were members of the Magic*Magic String Quartet and super drummer Jason Slota (drumming and play a Moog at the same time) as they provided a perfect backdrop to songs from last year's White Wilderness and classics from Pixel Revolt and Cellar Door. Trust me when I say listening to Promising Actress with a string quartet never gets old.
In addition, John displayed his skill at just shredding his ass off as the crowd grinned in response. You can't help but admire his on-stage imagination with each song and his visible care to the quality of his performance. He even had to redo the end of a specific song so he could "sleep tonight." Bless this man.
Audio clip: Adobe Flash Player (version 9 or above) is required to play this audio clip. Download the latest version here. You also need to have JavaScript enabled in your browser.
John Vanderslice – Pale Horse from Cellar Door (2009)
Audio clip: Adobe Flash Player (version 9 or above) is required to play this audio clip. Download the latest version here. You also need to have JavaScript enabled in your browser.
John Vanderslice – Trance Manual from Pixel Revolt (2005)
Finally Thao took the stage with her Get Down Stay Down band. I was only able to stay for the first three songs due to an early wake the following morning, but from what I saw, she murdered. Opening with Body, Thao showcased her wild and ferocious stage presence to the highly energetic crowd with ease. It is always stunning to watch her ability to simply let loose like she does. Plus it's pretty hot…just putting that out there. Anyway, I wish I could have stayed and with rumors of Vanderslice hitting the stage to join her, it probably ended well.
Audio clip: Adobe Flash Player (version 9 or above) is required to play this audio clip. Download the latest version here. You also need to have JavaScript enabled in your browser.
Thao with The Get Down Stay Down – Bag Of Hammers from We Brave Bee Stings and All (2008)