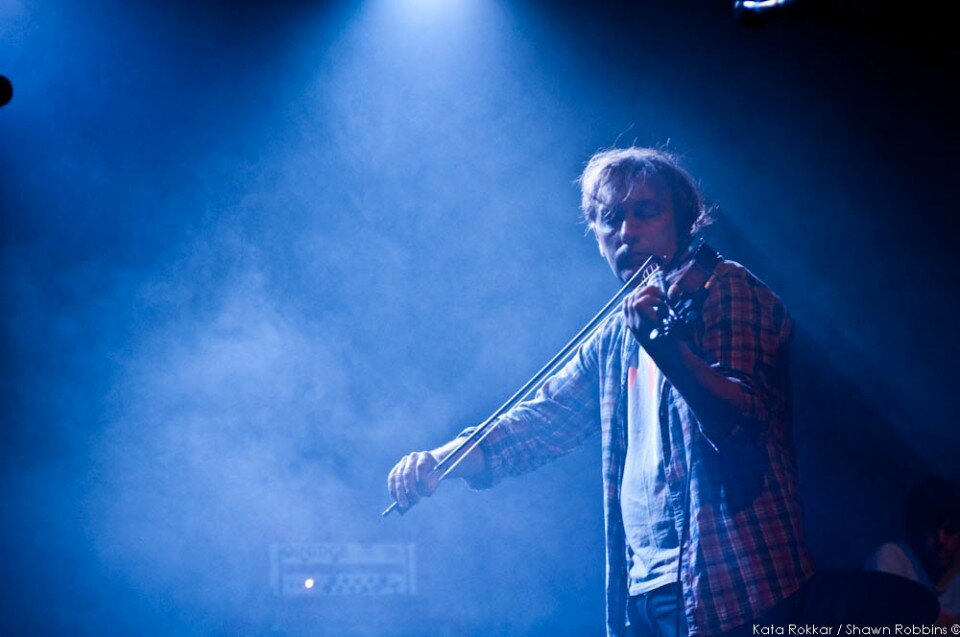 I entered the slightly packed Regency Ballroom with minimal knowledge of what Yann Tiersen is like in a live setting. All I knew were his heartbreaking and simplistic compositions for the films Amélie and Good Bye Lenin. I did have a few tracks from 2010's Dust Lane, but I don't remember if I particularly enjoyed it enough to return to it. After carefully doing my research on his recent album, Skyline, I realized his non-soundtrack material is significantly different but no less engaging and cinematic.
Opening was Portland, OR avant-soul act Like A Villain aka Holland Andrews. I use the word "soul" loosely due to fact that once she began a song, it would separate in all sorts of directions and somehow merge back into the base of it's beginning like an enormous swarm of swallows. Andrews is most definitely a trained singer and in the most intimidating way. Either operatic or choral, she uses her training as the forefront of her quirky and almost Wes Anderson-like music which only includes clarinet and xylophone. It's very Medúlla-era Björk and it easily silences a room in seconds once her voice launches into the next song. It was quite impressive to see this tiny woman command the Regency Ballroom on her own; something I hope she never gets used to.
MP3: Like A Villain – Dead Gone, Dead Drunk from The Life of a Gentleman (2010)
Audio clip: Adobe Flash Player (version 9 or above) is required to play this audio clip. Download the latest version here. You also need to have JavaScript enabled in your browser.
With seven albums and three soundtracks under his belt, Yann Tiersen presented an epic presentation of his work to the eager Regency crowd. Opening with Till The End, from the insanely layered folk-instrumental album Dust Lane, Yann and crew held up the momentum with a large portion of the album opening up the show. Palenstine, Amy , and the aptly titled Fuck Me added to the Dust Lane-heavy set list. The show got more interesting once the massive Monochrome from the amazing 2008 double live album C'était Ici was performed. It wasn't until after the gentle piano of Rue Des Cascades did they finally get into in the new album, Skyline. The post rock epic mood of Another Shore felt like it should have opened the show rather than be thrown in the middle of the set. Yann's real talent emerged when he would stand solo on stage and bust out the violin with the bludgeoning song, Le Train. For a guy that looks like he's battling his 50s, the guy can seriously shred a violin.
Yann closed with a few more tracks from Skyline; the calming Monuments, the avant-drone-like Vanishing Point, and the joyful Exit 25 Block 20. The inevitable encore occurred after some lengthy applauding, however, once the encore started, it felt like a second act. Four full songs including Simon & Garfunkel-esqe I'm Gonna Live Anyhow, the rushing and atmospheric Forgive Me, and another ferocious solo performance of Le Quartier. No music from either soundtrack was played and each song did not exceed 5 minutes. This was a show for the fans that may have jumped on board the Yann-Train a few years ago and for those that have appreciated what this dirty looking French man has to offer since his beginning. I was quite surprised and will definitely seek out more of his material now that I know his potential to put on a decent live show.