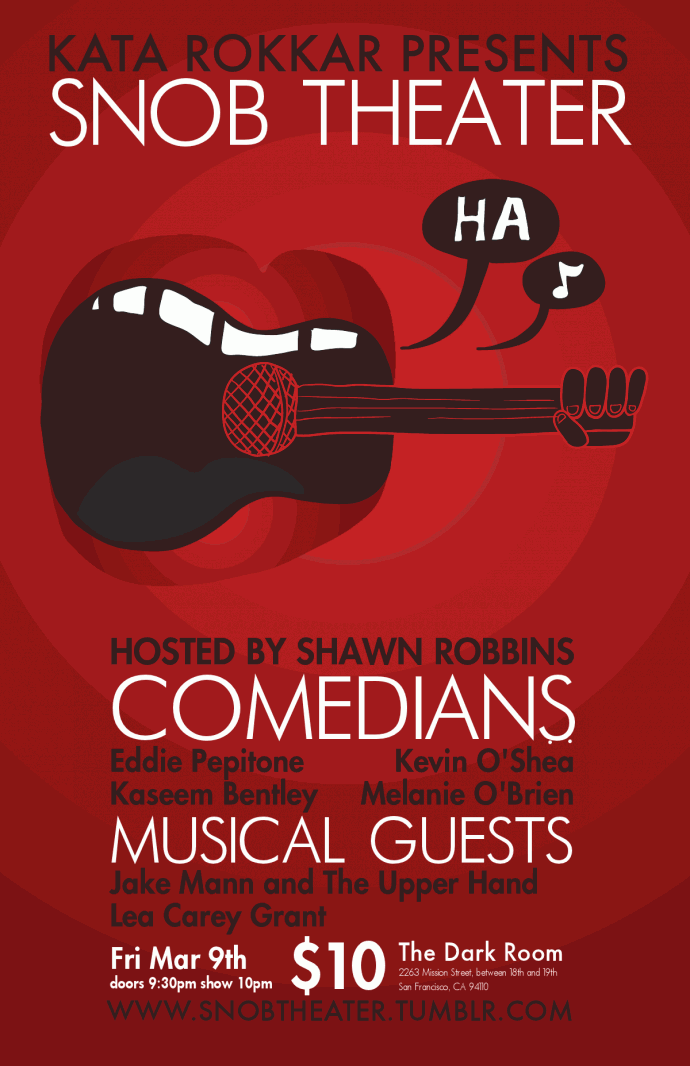 We here at Kata Rokkar are excited to return to The Dark Room Theater for another installment of of the indie rock & stand-up comedy variety show, Snob Theater. The line-up for this Snob Theater is a stellar display of comedic talent and local musical prowess; comedians Eddie Pepitone (CONAN, It's Always Sunny in Philadelphia, The Sarah Silverman Program, Jimmy Kimmel Live, Last Comic Standing, and Chappelle's Show), Kevin O'Shea (SF Sketchfest, Bridgetown Comedy Festival), Kaseem Bentley (Bay Area's "Top 5 Comedians to Watch" by the San Jose Mercury News) and Melanie O'Brien. In addition we are fortunate to feature power pop-influenced rock act Jake Mann & The Upper Hand and the soulful melodies of Lea Grant to bring the tunes.
Jake Mann & The Upper Hand
Jake Mann is exactly what the Bay Area music scene needs; a lyrically intelligent power-pop rocker with a true passion for texturized song structure. On his second full-length album, Jake Mann emerges from the lo-fi 80 rock-pop to reveal an impressive songcraft and passion that makes this album so mysteriously fascinating. Parallel South is an album that confirms what we only suspected before: Jake Mann and The Upper Hand deserves more attention than they receive. Their live shows have mastered the pop alchemy and morphing the frustration of impatient youthful desires and a hostile world into relatable vocals and driving, melodic guitar riffs. You can see the band do a rare acoustic performance at Snob Theater this Friday…
Audio clip: Adobe Flash Player (version 9 or above) is required to play this audio clip. Download the latest version here. You also need to have JavaScript enabled in your browser.
Jake Mann & The Upper Hand – Get What You Came For from Parallel South (2011)
Lea Grant
Lea Grant is a complicated thing in a seemingly simple package. On first hearing, she's a bright and shiny young singer-songwriter, with her fingers on her piano, her voice in a jazz club, and her head in the sky. But very few Bay Area singer-songwriters, young or old, can flip pull the vulnerability and wistful, journeying heartbreak between lyrics and still sound fresh. Very few can do all that and leave an audience with enchantment, curious romance and a desire to hear more. Lea's songs are built around her own expansive imagination that lifts you up while being sparkly, cinematic, haunting, weird. She mixes heartfelt emotion with expressive optimism and a warmth that calms even the most cynical listener.
In addition, Lea Grant is in the process of creating her first full length album entitled, Cities of Snow. Watch the Kickstarter campaign video above and toss in a couple of shekels to support a young local artist. Or even better, swing by Snob Theater on Friday and see her perform.
Audio clip: Adobe Flash Player (version 9 or above) is required to play this audio clip. Download the latest version here. You also need to have JavaScript enabled in your browser.
Lea Grant – Avalon from Earthbound EP (2010)
COMEDIANS
Eddie Pepitone "Let's Order In" from CleftClips on Vimeo.
Eddie Pepitone's aka The Bitter Buddha's live performances are something to behold. It's a barrage of emotion and frustration from this man is enough for one to ruminate over life's meaning while laughing uncontrollably. You might have seen him on Conan, It's Always Sunny in Philadelphia, or maybe The Sarah Silverman Program, but if you choose to see him, see him this Friday with Snob Theater comedic alumni Kevin O'Shea and Melanie O'Brien as well as San Jose Mercury News' "Top 5 Comedians to Watch" Kaseem Bentley .
________
Friday, March 9th, 2012
Doors open at 9:30pm
Show starts at 10pm
_______
2263 Mission Street, between 18th and 19th
San Francisco, CA 94110
Call 415-401-7987 for info.
_