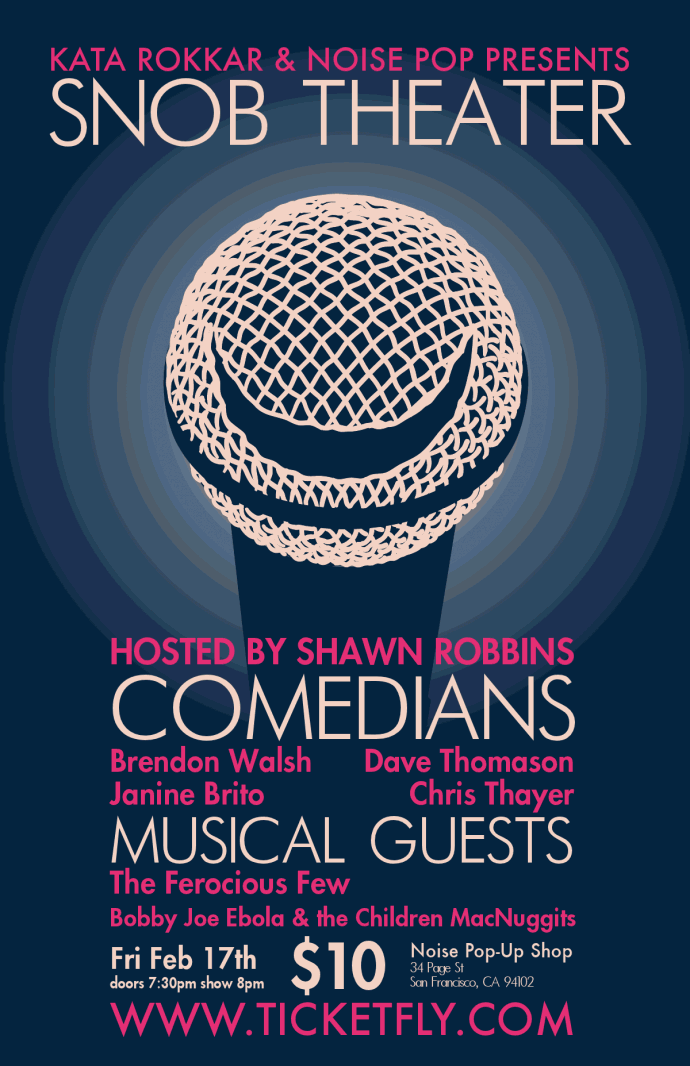 We here at Kata Rokkar and Snob Theater are back and working with the 20th Anniversary of Noise Pop Music Festival. The line-up for this Snob Theater is a classic example of comedic talent and local musical prowess; comedians Brendon Walsh (Comedy Central, Jimmy Kimmel Live), Janine Brito (Laughter Against The Machine), Dave Thomason (Aspen Comedy Festival) and Chris Thayer (SF Sketchfest). In addition we are fortunate to feature local folk-punk duo Bobby Joe Ebola & The Children MacNuggets and the kinetic powerhouse rockers The Ferocious Few to bring the tunes.
The Ferocious Few
Francisco Fernandez and Daniel Aguilar; once a duo rocking their hearts out on the corner on SF streets and winning over fans one by one. Now a full fledged rock band, the spirit on FF still lives on with 2010's Juices and their new fist-fight of a rock n' roll show. This is a new boost in energy for Snob Theater, but we are welcome to have the boys enter the Noise Pop-Up Shop and completely slaughter the crowd. Get ready to be impressed.
Audio clip: Adobe Flash Player (version 9 or above) is required to play this audio clip. Download the latest version here. You also need to have JavaScript enabled in your browser.
The Ferocious Few – Kathleen from Juices (2010)
Bobby Joe Ebola & The Children MacNuggets
Bobby Joe Ebola and The Children MacNuggits; the men, the legends, are a mighty duo that have developed a significant following since their forming in 1995. Guitarist Dan Abbott and singer Corbett Redford have spread their brand of social commentary comedy and catchy folk punk playing with the likes of !!!, Long Beach Dub All-Stars, Bouncing Souls, Kevin Seconds, and Against All Authority. They are also credited with forming S.P.A.M. Records which is responsible for the early releases of Gravy Train, Fleshies, and Rock and Roll Adventure Kids. Just releasing their third full-length (and first in ten years), F, via Silver Sprocket, the album features the likes of Jesse Luscious (Blatz), John Geek (Fleshies, Triclops), and members of Your Mother, Mystic Knights Of The Cobra, bicycle dance troupe the Bay Area Derailleurs and comedian and Snob Theater veteran Alex Koll. We are immensely excited to feature these guys once again at this Friday's Snob Theater.
Audio clip: Adobe Flash Player (version 9 or above) is required to play this audio clip. Download the latest version here. You also need to have JavaScript enabled in your browser.
Bobby Joe Ebola & The Children MacNuggits – The Only Difference from F (2011)
COMEDIANS
If you haven't seen Brendon Walsh's hilarious comedic routine, you probably haven't laughed so hard you can't control your body movements. You might have seen him on John Oliver's New York Comedy Show on Comedy Central or maybe Jimmy Kimmel Live, but if you choose to see him, see him this Friday with Snob Theater comedic alumni Janine Brito, Dave Thomason, and Chris Thayer.
________
Keep in mind this show will start at 8PM at The Noise Pop-Up Shop at 34 Page Street.
Food will be provided by Soul Groove Chicken & Waffles
Drinks will be provided by Stoli
________
Friday, February 17th, 2012
Doors open at 7:00pm
Show starts at 8pm
________
34 Page Street
San Francisco, CA 94111