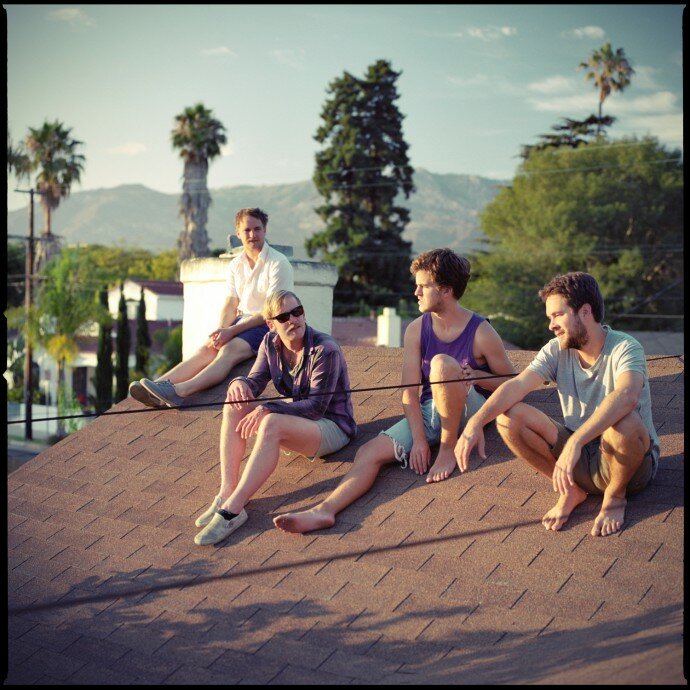 Much happens on the debut album from this Santa Barbara art-pop act and it all unfolds so beautifully and colorfully that you would be hard-pressed to complain. Using slow-motion rhythms, affectionate vocals and dreamy synthesizing keys (oh and a politely inserted flute) Gardens & Villa's self titled album attempts to pull together a set of ethereal melodies. Meanwhile, the band comes up with a spellbinding collection of songs that in its best moments recalls the dancier moments of dream-pop predecessors the Human League and Mazzy Star. Recorded at labelmate Richard Swift's Oregon studio, this would explain why so many of the songs–especially standouts like "Space Time" and "Black Hills"–have such a convincingly carefree and bright feel. Did I mention they play all aspects of the record live without pre-recorded loops? Paint me impressed.
This week Gardens & Villa will embark on a North American tour, sharing dates with both The Shins and Fanfarlo. Not only will be you be able to see the boys in San Francisco on February 9th at the Rickshaw Stop, but also at some of the major festivals happening this year. After a stint at the Snowball Music Festival, the boys will head to perform at 35 Denton Festival, SXSW, Coachella, and finally end their tour with Sasquatch!
You can also purchase their debut album here.
This week's Kuestionnaire is graced by bassist Shane McKillop as he shares an interesting outlook to his own life 7 years from now…
_________________________________________________________________________
1. Could you state your name and what you do in the band?
Shane, bass, harmonies, guitar, cable router
2. How would you describe your sound?
New Wave Pysche Pop- The Kinks meets the Human League meets an 80's Donna Summer. Velvet Leggings
3. What is your favorite local band?
My favorite new band in Sb would have to be House of Wolves. It's the solo project of a friend of ours name Rey Villalobos and his new record is incredible.
4. Any concerts that blew your mind recently?
Hands down our favorite performance in the last year was probably seeing Shabazz Palaces in Barcelona while we were there for the Primavera Club tour. His record is phenomenal and his performance was very lighthearted and sexy and fun. There were smiles all around. We went up to the stage afterwards for the obsessed fan hand shake before he left backstage.
5. Any non-musical influences you would like to mention?
While I was in Europe I was inspired by all of the Occupy Movements. There seems to be so many different viewpoints as to whether what they are doing is worthwhile or an ineffective. It was inspiring to watch the different effects across different countries as we were on tour. It opens the dialogue for how we want to live in our world. I'm not sure I'm ready to write protest songs, but I love feeling the sense of awakening in the world.
6. If your music was to be the theme of a film/TV show, what would it be?
PBS' Downton Abbey. It may take a few years to write a better intro theme than they already have, which is super epic. That or Gossip Girl.
7. What musician/artist would you like to collaborate with for a day?
I'm a huge Jon Brion fan, his production just makes me swoon. But I'm also becoming a huge Nite Jewel fan, I think we could make a great musical baby together.
8. What is the album you listen to on a cold rainy day?
Elliot Smith- XO
9. List four songs you would listen to on a roadtrip?
War on Drugs, War on Drugs, War on Drugs, War on Drugs. But for the sake of this interview, I would also have to include some Bruce Sprinsteen, " State Trooper", Amy Grant's "Baby Baby" gets me going, and perhaps some new Little Dragon like "Nightline".
10. Where do you see yourselves in 7 years?
I see myself living in a commune deep in the forests with my family where I would have strategically placed yurts nestled into the woods of Oregon or Santa Ynez, CA where the only access for communication is by horses on a dirt road. I would have a big ass dog, like an akita or newfoundland. I want to be recording alot of music and heading out on the road for shows as much as possible. I just hope to have enough time to perfect the craft of making goat cheese and hand made artisan soaps. The simple life really.
11. What is the last book you read?
Hocus Pocus by Kurt Vonnegut. It wasn't one of my favorite books of his, but all of his works are incredibly well written and fun to read. I haven't been able to read a better book than Narcissus and Goldmund by Herman Hesse.
12. Is image a factor in music or is it a waste of time?
(no answer)
13. Any embarrassing moments on stage you would like to share?
Pretty much every night I'll sing with my eyes closed, then I'll accidentally hit my face on the mic and I'll jolt out of reflex. It's really hard to play off like it's intentional. It's super disorienting and really funny to see peoples expressions. My jobs pretty easy though, nobody really pays attention to the bass player. All eyes are on Chris our singer, I let him take care of looking foolish.
14. Any favorite tour locations?
In America, we always look forward to San Francisco, Kansas always love to show that they're the real deal, and Brooklyn. Dublin was off the hook too.
15. Lastly, what is your present state of mind?
Scattered, trippy, aloof. We've been in Portland in the dead of winter writing music in a basement every day for 8-10 hours. I've been drinking alot of 40's and eating really good food. We've got some good chef's in our band and our housemate Brandon, who plays in Hosannas, has some skills in the Kitchen to. Food comas, Beer Buzz, and the spinning head with too many musical ideas popping in and out. I couldn't be happier

_________________________________________________________________________
Black Hills by Gardens & Villa from Secretly Jag on Vimeo.
Audio clip: Adobe Flash Player (version 9 or above) is required to play this audio clip. Download the latest version here. You also need to have JavaScript enabled in your browser.
Gardens & Villa – Spacetime from Gardens & Villa (2011)
Audio clip: Adobe Flash Player (version 9 or above) is required to play this audio clip. Download the latest version here. You also need to have JavaScript enabled in your browser.