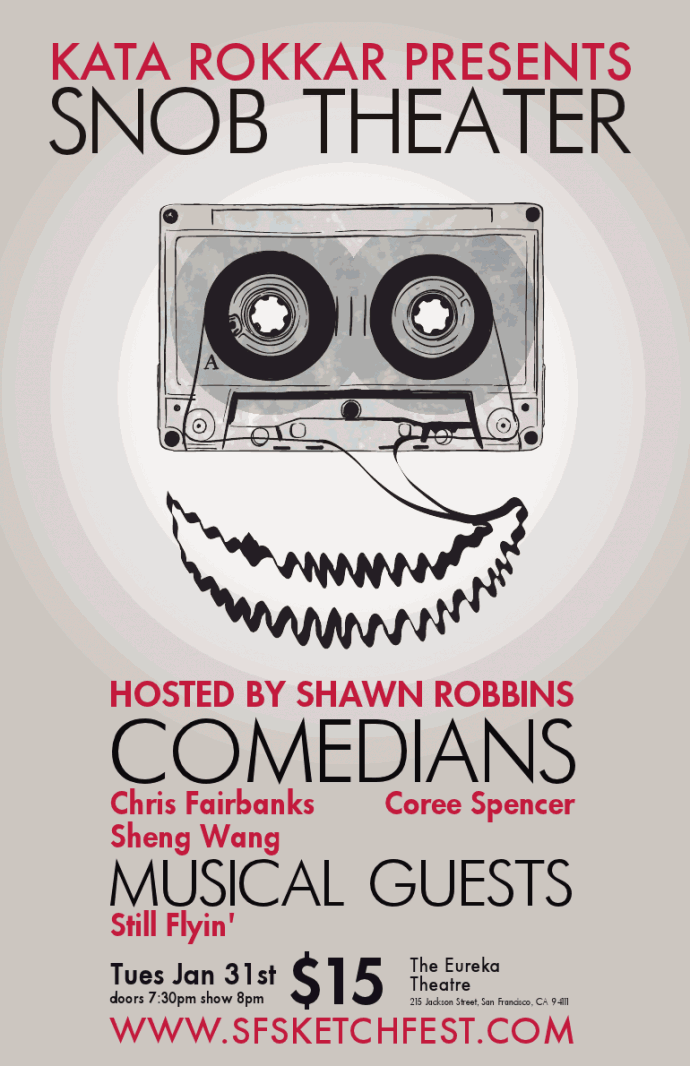 We here at Kata Rokkar and Snob Theater are honored and privileged to be involved in the prestigious comedy festival, the one and only San Francisco Sketchfest. The line-up for this Snob Theater is beyond ridiculous; Chris Fairbanks (Fuel.tv, The Daily Habit), Sheng Wang (Comedy Central Presents, Comedians of Comedy), and Coree Spencer (Bridgetown Comedy Fest, Comedian on Comedian). In addition we are lucky to be featuring local indie pop heroes and all-around amazing supergroup Still Flyin' to bring the tunes to this epic event.
Still Flyin'
Besides being a staple in Bay Area indie pop and a hand picked choice to open for Architecture In Helsinki and Jens Lekman on their West Coast tours, Still Flyin' is mainly known for their spiritual live shows. Their shows force local indie scenesters to rush to the dancefloor, the outfit headed by singer/songwriter Sean Rawls as he serves up a stiff cocktail of punk, dance, and funk with his collective of misfit musicians. Analog synths, chugging basslines, chunky guitars, and Rawls's earnest lyrical excursions are the foundation to the heavily chorused voices that demand crowd involvement. They also performed one of my all time favorite Daytrotter Sessions.
We can't wait for you guys to experience the party that is Still Flyin'.
Audio clip: Adobe Flash Player (version 9 or above) is required to play this audio clip. Download the latest version here. You also need to have JavaScript enabled in your browser.
Still Flyin' – All Lips from Daytrotter Studio Recording (2010)
Audio clip: Adobe Flash Player (version 9 or above) is required to play this audio clip. Download the latest version here. You also need to have JavaScript enabled in your browser.
Still Flyin' – Good Thing It's a Ghost Town Around Here from Never Gonna Touch The Ground (2009)
Audio clip: Adobe Flash Player (version 9 or above) is required to play this audio clip. Download the latest version here. You also need to have JavaScript enabled in your browser.
Still Flyin' – Rope Burn from Time Wrinkle EJ (2006)
COMEDIANS
The comedian line-up is beyond fantastic for this show. First up we have local favorite Coree Spencer who is known for her nonsensical interviews with Sarah Silverman, David Cross, and The Cast of Reno: 911!. Next we have San Francisco comedy alumni Sheng Wang who appeared on Comedy Central's Live at Gotham and attended the 'Just for Laughs' comedy festival in Montreal. His half hour Comedy Central special aired in 2011. NBC recently awarded him with a one year holding deal in 2011. And Finally we have the very funny Chris Fairbanks, who took first place in 2003's Funniest Person in Austin contest, attended Montreal's Just for Laughs festival in their "New Faces" showcase, starred as "Randy" on the MTV reality series The 70's House, as well as numerous un-aired MTV pilots, received 1st runner-up in Comedy Central's Laugh Riots contest, and has appeared on Jimmy Kimmel Live and Comedy Central's Premium Blend, as well as Season 7 of NBC's Last Comic Standing. He currently is an action sports correspondent for the Fuel TV network. He also recorded one of my favorite comedy albums, Fairbanks!, which is available now on iTunes.
Audio clip: Adobe Flash Player (version 9 or above) is required to play this audio clip. Download the latest version here. You also need to have JavaScript enabled in your browser.
Chris Fairbanks – Fax Attacks and I.D. Theft from FAIRBANKS! (2009)
________
Keep in mind this show will start at 8PM at The Eureka Theater and not The Dark Room.
________
Tuesday, January 31st, 2012
Doors open at 7:30pm
Show starts at 8pm
________
The Eureka Theater
215 Jackson Street
San Francisco, CA 94111