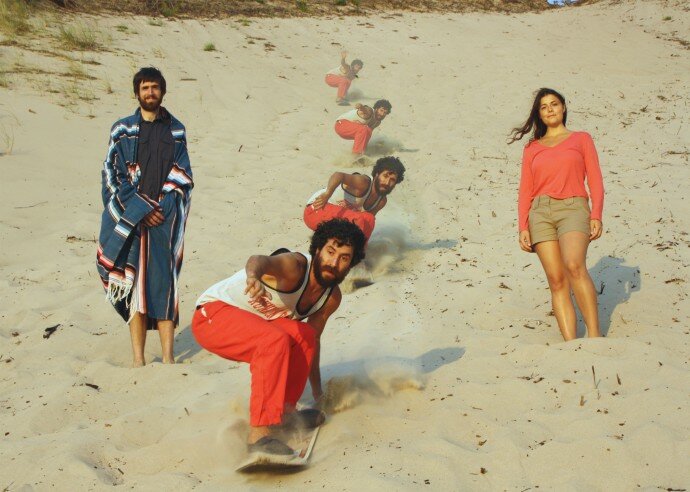 It seems the only way to break out creatively in this over-saturated music scene is to branch out and expand past a simple recorded album paired with a tour. Enter Breathe Owl Breathe; who is currently touring with Laura Gibson in support of their combination children's book and vinyl 7″, The Listeners/These Train Tracks. Their 2010 full-length Magic Central reached a kind of fruition on a modest scale and really only displayed a fraction of the creative prowess of Micah Middaugh (guitar, vocals), Andréa Moreno-Beals (cello, vocals) and Trevor Hobbs (percussion). The children's book project was apparently three years in the making; guitarist/vocalist Micah Middaugh carved each wood cut by hand and provided the template for the book's illustrations.
You can purchase the combination children's book and vinyl 7″, The Listeners/These Train Tracks here. If you look at the pictures, you'll see that the package is quite elaborate.
You can also catch the band at the Bottom of the Hill in San Francisco on February 6th with Laura Gibson. Ticket available here.
This week's Kuestionnaire stars BOB-drummer Trevor Hobbs as he shares probably one of the best answers to question #10.
_________________________________________________________________________
1. Could you state your name and what you do in the band?
Trevor Hobbs- drums, percussion, piano, keyboards, samples.
2. How would you describe your sound?
Poetry of characters living the silent life looking out on landscapes from above
3. What is your favorite local band?
Soil and the Sun- I think they are based out of Grand Rapids, MI
4. Any concerts that blew your mind recently?
This summer, at Pickathon festival in Happy Valley, OR, I saw Future Islands for the first time. I can't really say anything more.
5. Any non-musical influences you would like to mention?
I'm generally interested in most media that bridges the gap between the arts and sciences. I'm a geomorphologist- that means I study the evolution of landscapes, from the perspective of soil formation. I'm influenced by this in the sense that it is the lens through which I see the lands we travel. When I've felt a sufficient amount of mental exercise in this realm, I feel more relaxed, and musical ideas and expression comes much easier to me.
6. If your music was to be the theme of a film/TV show, what would it be?
It would be a film about a lone traveler traversing the Northwest Passage in a birch bark canoe. He is unsure of what he is searching for, but has a strong need to move. There would be chance meetings with other characters along the way. They would earn his trust, he would earn theirs. And there would be yet others to compete with and conquer, by way of sport challenges.
7. What musician/artist would you like to collaborate with for a day?
John Cage
8. What is the album you listen to on a cold rainy day?
Simon & Garfunkel. Wednesday Morning, 3 a.m.
9. List four songs you would listen to on a roadtrip?
"The Blessed Breeze"- The Fruit Bats
"You Have No Love"- Ben and Bruno
"Jim Cain"- Bill Callahan
"Gold Teeth"- Little Wings
10. Where do you see yourselves in 7 years?
We will be on a cross country ski trail in the thick of winter. Micah will look back and say, "I've got a crazy idea". I will think about how it can work. Then we will laugh and take turns down the hill.
11. What is the last book you read?
The 3rd Industrial Revolution, by Jeremy Rifkin
12. Is image a factor in music or is it a waste of time?
If by image you mean the visual component of music, then, yes, I think is. My favorite performances are those that engage the whole sensory experience, from audio to visual to kinesthetic.
13. Any embarrassing moments on stage you would like to share?
I was a percussionist in concert band growing up. At the first concert of the year in sixth grade, I was called out for my zipper being down. It was the cutest girl in band who told me. She was a 7th grader. Oh man, it still hurts to think about…
14. Any favorite tour locations?
While on tour we are fond of seeking out the best Indian food buffet. To this day, you can't beat Raja Rani in Ann Arbor, MI. Maybe we are biased because it's so close to home. There's one other that is close to being as good as Raja Rani. It's called Ghandi Mahal, in St. Paul, MN.
Any place that we can get out in some water is a favorite tour location. Whether it's a secret rope swing on an inland lake, or borrowing surf boards from friends while on the coast, if we can get out in the water, it's our favorite place.
15. Lastly, what is your present state of mind?
Relaxed and focused. I'm getting ready to leave tomorrow for a tour with Laura Gibson. Lots to do, but I'm excited. Micah and Andrea are coming over. I went out to get some chocolate ice cream to share when they get here. Kind of Blue is playing on the stereo.
_________________________________________________________________________

Audio clip: Adobe Flash Player (version 9 or above) is required to play this audio clip. Download the latest version here. You also need to have JavaScript enabled in your browser.
Breathe Owl Breathe – Own Stunts from Magic Central (2010)
Audio clip: Adobe Flash Player (version 9 or above) is required to play this audio clip. Download the latest version here. You also need to have JavaScript enabled in your browser.
Breathe Owl Breathe – Swimming from Magic Central (2010)
Audio clip: Adobe Flash Player (version 9 or above) is required to play this audio clip. Download the latest version here. You also need to have JavaScript enabled in your browser.
The Soil & the Sun – Spirit of Memory from Seven Songs (2009)