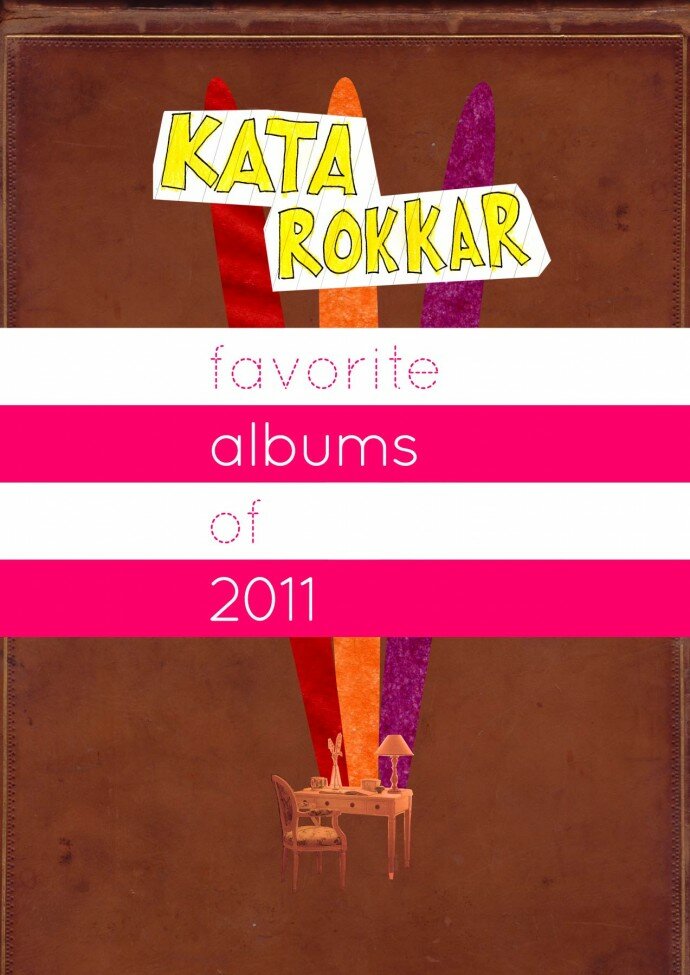 Editor's Note
Happy New Year!

Some of you are probably wondering what happened to us. Well work, family, and of course organizing our little (not so little anymore) variety show Snob Theater has taken quite a bit of time away from the website. We've had probably the best year so far and I'm happy to announce my favorite records of 2011 to launch the reboot of Kata Rokkar.

I don't review albums at all but i do listen to a shitload and it's been a great and surprising year for new music. The local San Francisco scene in general has churned out some breathtaking new albums that will be on rotation for a long time.

Now this is a 3-part post that will be attached with a Favorite Songs, Favorite EPs, and Favorite Live Shows posts throughout the month of January.

In addition to this, we have an upcoming show with SF Sketchfest, Noise Pop Festival's 20th Anniversary, and a few more surprises along the way. Also a plethora of new Kuestionnaires, Videos, and show reviews to kick off this exciting new year.

If you find something you like on this list, download the complimentary MP3 and click the album art, which will take you to the Amazon MP3 page so you can purchase it (some of these albums are $5 or less).

So without further ado; here's my Favorites of 2011…
__
75 // Vetiver – The Errant Charm

Singer/songwriter Andy Cabic and crew have manifested a slow moving and accurately atmospheric album that nearly crafts its own genre of "space folk." You have my permission to slap me for writing that but just listen to Worse for Wear or Fog Emotion and you will find this otherworldly aura of calm that is similar to the expansiveness of space and that sweetness of Vetiver's signature sound.
Vetiver – Can't You Tell from The Errant Charm (2011)
Audio clip: Adobe Flash Player (version 9 or above) is required to play this audio clip. Download the latest version here. You also need to have JavaScript enabled in your browser.
74 // Okkervil River – I Am Very Far

Wrestling with life's miseries and mysteries, I Am Very Far is an album brimming with the universal, questioning the human condition, social morality, and the dark depths and contradictions of grown men. The album finds frontman Will Sheff at his most desperate and personal. Musically, the band is as shiningly dramatic and groove orientated as one would hope from Okkervil River.
Okkervil River – Wake And Be Fine from I Am Very Far (2011)
Audio clip: Adobe Flash Player (version 9 or above) is required to play this audio clip. Download the latest version here. You also need to have JavaScript enabled in your browser.
73 // Geoffery O'Connor – Vanity is Forever

It took a few listens to finally understand the draw of this album. Once it did take Vanity is Forever's hold on me with it's lounge rock coolness and eye-rolling lyrics, it was pretty difficult to not enjoy. Listen to Proud and image yourself in a dimly lit dive bar in the 80s that smells of cheap perfume and bad decisions…are you there yet? Okay good, now start dancing where you stand and you'll begin to understand what I mean. My only complaint, this album needs a full band and a saxophone player. Next album maybe?
Geoffrey O'Connor – Now & Then from Vanity Is Forever (2011)
Audio clip: Adobe Flash Player (version 9 or above) is required to play this audio clip. Download the latest version here. You also need to have JavaScript enabled in your browser.
72 // Das Racist – Relax

While not exactly as catchy or expansive as Shut Up + Sit Down series, Relax is no less weird, intellectual, and straight-up fun. Relax finds the boys pulling an absurdist and almost anti-excess theme that demands attention while ridiculing it at the same time. Listening to Relax, I found that despite the group attempting a more commercial direction at their music, they have been able to hold on to that satirical nature that has made them appealing.
Das Racist – Rainbow In The Dark from Relax (2011)
Audio clip: Adobe Flash Player (version 9 or above) is required to play this audio clip. Download the latest version here. You also need to have JavaScript enabled in your browser.
71 // Black Lips – Arabia Mountain

Buckle up, this album is a roller-coaster ride that finally makes the Black Lips less of a trouble making punchfest and more of a respectable garage-punk act that entertains as much as it intimidates. Sixteen tracks of boot swinging grooves, head banging riffs, and plenty of opportunities to sing-a-long with friends that are fans of punk jabs to the speakers.
Black Lips – Family Tree from Arabia Mountain (2011)
Audio clip: Adobe Flash Player (version 9 or above) is required to play this audio clip. Download the latest version here. You also need to have JavaScript enabled in your browser.
70 // Danger Mouse & Daniele Luppi – ROME
Few people got anything out of this extremely short and odd collaboration of Danger Mouse, Daniele Luppi, Jack White, and Norah Jones. I can't blame them but I also can't help but feel as though they're missing out. Paying tribute to the soundtracks of Ennio Morricone and the James Bond-like coolness, ROME features the many talents of said performers with a mint fresh polish that makes this record unlike any released this year.
Danger Mouse & Daniele Luppi – Two Against One from ROME (2011)
Audio clip: Adobe Flash Player (version 9 or above) is required to play this audio clip. Download the latest version here. You also need to have JavaScript enabled in your browser.
69 // Gang Gang Dance – Eye Contact

Just as weird and trippy as 2010's Saint Dymphna; Eye Contact sounds like homework from a distance but up close it's an extensional journey through the mind of colorful art and synth heavy forests. I may not get the full experience from this album as I don't do acid, but from what I gather from tracks like the sinister and easily enjoyable Adult Goth, Gang Gang has successfully freaked me out and won me over at the same time again.
Gang Gang Dance – Mindkilla from Eye Contact (2011)
Audio clip: Adobe Flash Player (version 9 or above) is required to play this audio clip. Download the latest version here. You also need to have JavaScript enabled in your browser.
68 // Tycho – Dive

It took me a while to find out about this album but once I did, it remained on repeat for several weeks and still ends up being one of my favorite late night soliloquies before calling it a night. This San Fran-based electro artist takes the faded vintage and retro style of the modern city dweller and provides them with a soundtrack.
Tycho – Epigram from Dive (2011)
Audio clip: Adobe Flash Player (version 9 or above) is required to play this audio clip. Download the latest version here. You also need to have JavaScript enabled in your browser.
67 // Debbie Neigher – Debbie Neigher

It's not hard for me to admit I love heartfelt and well produced "chick-behind-a-piano" rock. But while Debbie Neigher's music is brutal in the way it subverts the traditional coffeehouse vibe, it's less interested in upheaval and more concerned with the ecstasy of changes in life, melody and revelation. Her John Vanderslice-produced and Magik*Magik Orchestra arranged album is full of surprises; it displays an easy competence with song structure that enables her to go in different –sometimes deeply personal–directions without sounding over polished or cheesy.
Debbie Neigher – My My My from Debbie Neigher (2011)
Audio clip: Adobe Flash Player (version 9 or above) is required to play this audio clip. Download the latest version here. You also need to have JavaScript enabled in your browser.
66 // Ty Segall – Goodbye Bread

This album finds Ty at his least intimidating and his most moving. While he's still simple and steaming with fuzzed guitars and punk rock/DIY attitude, Goodbye Bread is a more focused effort to get Ty out of the wild child persona and into a more respected working musician. This is the Bay Area's garage rock star equivalent to lightning in a bottle.
Ty Segall – You Make The Sun Fry from Goodbye Bread (2011)
Audio clip: Adobe Flash Player (version 9 or above) is required to play this audio clip. Download the latest version here. You also need to have JavaScript enabled in your browser.
65 // Neon Indian – Era Extraña

I was truthfully afraid Alan Palomo and crew were going to create an over-produced, sparkle cheese fart of glossy radio pop but I can safely say they did the complete opposite. They were able to create lo-fi pop music that is the 8-bit video game sound that everyone loved in Psychic Chasms. It still challenging and won't rocket Neon Indian out of the indie rock status they're in now, but that's good enough. Plus how can you not love Polish Girl? That song is delightful.
Neon Indian – Polish Girl from Era Extraña (2011)
Audio clip: Adobe Flash Player (version 9 or above) is required to play this audio clip. Download the latest version here. You also need to have JavaScript enabled in your browser.
64 // Marissa Nadler – Marissa Nadler

True sadness on an album can never be fabricated and Marissa has never had trouble with that. On this Kickstarter funded self titled album, Ms. Nadler expresses herself past her own depression and social anxieties and tells stories that expand and swell into saintly folk music that sounds rooted in goth minus the annoying aspects.
Marissa Nadler – Baby I Will Leave You In The Morning from Marissa Nadler (2011)
Audio clip: Adobe Flash Player (version 9 or above) is required to play this audio clip. Download the latest version here. You also need to have JavaScript enabled in your browser.
63 // Kurt Vile – Smoke Ring For My Halo

You couldn't find a more spiritual and primal album of honest emotion than this album. It's a brilliant skill to create something so catchy like Jesus Fever and make it so endearing. Not since Dinosaur Jr's Bug has someone been able to capture such rolling pop sensibilities and punkish fight like Kurt Vile. If Iggy Pop was dead, I would believe that his ghost would have just possessed Kurt and created Smoke Ring For My Halo.
Kurt Vile – Baby's Arms from Smoke Ring For My Halo (2011)
Audio clip: Adobe Flash Player (version 9 or above) is required to play this audio clip. Download the latest version here. You also need to have JavaScript enabled in your browser.
62 // Beirut – The Rip Tide

Short, accessible, and charming, The Rip Tide is what every Beirut fan was hoping for. The spirit of Beirut exists with it's full brass instrumentation and thematic innocence that's even dance-worthy at times. There is much room to expand the baroque rock genre and the youthful and optimistic Beirut is at the front of the pack with this colorful and theatrical album.
Beirut – East Harlem from The Rip Tide (2011)
Audio clip: Adobe Flash Player (version 9 or above) is required to play this audio clip. Download the latest version here. You also need to have JavaScript enabled in your browser.
61 // Apparat – The Devil's Walk

I did not expect this kind of album this year. It's deathly whispering and absurdest melodies are a lightning rod for people that are looking for something different in a sea of chillwaves. It's weighty and overwhelming for anyone willing to let it carry them across it's spacious soundscapes.
Apparat – Ash Black Veil from The Devils's Walk (2011)
Audio clip: Adobe Flash Player (version 9 or above) is required to play this audio clip. Download the latest version here. You also need to have JavaScript enabled in your browser.
60 // Wild Beasts – Smother

We here in USA have no idea what we're missing with Wild Beasts. These guys should be headlining the biggest rock venues and completely selling them out. Just listen to Lion's Share; that sexy falsetto from Tom Fleming's unique voice and building orchestration sets the stage for a very sensual rock album. Smother takes all the positive and steamy sides of The Smiths and runs with it.
Wild Beasts – Loop The Loop from Smother (2011)
Audio clip: Adobe Flash Player (version 9 or above) is required to play this audio clip. Download the latest version here. You also need to have JavaScript enabled in your browser.
59 // Tennis – Cape Dory

The allure of this true beach rock album is multiplied by the engaging and somewhat self exploratory story behind the inspiration of it. There is nothing bogus or dishonest about this true 60s surf rock inspired album. Each short and delightful song speaks of travel, discovery, and isolation while still remaining unabashed.
Tennis – Take Me Somewhere from Cape Dory (2011)
Audio clip: Adobe Flash Player (version 9 or above) is required to play this audio clip. Download the latest version here. You also need to have JavaScript enabled in your browser.
58 // Cut Copy – Zonoscope

In Ghost Colours was like a Beatles album; every song was a single. Zonoscope finds Cut Copy making a fluid album that's entrancing and intellectual. While the entity of LCD Soundsystem is gone, the sprit of smart electronic music lives in this colorful and futuristic album. If you've seen these guys live, you know how theatrical their act is and that essence is played out well in every song on Zonoscope.
Cut Copy – Where I'm Going from Zonoscope (2011)
Audio clip: Adobe Flash Player (version 9 or above) is required to play this audio clip. Download the latest version here. You also need to have JavaScript enabled in your browser.
57 // Panda Bear – Tomboy

Tomboy is a big, daring collection with recurring themes of psychedelia, folk-rock, prog, jazz, and modern classical composition. Above all the album is cohesive and tangible. This music spreads out ethereally, pulsates, and is ambitious and strange, punctuated by echoes of the usual influences of George Harrison, Brian Wilson, and Motown. Noah made Tomboy way more haunting than Person Pitch and I still don't know how I feel about that.
Panda Bear – Tomboy from Tomboy (2011)
Audio clip: Adobe Flash Player (version 9 or above) is required to play this audio clip. Download the latest version here. You also need to have JavaScript enabled in your browser.
56 // Mister Heavenly – Out of Love

I wasn't a fan of this year's new Man Man album and I blame this album for that. When I heard Ryan Kattner (Man Man) was working on a project with Nick Thornburn (Islands/Unicorns) and Joe Plummer (Modest Mouse), I knew I had to hear it. This album sounds more focused and way more fun than anything Man Man has produced in the past few years. Out of Love takes the innocent sound of 50s doo-wop and well dressed R&B classics and lights it on fire with an almost carnival chaotic character.
Mister Heavenly – Bronx Sniper from Out of Love (2011)
Audio clip: Adobe Flash Player (version 9 or above) is required to play this audio clip. Download the latest version here. You also need to have JavaScript enabled in your browser.
55 // Animals as Leaders – Weightless

The sequel to expert guitarist Tosin Abasi's bludgeoning debut, Weightless finds Animals as a cohesive band and a daunting one at that. Metal flourishes, minimalistic jazz layers, and enigmatic riffs that hit mathematically with the pummeling impact of an asteroid. Their music intertwines up a powerful and cinematic vine while restful. The band has formed into their own entity and mirror the rise of bands like God is an Astronaut.
Animals as Leaders – Isolated Incidents from Weightless (2011)
Audio clip: Adobe Flash Player (version 9 or above) is required to play this audio clip. Download the latest version here. You also need to have JavaScript enabled in your browser.
54 // Unknown Mortal Orchestra – Unknown Mortal Orchestra

If Portugal. The Man made an album in a garage after listening to a lot of Television and Faust, they would release an album like this. This album is straight up groovy with infectious bluesy licks and its fair share of eerie vocal textures. Especially with the song Thought Ballune, the underlying funky, tasteful rhythms can become very addictive.
Unknown Mortal Orchestra – FFunny FFrends from Unknown Mortal Orchestra (2011)
Audio clip: Adobe Flash Player (version 9 or above) is required to play this audio clip. Download the latest version here. You also need to have JavaScript enabled in your browser.
53 // Zola Jesus – Conatus

We didn't get a new Bat for Lashes album this year and for that I'm quite disappointed. What we did get in return was an overabundance of solo female indie-divas that rose to the occasion. With Conatus, we find our star player, Ms. Zola Jesus take a white gothic direction with well engineered and almost mechanical-sound looped music. The album speaks with high dramatic sensibility and authoritative charisma, like an opera singer outside the theater calling for her destiny.
Zola Jesus – Hikikomori from Conatus (2011)
Audio clip: Adobe Flash Player (version 9 or above) is required to play this audio clip. Download the latest version here. You also need to have JavaScript enabled in your browser.
52 // John Vanderslice – White Wilderness

The Magik*Magik Orchestra, led by Minna Choi, is known to intensify the personality of an album and they easily achieve that with Mr. Vanderslice's seventh album. White Wilderness holds the same charm and poetry that John expresses in all his albums, but this time around it feels more organic than ever. There are even times of apocalyptic quiet with the title track and panicky and rushed urgency with Overcoat but overall it's got character and the kind one would expect from this respectable musician.
John Vanderslice – Sea Salt from White Wilderness (2011)
Audio clip: Adobe Flash Player (version 9 or above) is required to play this audio clip. Download the latest version here. You also need to have JavaScript enabled in your browser.
51 // Hooray for Earth – True Loves

This is the album Passion Pit wish they wrote, a fierce and forceful album of catchy beats and starry-eyed vocals that cross boundaries of space rock, 80s revival, and electro-dance. The shriek of title track True Loves is explosive to the point that it sounds like a space ship is singing to you and No Love is just waiting to be single of the year.
Hooray For Earth – No Love from True Loves (2011)
Audio clip: Adobe Flash Player (version 9 or above) is required to play this audio clip. Download the latest version here. You also need to have JavaScript enabled in your browser.