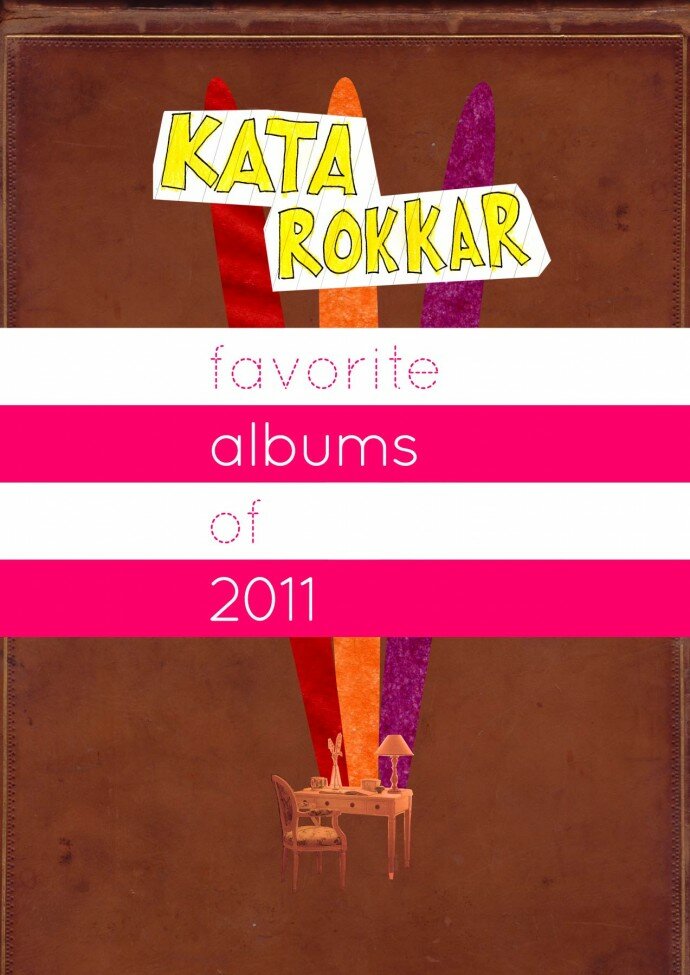 If you find something you like on this list, download the complimentary MP3 and click the album art, which will take you to the Amazon MP3 page so you can purchase it (some of these albums are $5 or less).
50 // A.A. Bondy – Believers

It's about time Bondy takes the full on band direction without tip-toeing around it like the last few albums. Oh wait let me re-word that; his last two where spectacular, but this is a sound that he's been hiding for a while and it's a fresh reward for fans of his work. Optimistic without sounding like condensed Starbuck-Rock, Believers is the quintessential bluesy autumn record.
A.A. Bondy – Skull & Bones from Believers (2011)
Audio clip: Adobe Flash Player (version 9 or above) is required to play this audio clip. Download the latest version here. You also need to have JavaScript enabled in your browser.
49 // Clams Casino – Instrumentals

If J Dilla remixed and layered Vangelis' masterpiece that is the Bladerunner soundtrack, you'd get this fantastically crafted instrumental hip-hop mix. It's ridiculous to me that these songs were used to rap and rhyme over; mainly because each song has this lonely personality that is wide, spacious, and heavily industrial. It still blows me away that this album is given away for free.
Clams Casino – Illest Alive [Main Attrakionz] from Instrumentals (2011)
Audio clip: Adobe Flash Player (version 9 or above) is required to play this audio clip. Download the latest version here. You also need to have JavaScript enabled in your browser.
48 // Russian Circles – Empros

Instru-metal music is hard to expand on even if you're a band like Russian Circles. But you can't knock'em for trying with albums like Geneva. However it's this years Empros that brings back that colossal sound that the band is notorious for. Like the track Schiphol, which could be mistaken for an Explosions in the Sky b-side, there seems to be positivity painted in these heavy but hopeful songs. It's a side of Russian Circles I'm happy to hear.
47 // PJ Harvey – Let England Shake

I like PJ Harvey but I never really enjoyed her work like I wanted to. I always felt like she was yelling at me all the time. Let England Shake is the first PJ album I've heard that made me feel welcome to be listening to. There is still something private about it and the strength of PJ is eminent, but it sounds like she truly enjoyed making this record.
PJ Harvey – The Words That Maketh Murder from Let England Shake (2011)
Audio clip: Adobe Flash Player (version 9 or above) is required to play this audio clip. Download the latest version here. You also need to have JavaScript enabled in your browser.
46 // Hauschka – Salon Des Amateurs

This album could easily be mistaken for a lost Books album. But if you listen closely, the Hauschka personality shines bright with it's monumental layered sounds of horns, plucked strings, and experimental piano arrangements. It's dramatic as it is silly and engaging as it is playful. A good pair of headphones needs to come with this album as well.
Hauschka – Ping from Salon Des Amateurs (2011)
Audio clip: Adobe Flash Player (version 9 or above) is required to play this audio clip. Download the latest version here. You also need to have JavaScript enabled in your browser.
45 // Cults – Cults

Of all the summer albums that rotated through my car speakers, Cults probably got the most airplay. Blissful and overwhelmingly fun to listen to with windows down, Cults is the album that rightfully pays respect to lighthearted and free spirited youth of the coast without sounding polished or annoying. It's not an easy feat but they humbly pulled it off.
Cults – You Know What I Mean from Cults (2011)
Audio clip: Adobe Flash Player (version 9 or above) is required to play this audio clip. Download the latest version here. You also need to have JavaScript enabled in your browser.
44 // Sleep ∞ Over – Forever

This album is in no way accessible to the modern listener, nor is it for crappy laptop speakers or cheap headphones. Forever is a bottomless crevice of dream-pop glisten that is drifting and faithless. The purity of the reverberating vocals and mesmerizing psychedelia are painted over with layer upon layer of synth and drums that seem to be hit by falling comets. It's quite a beautiful album.
Sleep ∞ Over – Casual Diamond from Forever (2011)
Audio clip: Adobe Flash Player (version 9 or above) is required to play this audio clip. Download the latest version here. You also need to have JavaScript enabled in your browser.
43 // The Weeknd – House of Balloons

This new rise of R&B share a few similarities with their over produced brothers; it's dramatic, self centered, and deeply sexual. What sets it apart is that it's weird, cavernous, dark, and sonically impressive with psychedelic atmospherics that lurk and hypnotize. Out of the three mixtape style albums Toronto singer Abel Tesfaye and producers Doc McKinney and Illangelo released this year, House of Balloons takes the cake and makes sweet sweet love to it.
The Weeknd – High For This from House of Balloons (2011)
Audio clip: Adobe Flash Player (version 9 or above) is required to play this audio clip. Download the latest version here. You also need to have JavaScript enabled in your browser.
42 // SBTRKT – SBTRKT

SBTRKT (pronounced as "subtract") has taken dub-step, a genre of music that has entered parody status, and generated an album that is lonesome, attractive, and touching. It's a as grey as it is colorful, hopeless as it is hopeful; a dedication to true electronic greats like Underworld and focus on evolving the dub-step genre, rather than reversing it. With a layer of funky R&B, SBTRKT proves there's soul in these drum machines again.
SBTRKT – Wildfire from SBTRKT (2011)
Audio clip: Adobe Flash Player (version 9 or above) is required to play this audio clip. Download the latest version here. You also need to have JavaScript enabled in your browser.
41 // Foxtails Brigade – The Bread and The Bait

Take the whimsical influences of Edith Piaf and the absurdity and creative aspects of Joanna Newsom, what do you get? You get classy album filled with quirky innocence and crippling loneliness that is not comparable to anything heard in modern female fronted folk music. It takes the interesting aspects of goth, the charming parts of Americana, and culturally rich slices of barque and becomes an album worth repeat listens.
Foxtails Brigade – The Hours from The Bread And The Bait (2011)
Audio clip: Adobe Flash Player (version 9 or above) is required to play this audio clip. Download the latest version here. You also need to have JavaScript enabled in your browser.
40 // Youth Lagoon – The Year of Hibernation

This album snuck up behind and surprised the hell out of me. I remember listening to the opening track Posters and thinking, "I'm not exactly sure where this is going…" Then the organs build, the bass line rolls in, the synth lifts, and the drum machine carries the song to its lovely end. This whole album is a rainbow of joyous indie pop made for the smart listener.
Youth Lagoon – Bobby from The Year Of Hibernation (2011)
Audio clip: Adobe Flash Player (version 9 or above) is required to play this audio clip. Download the latest version here. You also need to have JavaScript enabled in your browser.
39 // Portugal. The Man – In The Mountain In The Cloud

You would think these guys would exhaust all their creative efforts by this time after so many ground-shaking albums. Nope. This time around they seem to have evoked the spirit of psychedelic frontrunners Can and Neu! to create and album that is both poppy and filled with strange industrial edge. The album's tempo shifts oddly from a sedate bluesy pattern to an energetic but relaxed cruise that proves that PTM is still going strong.
Portugal. The Man – Got It All (This Can't Be Living Now) from In The Mountain In The Cloud (2011)
Audio clip: Adobe Flash Player (version 9 or above) is required to play this audio clip. Download the latest version here. You also need to have JavaScript enabled in your browser.
38 // Tim Hecker – Ravedeath, 1972

I don't think I can expect a new Stars of the Lid album for a while, but what I did find comforting is a new Tim Hecker album that highlighted the symphonic and haunting abilities of the man himself. Everything here is rounded. There are no edges that drop or sound compulsory, it's all fuzzy and yet brilliant to hear at the same time. Its music of such quiet and devastating power it can silence a crowd without the volume knob on the stereo being manipulated. But I wouldn't recommend displaying this to a crowd; play this on headphones, on a rainy day, with your mind clear. This is thinking music.
Tim Hecker – In The Air III from Ravedeath, 1972 (2011)
Audio clip: Adobe Flash Player (version 9 or above) is required to play this audio clip. Download the latest version here. You also need to have JavaScript enabled in your browser.
37 // EMA – Past Life Martyred Saints

Admittedly I did not give EMA the attention they deserved when I saw them at SXSW this year but when I caught them once more at the Rickshaw Stop, I finally understood what people were saying about this emotionally structured and slightly epic album. Each song is lyrically heavy and poetic and crafted like an elaborate painting that's been splashed with so many colors it's difficult to find all the meaning in it. It's challenging to listen to and kind of reminds me of what would happen if Karen O never wrote Maps and listened to a shitload of old Modest Mouse.
EMA – Grey Ship from Past Life Martyred Saints (2011)
Audio clip: Adobe Flash Player (version 9 or above) is required to play this audio clip. Download the latest version here. You also need to have JavaScript enabled in your browser.
36 // White Denim – D

I didn't expect to enjoy this album at all. I reluctantly attended their show at the Bottom of the Hill imagining something with less depth and skill. Well I'm an idiot. White Denim is homage to true classic rock style and psychedelic pop music. The guitar stylings from the tremendously talented band and singer James Petralli's silky yet gruff voice make this the kind of album that grabs the attention a room of real rock n' roll fans.
White Denim – Drug from D (2011)
Audio clip: Adobe Flash Player (version 9 or above) is required to play this audio clip. Download the latest version here. You also need to have JavaScript enabled in your browser.
35 // Mogwai – Hardcore Will Never Die, But You Will

In the genre of instrumental rock music, a band has to evolve with the times and attention of a new generation of music listeners. I'd have to imagine it's probably extremely hard but for seasoned professionals Mogwai, it was a challenge accepted and achieved with Hardcore. Even the album name seems to say, "We're over? Well watch this you fuckin' pussies!" One only has to listen to Rano Piano to release that this album is a masterful storm cloud over a dark wave of guitars and crashing bass and drums.
Mogwai – San Pedro from Hardcore Will Never Die, But You Will (2011)
Audio clip: Adobe Flash Player (version 9 or above) is required to play this audio clip. Download the latest version here. You also need to have JavaScript enabled in your browser.
34 // Lykke Li – Wounded Rhymes

She was able to pull it off again with a saucy single and a dark pop dedication to artful chamber music mixed with catchy pop. While Youth Novels was the cry of a young woman expressing loneliness and anxiety, Wounded Rhymes is a woman dealing with the meaning of maturity and sexuality. She paints it so well with heavy drums, 60s style keyboards, and a grey-sound that seems to call from a dark place and make it fun.
Lykke Li – Get Some from Wounded Rhymes (2011)
Audio clip: Adobe Flash Player (version 9 or above) is required to play this audio clip. Download the latest version here. You also need to have JavaScript enabled in your browser.
33 // Jay Z & Kanye West – Watch the Throne

A testament to the life of excess and slings and arrows that comes along with the lifestyle, it's the closest any of us will ever come to the emotional and physical cost of fame and fortune. Whether it's Jay Z mentioning "Y'all think Michael Jordan bad/Nigga I got a 5 more rings than Michael Jordan had/Elvis has left the building now I'm on the Beatles ass" or Kanye West expressing "It's time for us to stop and re-define black power / 41 souls murdered in 50 hours", Watch the Throne is a miraculous album of intelligent delivery and a highminded display of power.
JAY Z & Kanye West – Otis (feat. Otis Redding) from Watch The Throne (2011)
Audio clip: Adobe Flash Player (version 9 or above) is required to play this audio clip. Download the latest version here. You also need to have JavaScript enabled in your browser.
32 // Explosions in the Sky – Take Care, Take Care, Take Care

You would have figured they cleared all creative aspects out of the instrumental rock music genre already between the many inspirational albums they've released and the dozens upon dozens of bands that have been influenced by their style. Nope; this yet again expands the universe of Explosion in the Sky by creating more bursting spheres of gas, ice, and fire, each with their own personality and journey. Well done boys, you did it again.
Explosions in the Sky – Trembling Hands from Take Care, Take Care, Take Care (2011)
Audio clip: Adobe Flash Player (version 9 or above) is required to play this audio clip. Download the latest version here. You also need to have JavaScript enabled in your browser.
31 // The Antlers – Burst Apart

With The Antler's first album Hospise, they created a depressing and emotionally layered record that caught everyone's attention; with Burst Apart they used that attention to show what they're really capable of. The album is poppy and atmospheric and highlights the bands ability to create positive moments with synth-heavy sweetness. Peter Silberman's lifting vocals of course add to this impressive display of darkness and liveliness mashed into one short and mesmerizing album.
The Antlers – Every Night My Teeth Are Falling from Burst Apart (2011)
Audio clip: Adobe Flash Player (version 9 or above) is required to play this audio clip. Download the latest version here. You also need to have JavaScript enabled in your browser.
30 // Michael Musika – Spell

One of the most criminally underrated albums of the year and the kind of album that makes me remember why I love discovering new music; Spell is a mix of genres and creativity that isn't seen in the singer-songwriter genre anymore. In a world full of humble bragging rock stars, Mountain Dew sponsored stages, Taco Bell indie bands, and exaggerating press releases, Musika releases an album of true untainted folk pop. Just listen to The Spellbound Traveler Loses all Possession and tell me this guy isn't for real. Combine Jack White's cadences with the enthusiasm of Willy Wonka and the instrumentation of a street side gypsy folk act in Eastern Europe and you have Spells.
Michael Musika – The Spellbound Traveler Loses all Possession from Spells (2011)
Audio clip: Adobe Flash Player (version 9 or above) is required to play this audio clip. Download the latest version here. You also need to have JavaScript enabled in your browser.
29 // Girls – Father, Son, Holy Ghost
While I wasn't completely won over by 2009's Album, I wasn't exactly looking forward to another simplistic lo-fi garage rock album that the Pitchforkian audience would dry hump over. That was until I gave it fair listen and Holy-Monkey!!!….This is a good album. There's something deeply personal about this one, like I shouldn't be allowed to hear Chris' lyrics. The album has this slight Kurt Cobain aspect to it that speaks like a damaged soul with childish qualities. Plus it's a straight up rock record from beginning to end. I could listen to it in two different moods and both times be fully committed to the story that is Father, Son, Holy Ghost.
Girls – Vomit from Father, Son, Holy Ghost (2011)
Audio clip: Adobe Flash Player (version 9 or above) is required to play this audio clip. Download the latest version here. You also need to have JavaScript enabled in your browser.
28 // The Caretaker – An Empty Bliss Beyond This Word
As the title to the album suggests, this is an album not of this spiritual world. Reminiscent of the soundtrack for The Shining, this album is ghostly sparse and far and away like anything close to categorizing. I listen to this album quite a bit in the airport and it's probably because there's this disconnecting aspect to the record pops and crackles, the sparatic piano, and feeling like I'm not listening through headphones, but rather a gramophone in an empty hotel lobby that's covered with dust and despair.
The Caretaker – Tiny Gradiations Of Loss from An Empty Bliss Beyond This World (2011)
Audio clip: Adobe Flash Player (version 9 or above) is required to play this audio clip. Download the latest version here. You also need to have JavaScript enabled in your browser.
27 // Wye Oak – Civilian

There seems to be this chamber rock spirit to this straight up shoegazing rock record of epic proportions. Jenn Wasner and Andy Stack have prepared a record that both shakes and sways with a pure shadowy disposition and a hammer-slam of ferocious melodies. It doesn't sound like two people playing on this album and I don't mean that instrumentally; this sounds like dozens of emotions pilled on top of each other and thrown at the listener. This record is quite powerful.
Wye Oak – Civilian from Civilian (2011)
Audio clip: Adobe Flash Player (version 9 or above) is required to play this audio clip. Download the latest version here. You also need to have JavaScript enabled in your browser.
26 // Toro Y Moi – Underneath The Pine

Chaz Bundick knows how to survive in this short attention span theater we call indie rock. You would think after Causers of This he would fade away into obscurity and just become a disgruntled coffee shop employee in South Carolina. Well the guy has an ear for funk layered pop songs that transcend the chillwave movement and dives right into minimalist pop, fuzzy folk, click-hop, hip-hop, and baroque psychedelia. Well played Mr. Bundick.
Toro Y Moi – New Beat from Underneath The Pine (2011)
Audio clip: Adobe Flash Player (version 9 or above) is required to play this audio clip. Download the latest version here. You also need to have JavaScript enabled in your browser.