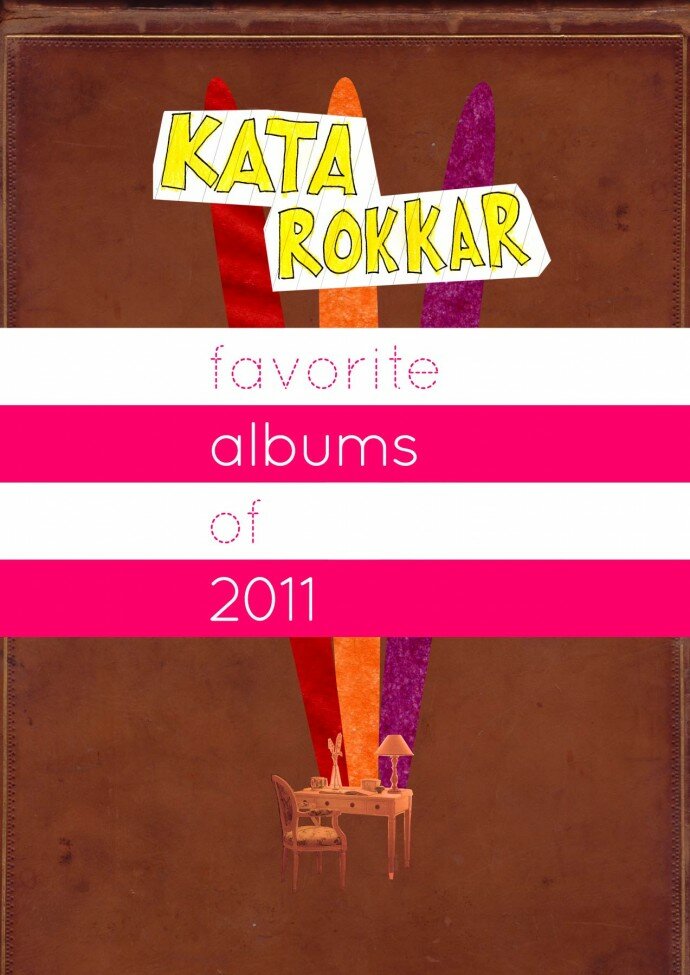 If you find something you like on this list, download the complimentary MP3 and click the album art, which will take you to the Amazon MP3 page so you can purchase it (some of these albums are $5 or less).
25 // Glassjaw – Coloring Book EP/Our Color Green EP

Eight years in the making and completely worth the wait, both the Coloring Book EP and the Our Color Green EP expose the bands reason for generating a dedicated fan base of true post hardcore and honest rock music lovers. Both EPs provide different personalities of the band as well as lead singer Daryl Palumbo. Our Color Green plays like a Refused record with elements of intense characteristics of punk, operatic rock & roll, and shows homages to early stages of Glassjaw's career. Coloring Book is sludge heavy, jazzier, and a funky side of the band that has this uncanny ability to grasp these different genres while still able to maintain the identity of the band's sound. These records are an achievement in modern rock music and prove that sometimes moment of genius take time to manifest.
Glassjaw – Miracle In Inches from Coloring Book [EP] (2011)
Audio clip: Adobe Flash Player (version 9 or above) is required to play this audio clip. Download the latest version here. You also need to have JavaScript enabled in your browser.
(2011)]
24 // Peter Broderick – Music For Confluence

Good 21st century composers were difficult to find this year. When you have a collection of albums that are arranged so beautifully by Max Richter and Ólafur Arnalds, it's pretty hard to stand out in this under appreciated genre. However, Music For Confluence emerged as a saccharine and polite album of gorgeously positioned instrumental music for my starving ears. Broderick's album sounds lonely but in a kind old man kind of way. You want to understand its abandonment and you are compelled to know its story. Music For Confluence is 13 songs of pure emotive friction and anyone with the patience to listen will be rewarded.
Peter Broderick – It Wasn't A Deer Skull from Music for Confluence (2011)
Audio clip: Adobe Flash Player (version 9 or above) is required to play this audio clip. Download the latest version here. You also need to have JavaScript enabled in your browser.
23 // Maritime – Human Hearts

Anyone that's a fan of this band of even The Promise Ring noticed that this album is singer/guitarist Davey von Bohlen and drummer Dan Didier's commitment to the earnest and magnetism that made their music so enjoyable. Nothing is compromised for unnecessary change or evolution. Each song from the sweeping Paraphernalia to the adorable Enjoy The Silence-hat tip Faint of Hearts, Human Hearts expresses the power of basic rock music played with genuine passion and ingenuity.
Maritime – Paraphernalia from Human Hearts (2011)
Audio clip: Adobe Flash Player (version 9 or above) is required to play this audio clip. Download the latest version here. You also need to have JavaScript enabled in your browser.
22 // Fleet Foxes – Helplessness Blues

Like everyone else, I had huge expectations. It's safe to announce that this album surpassed those expectations like a fucking rocket to Mars. Every song on Helplessness Blues bursts with cleverness and lifting community-like choruses that achieve a certain timelessness that their influences have maintained. The folk rock genre has already become dumbed down and carbon copied to a painfully boring end but Helplessness Blues stands on it's own as beacon of hope that there's still soul left.
Fleet Foxes – Helplessness Blues from Helplessness Blues (2011)
Audio clip: Adobe Flash Player (version 9 or above) is required to play this audio clip. Download the latest version here. You also need to have JavaScript enabled in your browser.
21 // Whiskerman – Whiskerman

Much like the cover of this album, Whiskerman's sound is a deep forest of aging sticks and branches that protrude in all directions. This is folk music but this is not by any means you flower child knee slapping folk; this is sinister, violent, and desolate of anything that resembles a smile. Well, maybe if that smile had an ominous shrewdness to it. All intimation aside, the Bay Area's Whiskerman are emerging as true artists in the zero-boundary sense: cinematic storytellers whose songs come together in an essential whole, and Graham Patzner's whose jaw-dropping performances on record make you yearn for the chance to experience their energy up close and in person. And you should, it's simply amazing.
Whiskerman – Ram's Head from Whiskerman (2011)
Audio clip: Adobe Flash Player (version 9 or above) is required to play this audio clip. Download the latest version here. You also need to have JavaScript enabled in your browser.
20 // Washed Out – Within and Without

As huge fan of the Life of Leisure EP (like a lot of people), I already had high expectations of this debut full length album from Ernest Greene's unique brain. What I got wasn't a laptop masterpiece to throwback gems like Feel It All Around, what I got instead was a vigilantly crafted electronic album full of chillaxed synth and live instruments. This album is Ernest's declaration that not only can he survive in this budding genre but he can produce an album that is meant to be heard and played live and loud.
Washed Out – Amor Fati from Within or Without (2011)
Audio clip: Adobe Flash Player (version 9 or above) is required to play this audio clip. Download the latest version here. You also need to have JavaScript enabled in your browser.
19 // Balam Acab – Wander / Wonder

I was in love Oh Why and was quite interested in what this young laptop musician had in store for the future. I don't really think I expected an album so cinematic and creepy while being slightly joyous and bright. Much like it's ominous album cover, Wander / Wonder is light shining barely through pitch darkness. Whether or not that light is disappearing is up to the daring listener. Be warned, this album is for headphones, foggy nights, and probably the perfect soundtrack to whatever happens after the Sun explodes.
Balam Acab – Oh, Why from Wander / Wonder (2011)
Audio clip: Adobe Flash Player (version 9 or above) is required to play this audio clip. Download the latest version here. You also need to have JavaScript enabled in your browser.
18 // Shabazz Palaces – Black Up

This short yet distressing album of dark and futuristic hip-hop that sounds like nothing out there right now completely shook up my vision of modern hip-hop. This is beyond fresh in not only the hip-hop genre, but in anything that was released last year. Black Up is frigid and spacious while able to keep a sense of soulfulness that only J Dilla was able to stir up. This album is a gem to be handled with care.
Shabazz Palaces – Swerve… the reeping of all that is worthwhile (Noir not withstanding) from Black Up (2011)
Audio clip: Adobe Flash Player (version 9 or above) is required to play this audio clip. Download the latest version here. You also need to have JavaScript enabled in your browser.
17 // Real Estate – Days

While I liked their last self titled album, I wasn't sure if this one would eclipse the haughty and airy sounds I had come to love. It did more than that, Days expanded the distinct style that Real Estate perfects with seemingly no effort. I can't think of a single record that embodies summer moods and careless nature than this one.
Real Estate – It's Real from Days (2011)
Audio clip: Adobe Flash Player (version 9 or above) is required to play this audio clip. Download the latest version here. You also need to have JavaScript enabled in your browser.
16 // tUnE-yArDs – W H O K I L L

I knew I would enjoy Merrill's new album once I heard the new songs played at 2011's SXSW Festival. What I didn't expect was how much of a following she would garner once this album was released. This album is incomparable and a mass mix of genres from tribal bombast to acoustic funk fill this humorous and truly original album.
tUnE-yArDs – Gangsta from W H O K I L L (2011)
Audio clip: Adobe Flash Player (version 9 or above) is required to play this audio clip. Download the latest version here. You also need to have JavaScript enabled in your browser.
15 // Radiohead – The King of Limbs

How can you create something substantial when your band is already placed on this high pedestal? As a Radiohead listener, I had to separate myself from their impressive catalogue and approach King of Limbs carefully. It's rewarding with multiple listens, a nice pair of headphones, and the patience to know that this band actually cares about their creative control and artistic abilities. It is way more electronic and bass heavy than I'd like, but overall this album is subtle and excitingly experimental.
Radiohead – Feral from The King of Limbs (2011)
Audio clip: Adobe Flash Player (version 9 or above) is required to play this audio clip. Download the latest version here. You also need to have JavaScript enabled in your browser.
14 // The One AM Radio – Heaven Is Attached By A Slender Thread

Dangerbird Records gets the coveted "Record Label of the Year" by me. With Maritime's Human Hearts and now The One AM Radio's Heaven Is Attached By A Slender Thread, I'm impressed with the label's knack for good taste. This long awaited album by his normally gloomy and overcastting band is a welcome departure from their usual sound. It's danceworthy, a word you'd never expect to hear describe a One AM Radio album. More or so, it's carefully executed without sounding like a phase only one of the band members is going though. This album is able to capture the spirit of a One AM Radio record while still showcasing the evolution of their sound.
The One AM Radio – Sunlight from Heaven Is Attached By A Slender Thread (2011)
Audio clip: Adobe Flash Player (version 9 or above) is required to play this audio clip. Download the latest version here. You also need to have JavaScript enabled in your browser.
13 // Rival Schools – Pedals

This is by and large the best rock album of 2011. While so many other bands are trying to resurrect passé musical genres and modernize them, Rival Schools took the straight up rock genre and drove it into the stratosphere. Each song plays with divergent emotions and fiery guitar driven attitude with a buttload of excitement. This is the Rival Schools album I was waiting ten years for and it was worth the wait.
Rival Schools – Wring It Out from Pedals (2011)
Audio clip: Adobe Flash Player (version 9 or above) is required to play this audio clip. Download the latest version here. You also need to have JavaScript enabled in your browser.
12 // M83 – Hurry Up, We're Dreaming

Holy Flying Side Kick Electro Funk Fuck! Okay, so this album might be at the top of a lot of people's list as Best Album of 2011 but I wasn't sold on this 2 disc firestorm of synth and flashing lights right away. I picture this cheesy faux-romantic Tumblr kid jamming in front of their webcam to Midnight City and it makes me choke on my Cheerios. All cynicism aside though, this album is pretty badass. I can't remember a pop album so equally complex and entertaining from front to back. No time was wasted and no track was used as filler. Each song is carefully crafted with vast dance beats and layered to the point of epic proportions (and I don't use the word lightly).
M83 – Midnight City from Hurry Up, We're Dreaming (2011)
Audio clip: Adobe Flash Player (version 9 or above) is required to play this audio clip. Download the latest version here. You also need to have JavaScript enabled in your browser.
11 // Active Child – You Are All I See

He plays the harp…the fucking harp people! Plus he sings in a disarming falsetto that pays tribute to true vulnerable R&B; how is that not amazing on it's own? His music can be lazily dropped into the whole Blake/How To Dress Well/Hipster-White-Boy-R&B category but this record is not that at all. You Are All I See is truth in sadness and imagination in your most desperate moments. Plus it's a dead sexy record, if that matters to you…
Active Child – Hanging On from You Are All I See (2011)
Audio clip: Adobe Flash Player (version 9 or above) is required to play this audio clip. Download the latest version here. You also need to have JavaScript enabled in your browser.
10 // Snowmine – Laminate Pet Animal

I was approached by Snowmine with their mesmerizing track The Hill and almost immediately I was obsessed. Laminate Pet Animals tribal afro-beats and boogie rhythms with Talking Heads style vocals that echo and reverberate make Snowmine one of those bands you'll be hearing about all 2012. The perfect divide of temperate ambiance and catchy 4-minute pop song structures make this album a single machine while keeping it inspired. There's no reason every indie music festival shouldn't be booking these fellas.
SNOWMINE – The Hill from LAMINATE PET ANIMAL (2011)
Audio clip: Adobe Flash Player (version 9 or above) is required to play this audio clip. Download the latest version here. You also need to have JavaScript enabled in your browser.
09 // Loch Lomond – Little Me Will Start A Storm

On this long awaited and touching album, Loch Lomond provides each number with more dimensions than most bands demonstrate on entire careers. The Portland act's follow-up to a plethora of lovely releases on Hush Records springs to life with Elephants & Little Girls, an imaginary and sleepy contract of chorus laden melody. Singer/multi-instrumentalist Ritchie Young, who recalls folk superhero Neil Young, evokes a spiritual cry that makes this masterful album one that remains on repeat for me to this day.
Loch Lomond – Elephants & Little Girls from Little Me Will Start A Storm (2011)
Audio clip: Adobe Flash Player (version 9 or above) is required to play this audio clip. Download the latest version here. You also need to have JavaScript enabled in your browser.
08 // James Blake – James Blake

Now that the hype has calmed down a bit, it's safe to say that James Blake is the break out artist of 2011. He's singlehandedly been able to build and frame around a genre of music that cries to be understood by blending a dangerous amount of vulnerability and soul. The music is powerful and mysterious while not sounding obnoxiously pretentious or uninviting. This is an evolution of electronic music and this album will be forever mentioned as a stepping stone.
James Blake – Wilhelms Scream from James Blake (2011)
Audio clip: Adobe Flash Player (version 9 or above) is required to play this audio clip. Download the latest version here. You also need to have JavaScript enabled in your browser.
07 // Chad VanGaalen – Diaper Island

Sonically fierce guitars become Chad's weapon of choice on this swampy and radiant album. Trading in the light acoustics and lo-fi rock sound that made Soft Airplane a fairweather hit, the humorously titled Diaper Island animates a world that resembles a grit and dark green mass of sound unlike anything he's ever done. Even the sing-a-long worthy Sara has aspects of darkness that covers this wonderful album. Also leave it to Chad to make a song called Shave My Pussy and make it endearing. Got to love this guy.
Chad Vangaalen – Sara from Diaper Island (2011)
Audio clip: Adobe Flash Player (version 9 or above) is required to play this audio clip. Download the latest version here. You also need to have JavaScript enabled in your browser.
06 // St. Vincent – Strange Mercy

This warbler and axe goddess of the indie rock world has created yet another shredworthy and dynamic album full of heavy (both emotionally and musically) tracks. I can't listen to Year of the Tiger without being profoundly invested in the subjects of the song and the visuals Anne Clark creates with the near-spoken word lyrics layered with the acoustic rock sounds that fill that song. And that's just one example; this album is just interesting, I can't emphasize that enough.
St. Vincent – Year Of The Tiger from Strange Mercy (2011)
Audio clip: Adobe Flash Player (version 9 or above) is required to play this audio clip. Download the latest version here. You also need to have JavaScript enabled in your browser.
05 // Battles – Gloss Drop

Well I didn't think it was possible to equate to the masterpiece that is Mirrored. After hearing about Tyondai Braxton's departure, I honestly thought, "Well that's it, so much the new album." Yeah well I was wrong, so there. Gloss Drop is off the chain instrumentally, collaboratively, and structurally. It's a blueprint for future experimental heavy bands that want to create a fluid, entertaining, humorous, and fierce record.
Battles – Ice Cream (Featuring Matias Aguayo) from Glass Drop (2011)
Audio clip: Adobe Flash Player (version 9 or above) is required to play this audio clip. Download the latest version here. You also need to have JavaScript enabled in your browser.
04 // Other Lives – Tamer Animals

Other Lives can simply be described as post-apocalyptic folk rock. Tamer Animals translates that particular sound into a soundtrack to a grey and barren land of dead trees, packs of wolves, skeletons of skyscrapers, and empty streets. Particularly with For 12, the band sounds like what would happen if a folk band was sent to a zero-populated death planet and forced to create an album. Seriously, it sounds like they wrote these songs on an ice planet. While songs like Tamer Animals and Dark Horse are welcomed with their bleak themes and Clint Mansell-style soundscapes, it's songs like Landforms and Woodwind that cause a Western feel and orchestral immensity. Frontman Jonathon Mooney calls upon his band members to create an album of ambitious choruses and an intimidating style of folk rock that few bands dare to embody.
Other Lives – For 12 from Tamer Animals (2011)
Audio clip: Adobe Flash Player (version 9 or above) is required to play this audio clip. Download the latest version here. You also need to have JavaScript enabled in your browser.
03 // Björk – Biophilia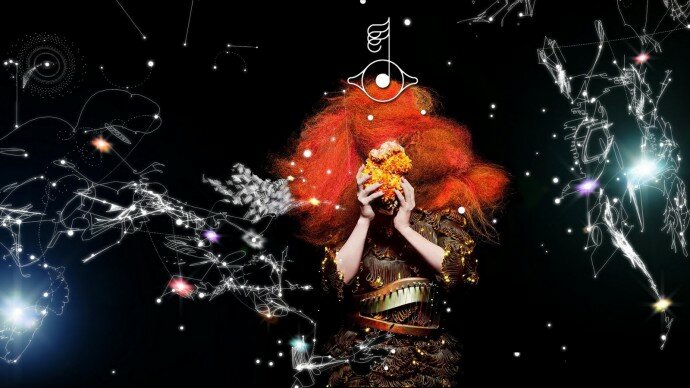 This is Bjork in her element and in the best way possible. It's sound is reminiscent of Vespertine and Homogenic days, but does not in any way mirror those moods by copying what made those albums what they are. Biophilia is its own living entity of lifting experimenting organs and the expected whisper-to-roar vocals from the woman herself. It's not confusing like Medulla or messy like Volta; it's weightless, heavy, dark, and light and full of life, much like the theme of which the album pays tribute to.
Björk – Crystalline from Biophilia (2011)
Audio clip: Adobe Flash Player (version 9 or above) is required to play this audio clip. Download the latest version here. You also need to have JavaScript enabled in your browser.
02 // Bon Iver – Bon Iver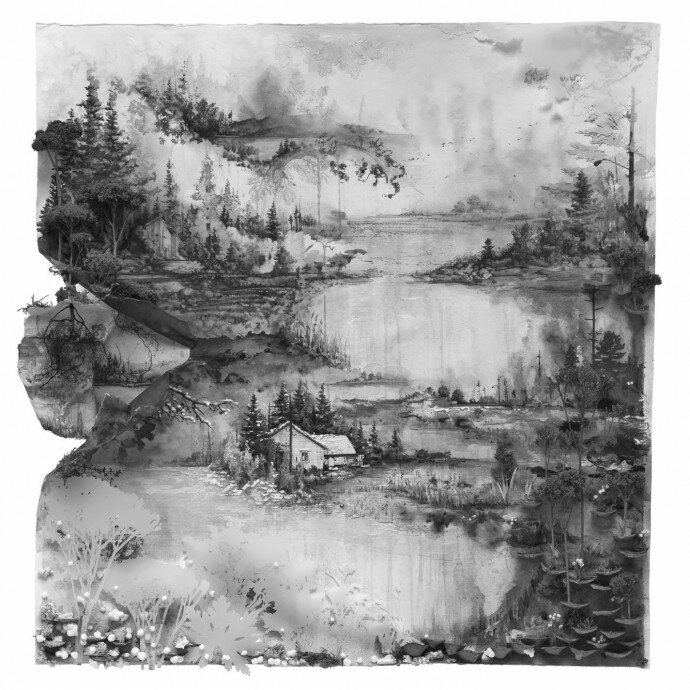 The hardest album to write about is the one that you love the most. It's just a fact. Most of the time you can't describe why is resonates with you so deeply or why you can't stop listening to a song more than twenty times in a day. There's nothing I can say about this album that hasn't already been said by fellow music journalists, music fans, and drooling fans of Justin. What I can say is that when an artist creates something worth extracting meaning from every note and every moment you witness while listening to it makes you analyze the air around you; that has to mean something. I don't know if it is the moving falsettos that Bon Iver lifts with each song, the grandeur of the melodies that creep up and carry me, or the orchestral fullness that completes this crippling example of attention to detail and care to one's sound. What I do know is that this album reminds me why I love about listening to music and whether you like this album or not, isn't that reason enough to enjoy a record?
Bon Iver – Calgary from Bon Iver (2011)
Audio clip: Adobe Flash Player (version 9 or above) is required to play this audio clip. Download the latest version here. You also need to have JavaScript enabled in your browser.
01 // Destroyer – Kaputt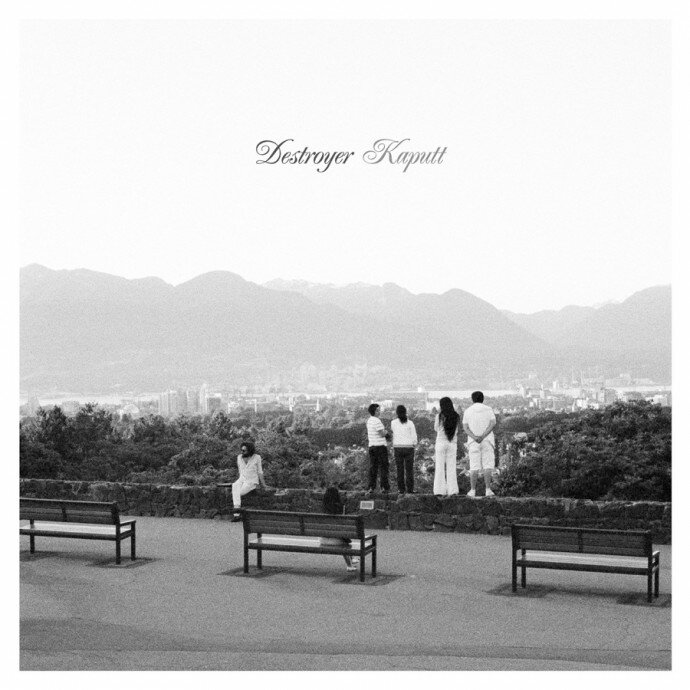 This was a pretty simple decision. I can put this record on at any moment and I immediately feel overwhelming joy. I sing along like a jackass, snap my fingers, and dance like an idiot to pretty much every sparkling white champagne song that coats this glorious album. Daniel Bejar changed the game by taking a genre that was untouchable when it came down to the revivalist movement. No one saw this coming even with 2009's Bay of Pigs EP, Kaputt took the yacht/disco rock genre, stitched it, glued it together, and created this hip and romantic album like some kind of MacGuyver of indie rock music. You can't help but wonder how he did it while listening to tracks like the summer evening themed Savage Night at the Opera or the tropical, white tuxedo-feel Kaputt, or even the sax & trumpet filled Downtown with it's gloriously cheesy bass lines. The whole thing is a magical work of art in all senses of the word and will continue to be one of my favorite albums of all time.
Destroyer – Chinatown from Kaputt (2011)
Audio clip: Adobe Flash Player (version 9 or above) is required to play this audio clip. Download the latest version here. You also need to have JavaScript enabled in your browser.