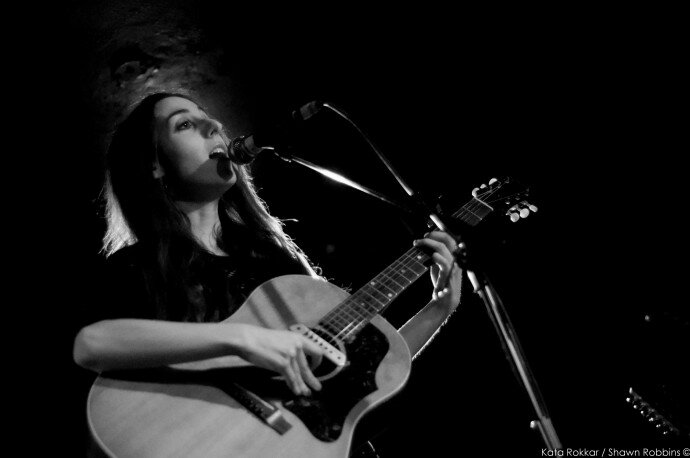 It was a special night at Cafe du Nord; at least that's how the venue treated it. It was the first time I'd seen the venue set up chairs in response to a show. So as a fan Marissa's past work and slightly impressed with her recent self titled album, I was looking forward to an intimate evening of emotional acoustic music from two very talented ladies.
Opening was the silvery brilliance of one Emily Jane White. I've had Emily perform at a Snob Theater once and she set a perfect mood of kindness and modest beauty at that show. This performance was no different. Emily's impressionistic vision is expressed with clarity while retaining an affecting understatement and sense of dislocation with every note. It's an interesting contradiction mirrored in Emily's vocal and lyrical talents; her voice whispers and croons while her lyrics are powerful, inscrutable, and fiercely intimate.
Her performance, which involved songs from last years Victorian America as well as the not-yet-US-released Ode to Sentience, evoked a subtle instrumental landscape upon which she wandered, a place less haunting than haunted. There is much beauty to speak of in her demureness, but the kind of beauty found in a foggy afternoon or an age old shipwreck. I'm always happy to witness her skill at developing a somber yet angelic atmosphere during her live sets.
Audio clip: Adobe Flash Player (version 9 or above) is required to play this audio clip. Download the latest version here. You also need to have JavaScript enabled in your browser.
Emily Jane White – The Law from Ode to Sentience (2010)
Marissa Nadler
Like I mentioned in the review of
Marissa Nadler
at the Swedish American Hall with Timber Timbre, Marissa comes of intensely personal, intimately soft spoken, and quite chatty for a person that apparently suffers from a crippling amount of stage fright. Playing a majority from this year's Kickstarter funded and critically acclaimed self titled fifth album, songs like
The Sun Always Reminds Me Of You
 was immersed in melancholy with a deep pull of lingering in a state of wistful romantic sorrow in her voice. Each song clung with lonely-heart sounds paired with songwriting that builds upon the already potent atmospherics. Her vocals were as whispery and fluid as her last San Francisco show and accompanied by only an acoustic guitar, there was an edgy and vulnerable character that attached itself to this intimate setting.
Marissa Nadler
audience
These moments fortunately took up a majority of her act, because if you weren't paying attention, you would have thought you were witnessing a one woman storytelling show about a heartbroken spinster. Plus the show was an exhausting hour and 45 minutes. Granted we got hear unreleased newer songs, older favorites from
Little Hells
, and a few other gems but you can only take so much melancholy acoustic songwriting before you feel…sad. My other slight complaint; no covers. Marissa is known for pulling out some beautiful renditions of Bruce Springsteen, Leonard Cohen, Townes Van Zandt, and Neil Young but none of which made an appearance that night.
Marissa Nadler
Overall, she's still one of the more genuine if not tortured artists in the bare-boned acoustic folk field. Her live presence is not far off from her recorded material; wispy vocals and ethereal acoustic guitars, the kind of music made by a fragile person who would probably have a nervous breakdown if ever approached by strangers for conversation. God bless her.
Audio clip: Adobe Flash Player (version 9 or above) is required to play this audio clip. Download the latest version here. You also need to have JavaScript enabled in your browser.
Marissa Nadler – Baby I Will Leave You In The Morning from Marissa Nadler (2011)