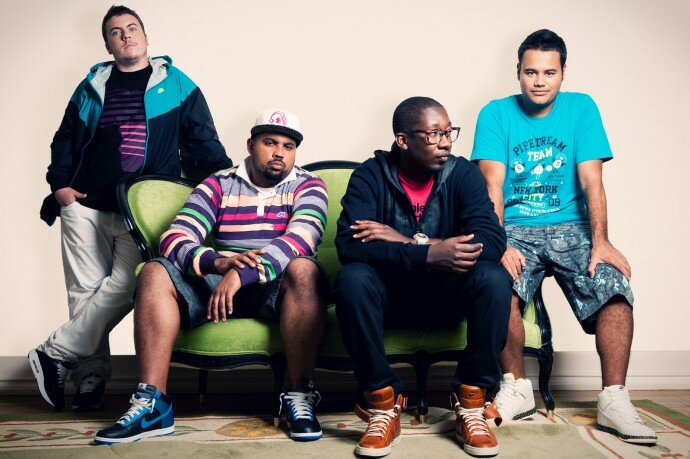 Somewhere between Dizzee Rascal and Chromeo tomorrow at Treasure Island Music Festival there is going to be a high energy freak-fest that will require all amounts of energy from the unsuspecting audience. The culprit; Portugal's Buraka Som Sistema, a dance crossed with thrash and fiery electronica group that create music to lose control to. The members, DJ Riot, Conductor, Kalaf and LilJohn expose audiences to a wide range of world sounds reaching from Africa to South America and go from primitive tribal beats to modern clubhouse techno. Not to mention the fact they perform their music with live drums and frantically spirited dancers that bring their music to life. Just watch the new video to Hangover (BaBaBa) and you'll understand what I mean.
You can catch Buraka Som Sistema at this weekend's Treasure Island Music Festival at the Tunnel Stage on Day One (October 15th, Saturday) from 5:25–6:10pm.
Also, pick up Buraka Som Sistema's music right here.
Part Two of Two of our Treasure Island Music Festival Kuestionnaire Series features Buraka Som Sistema beat maker João Barbosa aka Li'l John as he shares a collaboration wish that we hope comes true.
_________________________________________________________________________
1. Could you state your name and what you do in the band?
João – I make beats and I play the beats.
2. How would you describe your sound?
3rd world dance music.
3. What is your favorite local band?
from san francisco? not sure, but I think Los Rakas are from San Francisco via Panama right?
4. Any concerts that blew your mind recently?
i saw some footage of Yelle live at Sonar, barcelona and some parts of the show looked awesome. specially some more percussive parts.
5. Any non-musical influences you would like to mention?
the city i grew up in. Lisboa!
6. If your music was to be the theme of a film/TV show, what would it be?
shaka zulu
7. What musician/artist would you like to collaborate with for a day?
fever ray
8. What is the album you listen to on a cold rainy day?
i would make a big playlist of Cassie songs and play them in shuffle mode.
9. List four songs you would listen to on a roadtrip?
Alex Clare – Up All Night Beastie Boys feat Q-Tip – Get it Together Alicia Keys – Empire State of Mind Vampire Weekend – A-Punk
10. Where do you see yourselves in 7 years?
makin the same thing but on a better looking laptop.
11. What is the last book you read?
can't remember.
12. Is image a factor in music or is it a waste of time?
depends on where you wanna go. i think it's important to have some sort of personality present on your image, as a musician sometimes your like a "walking" promo picture.
13. Any embarrassing moments on stage you would like to share?
getting too stoned in amsterdam and stopping the show cause i thought something was wrong with my laptop and all the songs were 20 bpm's slower. It was actually working fine ."total band cliche"!
14. Any favorite tour locations?
everywhere we didn't go yet.
15. Lastly, what is your present state of mind?
just wondering why my gold fish are hungry all the time and thinking how many pairs of underwear i need to pack for my trip to the US tomorrow.
_________________________________________________________________________
Audio clip: Adobe Flash Player (version 9 or above) is required to play this audio clip. Download the latest version here. You also need to have JavaScript enabled in your browser.
Buraka Som Sistema – Hangover from Hangover (BaBaBa) (2011)
Audio clip: Adobe Flash Player (version 9 or above) is required to play this audio clip. Download the latest version here. You also need to have JavaScript enabled in your browser.
Buraka Som Sistema – Sound of Kuduro (feat M.I.A.) from Black Diamond (2008)