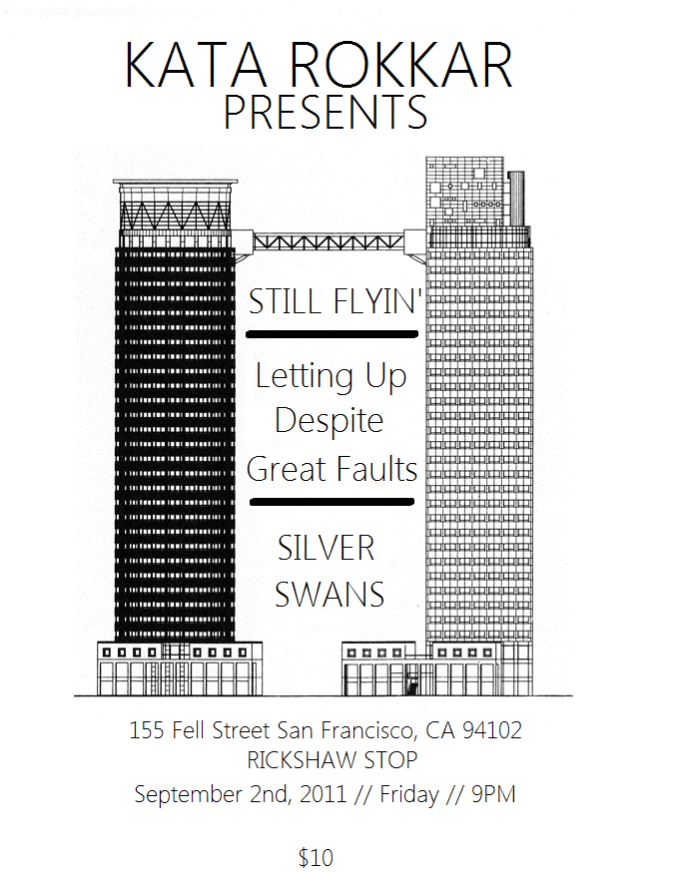 Okay so now that I'm back from a long and much needed vacation and caught up on a few things, I'm happy to announce that tomorrow SF Popfest and us at Kata Rokkar presents our own soulful indie-pop Still Flyin', LA's moody and pulsing Letting Up Despite Great Faults, and quickly rising electro-pop stars Silver Swans.
I knew Ann Yu had more potential than she was projecting in LoveLikeFire, so it's nice to see Silver Swans reach the amount of attention as they have now. The band exudes classical aria's, no-wave, and avant industrial style, as Ann is able to thread her influences into a sound uniquely her own.
Letting Up Despite Great Faults creates beautiful, lifting fusion of gentle vocals and soaring synth-based instrumentals. at times the soft nature of the songs seems too understated, but the lyrics are poetic and almost dreamlike. The band recently released the follow-up to their 2009 debut, the more summer-styled and loftier Paper Crush EP off Old Flame Records. The EP is a mere taste of what Letting Up Despite Great Faults is capable of and a tease of what's to come.
If there's one band that is able to keep the soul of good-time pop music alive in the Bay Area, it's Still Flyin'. While their new material has taken a more streamlined approach toward their unique style, the band is still an epic and gratuitous extravaganza of positive emotions and allowing one-self to let go of negative feelings. Still Flyin' is already having a busy year with two 7″s, a 12″ EP and a singles collection/remix album called Neu Ideas (featuring remixes from the likes of Hood Internet, Love is All, Papercuts and more), plus they are hard at work creating more new material, which I hope to hear tomorrow night.
So come out and spend your Friday night with us and have a Still Flyin' themed drink at The Rickshaw Stop (I don't know what they're going to put in it but it's usually pretty weird).
See ya tomorrow night!
$10.00 ONLINE / $12.00 AT THE DOOR
This event is all ages
Audio clip: Adobe Flash Player (version 9 or above) is required to play this audio clip. Download the latest version here. You also need to have JavaScript enabled in your browser.
Still Flyin' – Bull RIff from A Party In Motion (2010)
Audio clip: Adobe Flash Player (version 9 or above) is required to play this audio clip. Download the latest version here. You also need to have JavaScript enabled in your browser.
Letting Up Despite Great Faults – Teenage Tide from Paper Crush EP (2011)
Audio clip: Adobe Flash Player (version 9 or above) is required to play this audio clip. Download the latest version here. You also need to have JavaScript enabled in your browser.