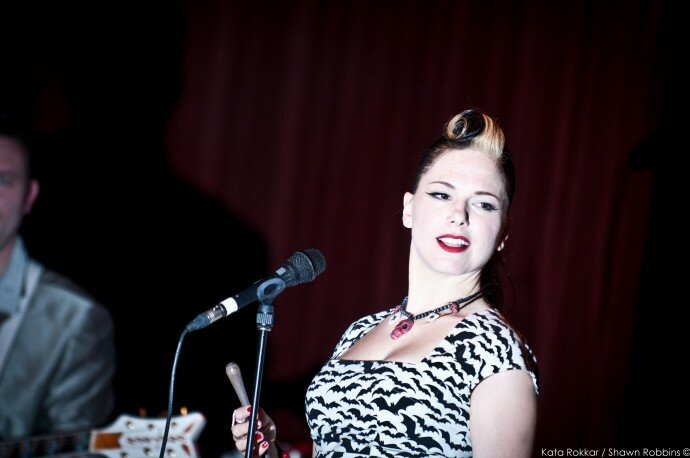 Before I get into this review, I'll confess that I was not familiar with Imelda May aside from one song from two years ago and her recent Conan appearance. Other than that, I was walking blindly into The Independent with zero expectations. What I did witness was a bit out of my comfort zone but entertaining to say the least.
The crowd was primarily middle aged folk. Like the people you would expect to still be into Norah Jones' first album and Michael Buble. In fact, the only people I saw that were remotely close to my age were rockabilly chicks in full regalia. I am guessing that her audience is drawn from something that isn't in popular music or necessarily indie rock right now. If you have heard her music, you know what I mean. Imelda is rockabilly swing music to the max with a touch of big band and soulful jazz. It's also pretty high production and harmless, which is probably why her fanbase seems to comprise of said demographic. In addition she is very pretty with a trademark cinnabon haircut and confident swagger.
She performed a majority of her latest album, Mayhem and a few crowd favorite from 2009's Love Tattoo. In the beginning of her set though, she kind of struggled to grab the crowd's attention. This was something she was very aware of too with quips like, "That song was for those of you that were listening." It was kind of sad how it took halfway through her set before the crowd shut up and really began paying attention to the show.
What really finally got the crowd listening was the incredible skill of the live band. The guitar player was a flaming maniac of fuel-injected trademark rockabilly who handsomely showed off his style, energy, and romp-stomping riff chops throughout the show. Finally the charm of Imelda May began emerging and the show became less about her alone and morphed into the Imelda May Band. The instrumental firepower eventually increased the energy of the performer and subsequently the audience as well. This made the show a whole lot more entertaining on multiple levels.
Overall, I nice surprise considering I never experienced this kind of music very often. Did it convert me into a leather jacket wearing, greased up, rockabilly dude? No, not really. But I understand the skill and talent that goes into this genre of music and recognize it.
Audio clip: Adobe Flash Player (version 9 or above) is required to play this audio clip. Download the latest version here. You also need to have JavaScript enabled in your browser.
Imelda May – Johnny Got a Boom Boom from Love Tattoo (2009)