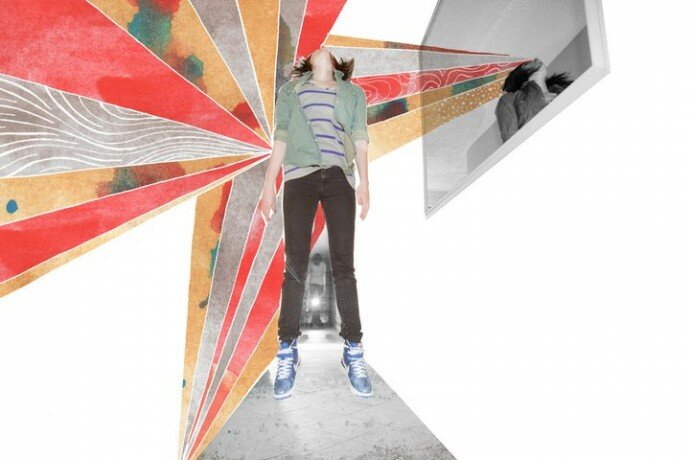 There are quite a few female hip-hop artists roaming the indie scene right now but few have the drive and genre crossing abilities as K.Flay (Kristine Flaherty). Spawning from Chicago, studied at Stanford University, and eventually making a name for herself in the Bay Area, K.Flay is a sharp witted M-80 explosion of a hip-hop artist. Add the keen ear of a self-producer, guitar player, singer, and fiery live performer, one should not be surprised that she's performed with the likes of Zoin I, Wallpaper., Snoop Dogg, Passion Pit, Ludacris, and 3OH!3. In addition, she has recently been billed to tour with T.MILLS, posted a hoppin' official Beastie Boys remix, and released a deeply personal and clever mixtape entitled "I Stopped Caring in '96." [free to download here]. K.Flay's ambition is only matched by her creative drive and will be a welcome addition to this year's Outside Lands Festival line-up.
You can catch K.Flay on Friday, August 12th at 12:45PM on the Twin Peaks stage at Outside Lands Festival.
So here's Part One of our ongoing "Outside Lands Kuestionnaire Series" as K.Flay provides some unsolicited but appreciated advice on question #5.
_________________________________________________________________________
1. Could you state your name and what you do in the band?
my name is kristine flaherty & i am the only person in the band. i rap, sing, and make beats.
2. How would you describe your sound?
a mix of hip hop and indie rock. i'm not afraid to talk about my feelings but i also like double time hi hats.
3. What is your favorite local band?
recently i've been digging on blackbird blackbird for times when i want music to make me feel like i am on neptune. and i mean that in the best way ever.
4. Any concerts that blew your mind recently?
i opened up for this group white denim at a show in the UK and they were phenomenal. the level of musicianship was crazy & their whole vibe was totally understated. it was kind of like 'we are wearing normal clothes and now we are going to blow your faces off.'
5. Any non-musical influences you would like to mention?
i freaking love books, so usually whatever i happen to be reading. right now i'm finishing up a book about waves. my main advice is if you are scared of drowning, do not visit lituya bay in alaska.
6. If your music was to be the theme of a film/TV show, what would it be?
season 2 of 'skins'.
7. What musician/artist would you like to collaborate with for a day?
cat power
8. What is the album you listen to on a cold rainy day?
emily haines – 'knives don't have your back'
9. List four songs you would listen to on a roadtrip?
'monster hospital' – metric, 'hell of a life' – kanye west, 'ritual union' – little dragon, 'up all night' – drake feat. nicki minaj
10. Where do you see yourselves in 7 years?
making a really delicious dinner on a patio of some kind. cous cous will be implicated.
11. What is the last book you read?
'columbine' — it's written by a journalist who covered the shooting back in '99 and conducted like eight million interviews & inquiries in the decade that followed. the book is fascinating and exposes a lot of the misinformation disseminated by the media in the wake of everything that happened.
12. Is image a factor in music or is it a waste of time?
it's definitely a factor, but it's not something i personally think about much. i don't like wearing anything but a t-shirt, jeans, & sneakers, so i'm pretty limited in the costume department, which i think means i'm pretty limited in the image department.
13. Any embarrassing moments on stage you would like to share?
i say it's the wrong day of the week a lot. which isn't embarrassing, just kind of sad.
14. Any favorite tour locations?
i've really enjoyed the shows i've played in london. but hometown gigs are the best.
15. Lastly, what is your present state of mind?
CALI.
_________________________________________________________________________
Audio clip: Adobe Flash Player (version 9 or above) is required to play this audio clip. Download the latest version here. You also need to have JavaScript enabled in your browser.
K.Flay – Mason Jar from I Stopped Caring in '96 (2011)
Audio clip: Adobe Flash Player (version 9 or above) is required to play this audio clip. Download the latest version here. You also need to have JavaScript enabled in your browser.
Blackbird Blackbird – Pure from Summer Heart (2010)