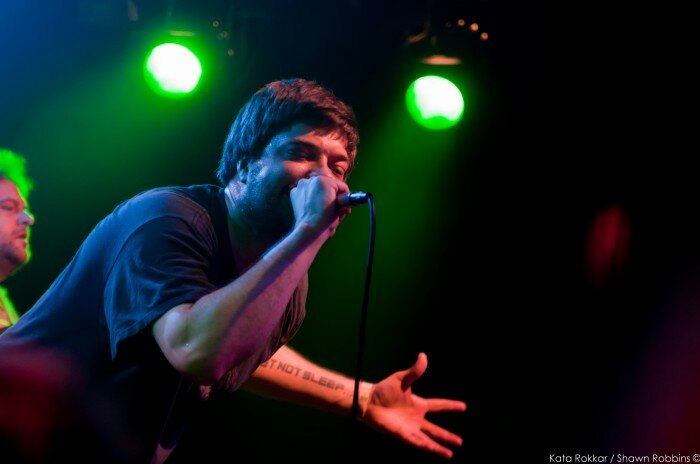 There was much talk about unusual and interesting collaboration of Aesop Rock and Kimya Dawson at this year's Noise Pop Music Festival considering they both had future collaborative recorded efforts coming in the future. But I'm not sure that many people knew what would become of it. The result turned out to be a highly successful and exciting showcase of two sometimes un-categorizable yet daring artists. But the main event for me wasn't hearing Kimya Dawson's whimsical musings, it was witnessing one of the more exciting hip-hop duos perform live; Hail Mary Mallon (aka Aesop Rock and Rob Sonic with DJ Big Wiz).
If you've already heard some of their new album, you know how fluid and jaw-dropping it is. Aesop Rock has donned the crown of psychedelic hip-hop king for quite some time now and some of those albums released in the recent years aren't nearly as energetic as any of the songs on Hail Mary Mallon. This is partially due to the help of the beats from Big Wiz (who provided a decent midset scratch-off) and the added goofball wackiness of Rob Sonic.
Watching them both on stage makes one wonder why this didn't happen sooner. Their chemistry on stage is comparable to their flawless chemistry on the album. Both have unique and individual styles and rhyme flows and when combined, create a fist pumping good time for anyone willing to experience it. The duo broke out tracks like Poconos, a buzzing and deep beat song with a sinister touch. Or the short yet super dance-worthy Grubstake which had the whole crowd bouncing. But the audience was more so active through the silly and fast-paced Breakdance Beach.
As expected, Kimya Dawson joined Aesop on stage for a couple songs. While I'm not sure if they have recorded material in the works (nothing was announced), the songs they performed were quite interesting and somewhat characteristic toward their own styles. Aesop performed his signature flow as Kimya "rapped" her part, which sounded more like sped up spoken word. Not that it wasn't creative, I just craved for a more poetic approach than Kimya's usual preachy style.
While the HMM material did get a good reception, it was Aesop's older songs that got the crowd moving. Most of the classics made their appearance, like Daylight, Coffee, and closing the night with None Shall Pass. Overall, a very good night for anyone wanting Aesop Rock to step out of his comfort zone and try something different while still catering to his diehard fans.
You can purchase Are You Going To Eat That? here.
Audio clip: Adobe Flash Player (version 9 or above) is required to play this audio clip. Download the latest version here. You also need to have JavaScript enabled in your browser.
Hail Mary Mallon – Smock from Are You Gonna Eat That? (2011)
Audio clip: Adobe Flash Player (version 9 or above) is required to play this audio clip. Download the latest version here. You also need to have JavaScript enabled in your browser.