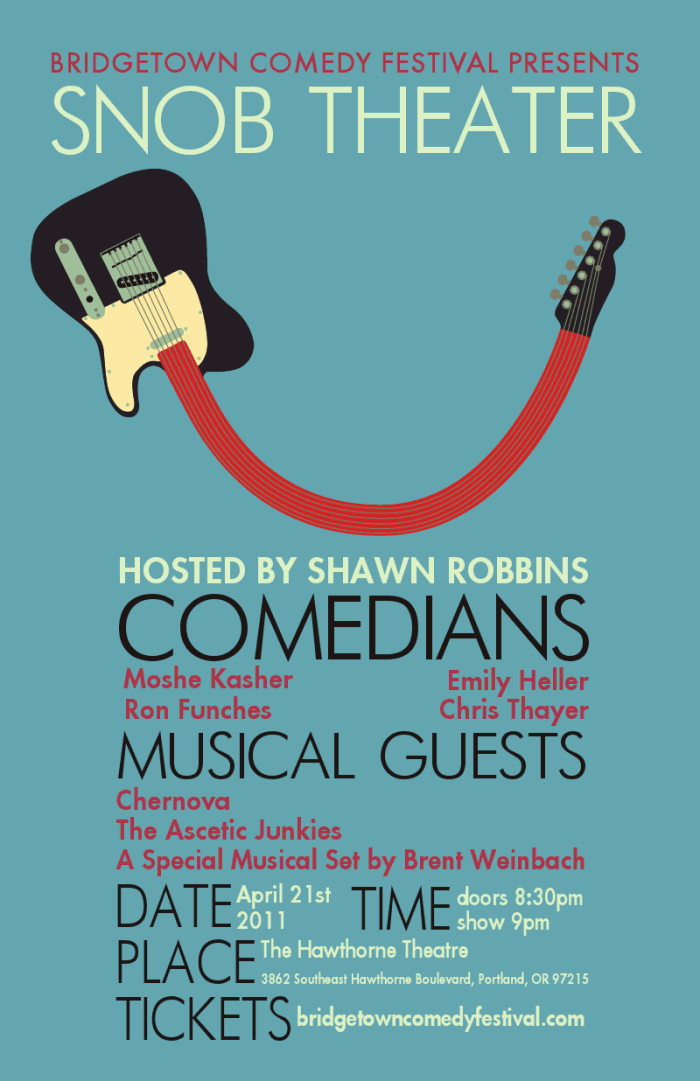 HOLY CRAP! I am proud to announce that this Thursday, Snob Theater will be part of the prestigious Bridgetown Comedy Festival in glorious Portland, OR. The fest was rated "Best Comedy Festival" by Punchline Magazine last year and is featuring the likes of Margaret Cho, Andy Wood, Oscar Nunez from The Office, Kristen Schaal, Simon Helberg, Doug Benson, Hannibal Buress, and tons more comedians from all across the country. So to celebrate, we have put together a slamming line-up of our favorite comedians with two fantastic Portland bands.
Snob Theater is a one of a kind show that combines performances by today's best in indie rock with equally feted stand-up comedians. Originating at San Francisco's Dark Room Theater, Snob Theater creates a magnet for smart and entertaining performances and provides a unique and exciting atmosphere for the lucky audience. Produced and hosted by comedian/music blogger Shawn Robbins, Snob Theater showcases the comfort of the performers as they take chances in a stripped-down setting.
Performing with comedians Chris Thayer, Emily Heller, Ron Funches and Moshe Kasher will be Portland's best in local music. The show will feature punk/dance/unabashed-pop group The Ascetic Junkies and gypsy folk-punk explosion Chervona (Deli Portland Best of 2010 Fans' Poll). In addition, the always amazing Brent Weinbach will perform an exclusive and intimate musical set.
The Ascetic Junkies
Why Do Crows? from Ascetic Junkies on Vimeo.
Carried with a charming and amazing sense of purpose and balancing themes of their own playful self-indulgence with humbler notes of heartbreak and hope, Portland's The Ascetic Junkies play authentic 'indie-bluegrass' finding joy and beauty wedged in the tiniest of places. Their music pulses effervescently both explosively danceable and intuitively intelligent. With Americana roots and strong vocal harmonics that swell like a river, this band finds its anchor in solid songwriting that has even the jaded humming along by the second listen. We are absolutely ecstatic to feature this genuine and talented band to be part of the Snob Theater family.
Audio clip: Adobe Flash Player (version 9 or above) is required to play this audio clip. Download the latest version here. You also need to have JavaScript enabled in your browser.
The Ascetic Junkies – Get What You Want, Get What You Need from This Cage Has No Bottom (2010)
Chervona
Chervona has been breaking down musical barriers since 2006 with a supercharged music based on a brutal gypsy two step rhythm that sounds like an Eastern European cousin of ska, augmented by punk, metal, rap, flamenco, roots reggae, dub, and other sounds generated by gypsies and rebels from across the globe, otherwise known as Portland, OR. This is a intense genre of transglobal rebel rock, not light hearted world fusion pop. It's about believing that music and art can transform negative energy to positive and inspire individual intelligence. Having performed with the likes of Manu Chao, Gogol Bordello, and The Decemberists, we are pleased to present to you a band that knows full well how to get a house on it's feet and dancing.
Audio clip: Adobe Flash Player (version 9 or above) is required to play this audio clip. Download the latest version here. You also need to have JavaScript enabled in your browser.
Chervona – Girlfriends are PAIN! from Girlfriends are PAIN! (2010)
Brent Weinbach
Brent Weinbach's stand-up comedy is weird. He does a lot of characters, he's physical, and his humor is absurd. Here are some other words to describe Weinbach: deadpan, silly, obscure, unconventional, smart, stupid, post-modern, grass roots, Berlin, 1980s, tennis, bike riding, Virgo, Rygar, etc. The list goes on and on. Brent began his comedy career in the underground San Francisco scene, but now tours all over the United States at clubs, colleges, festivals, theaters, music venues, living rooms, tennis, bike riding, Virgo, etc. Brent was a winner and recipient of the Andy Kaufman Award at the HBO Comedy Festival, which is given out once a year to recognize innovation in stand-up comedy. He has appeared on Comedy Central, toured with the Comedians of Comedy, performed at the Coachella and Bumbershoot festivals as well as Just for Laughs in Montreal, and was the creator and star of the Super Deluxe web series "Weinbach in Wonderland." We are excited to announce that Brent will be performing a special musical set just for Snob Theater at this year's Bridgetown Comedy Festival. Definitely one of the most anticipated performances of this fest.
Audio clip: Adobe Flash Player (version 9 or above) is required to play this audio clip. Download the latest version here. You also need to have JavaScript enabled in your browser.
Brent Weinbach I'm Mean from The Night Shift (2009)
Audio clip: Adobe Flash Player (version 9 or above) is required to play this audio clip. Download the latest version here. You also need to have JavaScript enabled in your browser.
Brent Weinbach – Seance from The Night Shift (2009)
The stand-up comedians featured in this show are not my personal favorites but some of the best comedians working right now. The show includes Chris Thayer (SF Sketchfest 2011), Emily Heller (San Francisco Sketchfest 2009 & 2010, Sacramento All-Sketch Festival), Ron Funches (finalist in NBC's 2011 Stand Up for Diversity, IFC's "Portlandia"), and Moshe Kasher (Chelsea Lately on the E! Network, Late Night with Jimmy Fallon, Comedy Central's Live at Gotham, Vh1's The Hot List, John Oliver's New York Stand Up Show on Comedy Central, Traffic Light).
So come out, invite friends, and spread the word. It's going to be a good night.
________
BUY TICKETS and PASSES HERE
Tickets at the door are $10
________
Doors open at 8:30pm
Show starts at 9pm
________
HAWTHORNE THEATRE
1507 SE 39th Ave
Portland, OR 97214