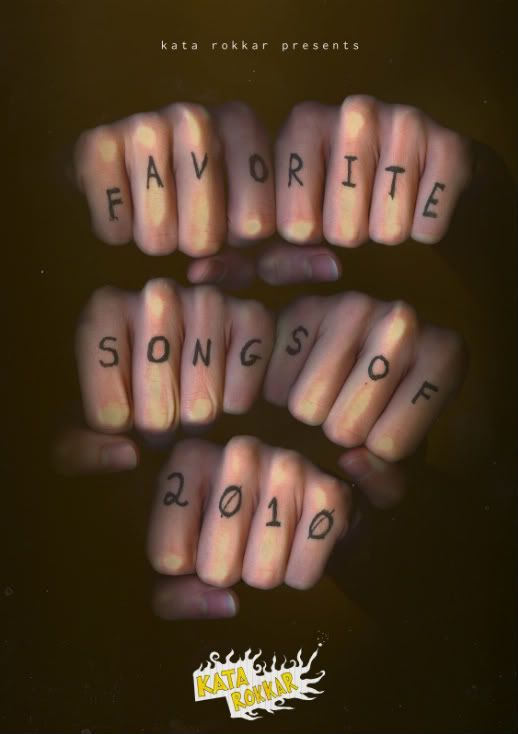 Editor's Note: The 2010 music scene was actually one of my favorites in a long time. While some saw a slow year with nothing eventful happening, I saw a hip-hop artist reveal himself as a human (K. West), an Icelandic superstar create something magical on his own (Jonsi), and a band that reached the highest of expectations (Arcade Fire), plus a plethora of Bay Area bands that expanded the scene's already blooming hype machine (Weekend, Judgement Day, Grand Lake, Morning Benders, Sean Hayes, Sonny & The Sunsets, Il Gato, Sleepy Sun, The Limousines, etc).

So here's my favorite songs with a few short descriptions and a few mp3s. A full .zip file of the free mp3s is posted below.

Here's to another good year in new music!

– Shawn Robbins, Editor-in-Cheif, Kata Rokkar
50.
[mp3]

65daysofstatic – Crash Tactics from We Were Exploding Anyway (2010)
Audio clip: Adobe Flash Player (version 9 or above) is required to play this audio clip. Download the latest version here. You also need to have JavaScript enabled in your browser.
49

.

[mp3]

Weekend – Monongah, WV from Sports (2010)

A Bay Area favorite and controversial due to their fuzzed up sound and indecipherable lyrics, Weekend was a predictable addition to the 'Best of 2010' line-up. Whether you find this song a perfect representation of their blistering live shows or a grinding noise-fest of shit, Weekend is here to stay and thank God.


Audio clip: Adobe Flash Player (version 9 or above) is required to play this audio clip. Download the latest version here. You also need to have JavaScript enabled in your browser.
48

. Sharon Jones & The Dap-Kings – Money from I Learned the Hard Way (2010)
47

.

[mp3]

White Hinterland – No Logic from Kairos (2010)

Audio clip: Adobe Flash Player (version 9 or above) is required to play this audio clip. Download the latest version here. You also need to have JavaScript enabled in your browser.
46

.

[mp3]

Twin Sister – All Around and Away We Go from Color Your Life (2010)

Audio clip: Adobe Flash Player (version 9 or above) is required to play this audio clip. Download the latest version here. You also need to have JavaScript enabled in your browser.
45

.

[mp3]

Monster Rally – Color Sky from Coral (2010)

Thanks to the wonderful blog Motel De Moka, I was turned on by this unusual and bizarrely sexy sound that is quite difficult to describe. Similar to the equally hypnotic Quiet Village, Monster Rally's opening track off Coral has become an obsession of mine and will be a headphone favorite for the majority of 2011.

Audio clip: Adobe Flash Player (version 9 or above) is required to play this audio clip. Download the latest version here. You also need to have JavaScript enabled in your browser.
44

. The Roots – Right On from How I Got Over (2010)
43

. Menomena – Killemall from Mines (2010)
42

. The Limousines – Fine Art from Get Sharp (2010)

As big supporter for this Bay Area based electro-pop duo since their existence, I'm very proud to hear how much they've grown as professional party starters. Fine Art is, in essence, the best representation of what these guys are about.

41

.

[mp3]

Toro Y Moi – Blessa from Causers Of This (2010)

Audio clip: Adobe Flash Player (version 9 or above) is required to play this audio clip. Download the latest version here. You also need to have JavaScript enabled in your browser.
40

. Liars – Scarecrows On A Killer Slant from Sisterworld (2010)

While Sisterworld did not meet my expectations, Scarecrows On A Killer Slant was a fucking kick in the teeth with a steel toed boot. The song just shows how easily this band can brilliantly lose control but make it seemed organized at the same time.

39

. il gato – On Feathers & Arrows (on Burnt Pine) from All these Slippery Things (2010)
38

. Horse Feathers – Thistled Spring from Thistled Spring (2010)
37

.

[mp3]

Hip Hatchet – Wild Plant from Men Who Share My Name (2010)

One of my favorite surprises of this year. While I am still letting his album grow on me, Wild Plant feeds that thirst for beautifully lonely folk music. Once the piano kicks in halfway through the song, it never fails…I am vulnerable. Ugh, I'm a mess just thinking about.


Audio clip: Adobe Flash Player (version 9 or above) is required to play this audio clip. Download the latest version here. You also need to have JavaScript enabled in your browser.
36

. Glassjaw – All Good Junkies Go To Heaven from All Good Junkies Go To Heaven 7″ (Single) (2010)

After years upon years of waiting for new material, here comes this catchy and blistering rocket of a song. Welcome back boys.

35

. Man/Miracle – Hot Sprawl from The Shape of Things (2010)
34

. Geographer – Original Sin from Animal Shapes (2010)
33

.

[mp3]

Ty Segall – Girlfriend from Melted (2010)

Audio clip: Adobe Flash Player (version 9 or above) is required to play this audio clip. Download the latest version here. You also need to have JavaScript enabled in your browser.
32

. Flying Lotus – …And The World Laughs With You (Ft. Thom Yorke) from Cosmogramma (2010)
31

. Deerhunter – Revival from Halcyon Digest (2010)
30

. LCD Soundsystem – Dance Yrself Clean from This is Happening (2010)

Running at almost 9 minutes (like most LCD songs), it takes James Murphy and crew 3 minutes of that time to build up my favorite dance track of 2010. The track is organized chaos and oh-so fun to drive to.


Audio clip: Adobe Flash Player (version 9 or above) is required to play this audio clip. Download the latest version here. You also need to have JavaScript enabled in your browser.
28

. Yeasayer – Ambling Alp from Odd Blood (2010)
27

.

[mp3]

Ariel Pink's Haunted Graffiti – Round And Round from Before Today (2010)

Audio clip: Adobe Flash Player (version 9 or above) is required to play this audio clip. Download the latest version here. You also need to have JavaScript enabled in your browser.
26

. Spoon – Who Makes Your Money from Transference (2010)
25

. Sleepy Sun – Marina from Fever (2010)

This is Sleepy Sun at it's finest. Big Sabbath guitar punches, beautiful choruses, tribal drum solos, and appropriately placed harmonica. I don't know how they're going to continue without Rachel Fannan (who is the balance of this song) because this might be the best they've ever done.

24

. Sean Hayes – Gunnin from Run Wolves Run (2010)
23

.

[mp3]

Avi Buffalo – What's In It For? from Avi Buffalo (2010)

Audio clip: Adobe Flash Player (version 9 or above) is required to play this audio clip. Download the latest version here. You also need to have JavaScript enabled in your browser.

Audio clip: Adobe Flash Player (version 9 or above) is required to play this audio clip. Download the latest version here. You also need to have JavaScript enabled in your browser.
21

. The Morning Benders – Mason Jar from Big Echo (2010)
20

.

[mp3]

Wintersleep – New Inheritors from New Inheritors (2010)

Audio clip: Adobe Flash Player (version 9 or above) is required to play this audio clip. Download the latest version here. You also need to have JavaScript enabled in your browser.
19

. Teen Daze – Gone For The Summer from Four More Years (2010)
18

.

[mp3]

Damien Jurado – Cloudy Shoes from Saint Bartlett (2010)

Audio clip: Adobe Flash Player (version 9 or above) is required to play this audio clip. Download the latest version here. You also need to have JavaScript enabled in your browser.
17

.

[mp3]

Keep Shelly in Athens – Fokionos Negri Street from In Love With Dusk 12" EP (2010)

Audio clip: Adobe Flash Player (version 9 or above) is required to play this audio clip. Download the latest version here. You also need to have JavaScript enabled in your browser.
16

. Owen Pallett – Keep the Dog Quiet from Heartland (2010)
15

.

[mp3]

The Radio Dept. – Heaven's On Fire from Clinging To A Scheme (2010)

Audio clip: Adobe Flash Player (version 9 or above) is required to play this audio clip. Download the latest version here. You also need to have JavaScript enabled in your browser.
14

. The Dead Weather – I'm Mad from Sea of Cowards (2010)

Not much else to say about this song other than it's probably one of the most sinister sounding and gut wrenching tracks The Dead Weather has ever written. After seeing them perform this at Bonnaroo last year, I was hooked.

13

. The Walkmen – Stranded from Lisbon (2010)
12

. The Books – A Cold Freezin' Night from The Way Out (2010)
11

.

[mp3]

Judgement Day – Peacocks / Pink Monsters from Peacocks / Pink Monsters (2010)

If any track from Peacocks / Pink Monsters showed how gritty and theatrical Judgement Day sounded live, the title track did exactly that. Just try not banging along to the drums and rocking out to the strings from this song.


Audio clip: Adobe Flash Player (version 9 or above) is required to play this audio clip. Download the latest version here. You also need to have JavaScript enabled in your browser.
10

. Jónsi – Kolniður from Go (2010)

It isn't until minute two that I'm taken in by this monster of a song. The combination of Jónsi's performance at the Palace of Fine Arts and hearing this song during a down-pour made this track all the more disarming.

9

. Sufjan Stevens – All Delighted People (Original Version) from All Delighted People EP (2010)
8

. These New Puritans – Three Thousand from Hidden (2010)

Taiko drums, Gregorian samples, sword sheathes, fog horn bass, including a melon with cream crackers attached struck by a hammer, used to simulate the sound of a human head being smashed. Go ahead and tell me this isn't the most badass song of 2010.
7

. Arcade Fire – We Used To Wait from The Suburbs (2010)
6

.

[mp3]

The Tallest Man On Earth – King of Spain from The Wild Hunt (2010)

Audio clip: Adobe Flash Player (version 9 or above) is required to play this audio clip. Download the latest version here. You also need to have JavaScript enabled in your browser.
5

. Janelle Monáe – Tightrope (feat. Big Boi) from The ArchAndroid (2010)
4

. Kanye West – Runaway from My Beautiful Dark Twisted Fantasy (2010)

This wasn't my favorite track off this album at first. But slowly…like it's opening piano suggests, I was hooked. As one that can relate to self-destruction, this song was more than some sad sap's cry for help, it was a siren call to those that accept their own flaws and wear it like a badge. So lets toast…

3

. The National – Anyone's Ghost from High Violet (2010)
2

.

[mp3]

Shearwater – Black Eyes from The Golden Archipelago (2010)

From beginning to end, Black Eyes is a The Golden Archipelago in a nutshell. The string section, the opening piano, and then the collision of the band's instrumentation at 1:20, the song is as enormous as the theme of the album itself.


Audio clip: Adobe Flash Player (version 9 or above) is required to play this audio clip. Download the latest version here. You also need to have JavaScript enabled in your browser.
1

. Tame Impala – Why Won't You Make Up Your Mind? from Innerspeaker (2010)

My Last.fm profile won't show it, but this song played in my iPod, car stereo, and home system more than any song this year. I can't get over how Tame Impala is able to combine all my favorite influences and create such an original and mindblowing track. It's too lazy to label this as psychedelic; the song is a master class in experimental rock, extremely physical, raw and energetic and both showcasing Tame Impala at their wild best.

_________________________________________________________________