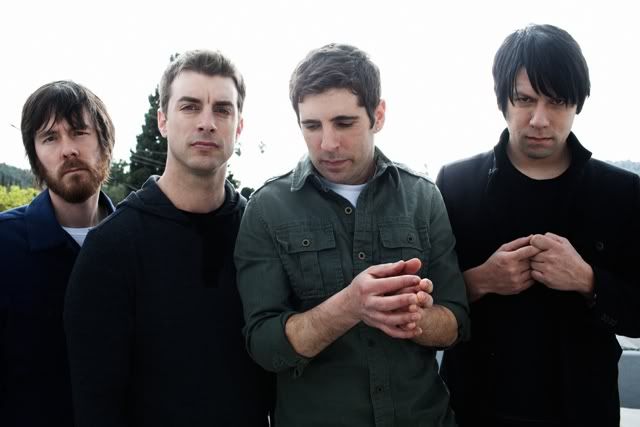 Looking down at his phone, Far's lead vocalist Jonah Matranga says, "Someone wants to hear Seasick." "I keep saying we need to learn that again!" says guitarist Shaun Lopez as thy sit backstage at San Francisco's Bottom of the Hill. The band is just about to take the stage for one of many 'reunion' shows they have been playing across the country. It's no surprise the show is sold out too, Far has been out of the scene for 10 years now and their audience needs a reminder as to why they are so in love with this amazing band. If you're not familiar, Far was formed in 1991 around Sacramento, California and released several albums but it was 1996's Tin Cans with Strings to You and 1998's Water & Solutions that made the band a huge influence on the current post hardcore scene. Unfortunately, shortly after Water & Solutions' release, the band broke up and each member started their own endeavors. It wasn't until late 2008 that the band started playing under the name Hot Little Pony and released a silly yet rocking version of Ginuwine's Pony. Once the single unexpectedly took off and their shows were constantly selling out, it all made sense…Far needed to make a new album.
I sat down with Jonah and Shaun to talk about how they feel now as a band, the history behind their reunion decision, and whether or not we'll see them on tour with Deftones in the near future…
_____________________
Kata Rokkar: So what's the difference between Far now and Far in '98?
Jonah Matranga: We don't care as much now. It really benefits our music. I mean I'm really proud of our music back then too. But I think we're much less attached to our identity as a band as individual people in a band.
Shaun Lopez: Yeah we were just talking about it earlier that we're much less worried about putting our stamp on a song. I think that back in the day it was more like, I'm going to riff up this song …til…the break of dawn!
JM: And I'm going to try to make up some shit that sounds melodic.
SL: Yeah, he's not going to do the 'metal' thing.
JM: I think I was afraid it was going to be Shaun's band and he was afraid it was going to be Jonah's band.
SL: Now it's just our band
JM: Yeah.
SL: Now I'm not even playing the low strings on most of the new songs. So it's just, I don't know, it's way better in my opinion. I'm sure the kids are still going to prefer the old stuff.
JM: Well Water & Solutions especially, I'm never going to ignore that album.
KR: Oh definitely, it's timeless.
JM: Yeah it's nothing like that. I can't even say if this record is better or worse but all I know is that making this record, I feel like we were able to learn…for me I just got to look back at that record and think, God….what were we stressing out so much for? We made a really good noise when we both really did our thing. And I think the other guys in the band would agree with that. All that came off from listening to the record and hearing it last, for me, gave me a lot more confidence in what we do. Because back then it was like, no one really liked us but we like it. Not that many people know who we are but because that record lasted so well, to me gave me confidence in our voice as a band.
"…now that I record a lot, I listen to things back then in a different way and I hear every little imperfection and it's beautiful." – Shaun Lopez
SL: I feel that we were initially talking about playing a show or getting back together, very early on we decided, "Hey, we're going to reherse. We're going to meet up and hang out and see how that goes." So I listened to that record, and I probably hadn't listened to that record in like five or six years. I think I was taking my car into the shop or something and listened to it on the way there and I was like, "Wow this is really good." And now that I record a lot, I listen to things back then in a different way and I hear every little imperfection and it's beautiful. Like when something's late. Because I get crazy doing recordings and looking at things in a different way. But with that record there are so many special moments from Chris' drum fills in Man Overboard that are so behind the beat….rules. To Jonah's voice cracking in Another Way Out, some people might want to fix that, but it's there and it's beautiful.
JM: That was the genius of Sardy (Dave Sardy, producer of Water & Solutions), he knew how to push it to the edge of slop. But make sure it was focused. And I think vocally especially, definitely working with him was the most transformative thing ever for me as a singer that kind of informed everything since then. And going into this record, I definitely went into it with much more confidence as a singer and knowing that Shaun knows my voice so well. And now that he's a producer and actually knows what to do with compressors and microphones and all that stuff. It was just so easy for me to feel safe.
SL: And honestly too I just feel that in the very beginning of us making the record, there was still some resistance between us still.
JM: Oh yeah, we had to unpack some shit.
SL: We had to get past it and the whole time I was probably being stubborn to some degree and so was he. But what I was thinking was, "Look man, you're a great singer and I am about to hook you up." Sometimes you work with people who aren't great singers more often then with people who really do it well. And makes you feel really good when people hear the record and are like, "Dude, Jonah sounds fucking amazing."
KR: Well the thing that was great about you guys getting back together is that some people hadn't seen you live. Like I had heard your records for years and when you got back together I thought, "Well how will this Far translate live? How will Tin Cans and Water & Solutions sound live" And after seeing the first few shows I can honestly say that they translate perfectly. And having listened to Water & Solutions for so long and wondering that if the live material sounded anything like the recorded material, I would be ecstatic. So the fact that it matched the intensity, maybe even surpassed it, is exciting for me or any fan of Far.
JM: That's the funny thing about what makes me excited about the new one.
KR: Well listening to some of the new material it sounds like a 'live' album.
JM: Yeah! When we made Water & Solutions I remember very well the first rehearsal after we made that record and I thought that we were going to get laughed off the fucking stage. I thought the record sounded like God came down to earth and picked up an electric guitar and when we went back to the practice room it was like (mouth-guitars Bury White) and we were like, "Uh oh, we are in trouble." But then it turned out fine once we got to settle into it. So I think with this record we're going to do it with the same self consciousness about this stuff on the record. We'll play new stuff a few times and kind of get our bearings. To me it's always hard after you make a new record, because it's such a perfect 'thing' in a weird way. So I'm glad to hear you say that.
KR: You guys always joke that you opened for Monster Magnet to a sea of blank faces.
JM: True (laughs)
SL: That was the thing for me, especially when we started writing together, it made me realize that chemistry between musicians isn't something you can buy or force to happen. It's really something that happens when we get together and play. Like I can't go and find another singer, even if he's just as good as Jonah and be like, "Hey man you wanna write some songs?" It just doesn't work.
JM: Yeah I've been in a million bands at this point (obviously). But I think the only band I was really in, not to say I didn't have fun with other people, I had a lot of fun with New End Original and some of the guys in Gratitude, with the Onelinedrawing touring members I had a lot of fun, but Far was only the real 'band' was really in. So the cool thing about Far getting together now is that I was done with bands.
KR: You even broke up with Onelinedrawing
"…there's nothing for me like the chemistry that we have." – Jonah Matranga

JM: Right! And I am done with bands. And a lot of what I realized was like, there's something about a bunch of musicians on stage making music together that's fine and it can be really great. But it's another thing to be in a band. It's a very very different thing. And there's nothing for me like the chemistry that we have. Even when we, well don't even fight much anymore at all, but even when we were fighting even when we were getting back together, it was kind of fight I never did in other bands.
SL: Yeah and I think back to some of those fights and they were worth it. Some of the best songs off the new album came from those fights. And there were some nasty fights. Some shit would come back and I would be, "Aww man, am I going to have to see this guy everyday?" But seriously we're done with all that.
JM: I think we were fine at first and then the Pony thing put a lot of pressure on the situation.
SL: Aww yeah…
KR: (laughs) I don't even think you guys knew what was going to happen.
SL: We went to England and played some great shows and then came back and it was like "What the hell is going on?" And to make it worse John (Bassist John Gutenberger) stayed another week and a half. He came back and that was when it was really crazy and he freaked out. Cause …he's John.
JM: I think it's good what happen with Pony. Without Pony we could have casually went through and played some shows. We never would have had some of the fights we had and we never would have had some of the talks we had either. I think basically playing all the old shit and hanging out a little bit; we'd get by on small talk. But writing a new record, it's a very personal thing. And the shit just had to get ripped open.
SL: We were just talking about this today, but when we came home from England, I don't know how you felt (looks at Jonah), but I felt like, "Well…that was fun." And I was cool with that. We played some great shows and the last shows in London and it was amazing. Like 850 people and it was epic. I wanted to go out that way. I didn't want to go out with a stinker of a show. And be like, "Well that sucked." And we came back and I don't think any of us were like, "Okay so you ready to do this again in 3 months?" We were ready to come back and do our own thing. But then that whole thing happened. And it was so weird. So so weird. That little song…it did things. It got us to make another record.
KR: I thought it was hilarious how the whole thing panned out. Because I go to work with people that are casual music listeners, not that there's anything wrong with that, but I remember saying at work one day, "Hey I'm going to see Far in Sacramento." And my co-workers were like, "Oh that Pony band?" And it's that one song that's on their iPod that they heard on the radio. And if you told 10 years ago to that day that something like that would happen, I would have never believed you.
SL: It's like my nephew who's like not really into rock music, he's like a Hip-Hop / R&B kid. He goes to clubs, like dance clubs. And I love him. But he was going to clubs and they were playing our stuff and he's like, "I was grinding chicks and your song came on and I was like, that's my uncle!" It's just so so weird.
JM: Dude they played that shit at my daughter's high school dance. Now that was weird.
SL: And then my mom is like, "Oh I love that song but those lyrics are very racy."
JM: (laughs) Racy. It's such a sweet old lady thing to say.
KR: So your record is coming out around the same time as the new Deftones record…
JM: Yep. Too bad for them.
SL; Yeah man! They're screwed!
KR: Is there any chance for a tour?
SL: I'd love it man. And they've definitely said many things about it. They're like, "Ya know you guys are going to have to come out with us right?" And I think it's really really strange and very cool that after all these years we make a record and it was not planned and we're releasing it around the same date as their album.
JM: And both our records were pushed back several times, so the odds of them coming out around the same time are pretty crazy.
SL: It's awesome and I think both of us as bands look at each other with so much more respect then we ever have. Where before we were still supportive but there was always that kind of "We're a little bit better than them" attitude.
JM: Well it was clear we were better (laughs)
SL: Yeah it's really cool though.
JM: You know what else is crazy math is that not this summer but next summer it will have been 20 years since we played out first show as a band.
KR: Wow. Where was your first show?
JM: It's a matter of some debate. But I think its summer of '91 Gill Coffeehouse. And Deftones played. And Tinfed I believe.
KR: Interesting. Well thanks guys and good luck with everything.
JM: Thank you!
SL: Awesome thanks so much!
____________________
You can pre-order Far's new album At Night We Live here and pick from various package deals including T-shirts, an autographed poster, and a limited edition multi-colored LP.
Audio clip: Adobe Flash Player (version 9 or above) is required to play this audio clip. Download the latest version here. You also need to have JavaScript enabled in your browser.

[mp3] Far – Deafening from At Night We Live (2010)
Far | Tour
May 2 2010 – Roseland Theater
Portland, Oregon
May 18 2010 – The Venue
Sacramento, California
May 19 2010 – Velvet Jones
Santa Barbara, California
May 20 2010 – Belly Up
Solana Beach, CA
May 20 2010 – Belly Up Tavern
San Diego, California
May 21 2010 – The Troubadour
Los Angeles, California
May 22 2010 – The Glass House
Pomona, California
May 23 2010 – Hard Rock Cafe Vegas Strip
Las Vegas, Nevada
May 24 2010- Rhythm Room
Phoenix, Arizona
May 26 2010 – The Marquis Theatre
Denver, Colorado
May 27 2010 – Urban Lounge
Salt Lake City, Utah
May 28 2010 – The Underground
Reno, Nevada
May 29 2010 – Slim's
San Francisco, California