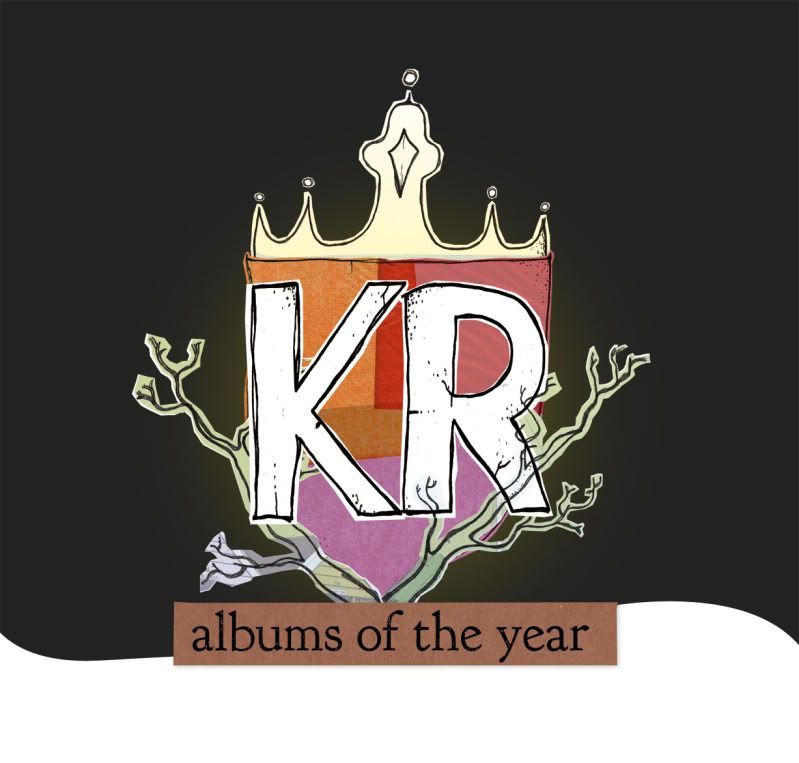 There's a distinct difference between 'best albums of the year' and 'favorite albums of the year.' Who am I to say what is the 'best' album? What makes an album better than the other? You've probably already figured out that I'm trying to say that music taste is subjective. The past 12 months have probably been one of the better years in music in a while. There were albums that defined genres (Merriweather Post Pavilion), albums that reinvented the bands sound (The Hazards of Love), albums that majorly disappointed (Mama, I'm Swollen), and albums that became a sign of what's to come with 'popular' music (Twilight New Moon: Soundtrack).It's time to break down the albums that rocked me this fine year.
Click on the album art to purchase the album:
50. Yeah Yeah Yeahs – It's Blitz!
They have redeemed themselves and returned with a more fun vibe that we all knew was coming.
Audio clip: Adobe Flash Player (version 9 or above) is required to play this audio clip. Download the latest version here. You also need to have JavaScript enabled in your browser.

Yeah Yeah Yeahs- Dull Life from It's Blitz! (2009)
49. J. Tillman – Vacilando Territory Blues
The sounds of a wet and foggy forest were perfectly captured and projected with J. Tillman's most vulnerable record to date. Country-side driving will never be the same.
Audio clip: Adobe Flash Player (version 9 or above) is required to play this audio clip. Download the latest version here. You also need to have JavaScript enabled in your browser.

[mp3] J. Tillman – Vessels from Vacilando Territory Blues (2009)
48. Band of Skulls – Baby Darling Doll Face Honey
I found myself rocking pretty hard in the car alone to this amazing rock and roll record. Oozing sexuality and a pent-up frustration to destroy. One the most fun records of the year.
Audio clip: Adobe Flash Player (version 9 or above) is required to play this audio clip. Download the latest version here. You also need to have JavaScript enabled in your browser.

[mp3] Band of Skulls – Blood from Baby Darling Doll Face Honey (2009)
47. Neko Case – Middle Cyclone
Besides having one of the most bad-ass covers of all time, Neko Case created a hurricane of an album that will carry you away in her embrace. Let her take you.
Audio clip: Adobe Flash Player (version 9 or above) is required to play this audio clip. Download the latest version here. You also need to have JavaScript enabled in your browser.

Neko Case – This Tornado Loves You from Middle Cyclone (2009)
46. The Mars Volta – Octahedron
Could it be that I have a hard-on for The Mars Volta? Probably. But after a handful of songs and records that made me wonder what the fuck they were doing, finally The Mars Volta mixes their bizarre nature and progressive sound and makes something substantial. A grower, but boy does it grow into something amazing.
Audio clip: Adobe Flash Player (version 9 or above) is required to play this audio clip. Download the latest version here. You also need to have JavaScript enabled in your browser.

The Mars Volta – Teflon from Octahedron (2009)
45. Iron & Wine – Around the Well
Sure most of these songs were recorded years ago, but this compilation from Sam Beam were meant to be released this way. It flows just like a normal Iron & Wine album should…subtle and sweet.
Audio clip: Adobe Flash Player (version 9 or above) is required to play this audio clip. Download the latest version here. You also need to have JavaScript enabled in your browser.

[mp3] Iron & Wine – Waitin' for a Superman from Around the Well Disc 1 (2009)
44. Passion Pit – Manners
BOOM! This album made remixers piss themselves in delight and put Boston back on the map as one of the premiere spots for good music that gets you moving.
Audio clip: Adobe Flash Player (version 9 or above) is required to play this audio clip. Download the latest version here. You also need to have JavaScript enabled in your browser.

Passion Pit – Moth's Wings from Manners (2009)
43. Foreign Born – Person To Person
If my drive along the Northern Pacific Coastline had an official soundtrack, Person To Person would be it. The harmonies and swirling guitars along with the Walkmen-like vocals and lyrics is just a taste of what this brilliant album has to offer.
Audio clip: Adobe Flash Player (version 9 or above) is required to play this audio clip. Download the latest version here. You also need to have JavaScript enabled in your browser.

[mp3] Foreign Born – Early Warnings from Person to Person (2009)
42. Raekwon – Only Built For Cuban Linx, Pt. II
Turn it up and make the world know that we all need is more Wu. Flows like this haven't been heard in years, it's been a long time coming.
Audio clip: Adobe Flash Player (version 9 or above) is required to play this audio clip. Download the latest version here. You also need to have JavaScript enabled in your browser.

Raekwon – New Wu Ft Ghostface Method Man from Only Built 4 Cuban Linx PT II (2009)
41. The Decemberists – The Hazards of Love
I hated this record to no end when I first heard it. I missed my Decemberists. It was only after a few more full listens that I realized that they belong to no one and that this may be the Decemberists that was meant to be. You know what? I'm fine with that.
Audio clip: Adobe Flash Player (version 9 or above) is required to play this audio clip. Download the latest version here. You also need to have JavaScript enabled in your browser.

[mp3] The Decemberists – The Rake's Song from The Hazards of Love (2009)
40. Message to Bears – Departures
Multi-instrumentalist Jerome Alexander's Departures is a series of bittersweet articulations that seem suspended somewhere between a certain dreamy sense of wonder and awe and a heavy melancholia. It's a haunting piece of work. Listen carefully.
Audio clip: Adobe Flash Player (version 9 or above) is required to play this audio clip. Download the latest version here. You also need to have JavaScript enabled in your browser.

[mp3] Message to Bears – At the Top of This Hill from Departures (2009)
39. Akron/Family – Set 'Em Wild, Set 'Em Free
This actually might be their best and most accessible record to date. The experimental folk group brought in all the stops and made the feel-good record of the year.
Audio clip: Adobe Flash Player (version 9 or above) is required to play this audio clip. Download the latest version here. You also need to have JavaScript enabled in your browser.

[mp3] Akron/Family – River from Set'em Wild, Set'em Free (2009)
38. Russian Circles – Geneva
Someone told me, "You won't see it coming, this record melts your face and freaks you out all within an hour." He couldn't be more right. It goes from hauntingly intense to magnificent beauty to uncharted territory for a group known to shred your ears to pieces.
Audio clip: Adobe Flash Player (version 9 or above) is required to play this audio clip. Download the latest version here. You also need to have JavaScript enabled in your browser.

[mp3] Russian Circles – Malko from Geneva (2009)
37. Wilco – Wilco (The Album)
A charming record that may not get the appreciation it deserves. The songwriting is as solid as it usually is from Tweedy and the tongue-in-check manner of delivery remains intact. This was just their 'entertainment' record and boy did they hit their mark.
Audio clip: Adobe Flash Player (version 9 or above) is required to play this audio clip. Download the latest version here. You also need to have JavaScript enabled in your browser.

Wilco – Deeper Down from Wilco (The Album) (2009)
36. Dan Deacon – Bromst
A strobe light of colors and manic sound that solidifies Dan Deacon as the king of spastic, high energy dance music. Hidden in this insane finger-painting of a record gone mad, is a layered and perfected album. All hail the king!
Audio clip: Adobe Flash Player (version 9 or above) is required to play this audio clip. Download the latest version here. You also need to have JavaScript enabled in your browser.

Dan Deacon – Woof Woof from Bromst (2009)
35. Cymbals Eat Guitars – Why There Are Mountains
Oh yes, I was so happy to hear that beautiful 90s alt-punk throwback sound. If they had come out a decade an a half earlier, they would be know as genre defining geniuses. However, they are stuck here in the 21st century and forced to remind us that simple and loud music used to be enough for us. [See early Modest Mouse / Diary-era Sunny Day Real Estate]
Audio clip: Adobe Flash Player (version 9 or above) is required to play this audio clip. Download the latest version here. You also need to have JavaScript enabled in your browser.

Cymbals Eat Guitars – And the Hazy Sea from Why There Are Mountains (2009)
34. The Swell Season – Strict Joy
I was afraid they were going to piss this album away into Once Part II. Phhhh, I should have known better, These people know what they're doing. Strict Joy is just as touching as their last, but in a different sense.
Audio clip: Adobe Flash Player (version 9 or above) is required to play this audio clip. Download the latest version here. You also need to have JavaScript enabled in your browser.

The Swell Season – The Rain from Strict Joy (2009)
33. Irepress – Sol Eye Sea I
Okay, bizarre artwork aside [four armed purple ping-pong monster?], this record is the shit. Heavy and drastically unique, Sol Eye Sea I is a brutal rocket launch on the senses. Pushing and pulling with pure metal complexity. So awesome.
Audio clip: Adobe Flash Player (version 9 or above) is required to play this audio clip. Download the latest version here. You also need to have JavaScript enabled in your browser.

[mp3] Irepress – Rhintu from Sol Eye Sea I (2009)
32. The xx – XX
Probably the one of the most overhyped records of the year. Although, this is all for good reason. The intro to the record is actually my favorite of all time. Yes, of all time. The chill atmosphere with male/female vocals in this R&B / new wave manner caught me off guard. Thank God for that.
Audio clip: Adobe Flash Player (version 9 or above) is required to play this audio clip. Download the latest version here. You also need to have JavaScript enabled in your browser.

[mp3] The XX – Crystalised from XX (2009)
31. Why? – Eskimo Snow
Yoni Wolf goes Americana psych-folk? Sure! Why not? Everything this guy touches is gold anyway. Each song is a detailed story that doesn't leave the listener one bit disappointed. While not a good 'entry' album, Eskimo Snow might be Yoni's greatest songwriting achievement.
Audio clip: Adobe Flash Player (version 9 or above) is required to play this audio clip. Download the latest version here. You also need to have JavaScript enabled in your browser.

[mp3] Why? – This Blackest Purse from Eskimo Snow (2009)
30. dredg – The Pariah, The Parrot, The Delusion
Fans of the band were divided and I'm still not totally sure what happened with this album. However, dredg is undeniably comfortable with this new direction they're heading toward. I had to step back a few times and realize that one needs to let go in order to enjoy this album. PPD is a long, intricate and personal record; listen carefully.
Audio clip: Adobe Flash Player (version 9 or above) is required to play this audio clip. Download the latest version here. You also need to have JavaScript enabled in your browser.

dredg – Pariah from The Pariah, The Parrot, The Delusion (2009)
29. Volcano Choir – Unmap
I did not see this coming from Bon Iver's Justin Vernon. Layered with painstaking detail and emotional prowess, Unmap may be too much for some people. For me, it was just right.
Audio clip: Adobe Flash Player (version 9 or above) is required to play this audio clip. Download the latest version here. You also need to have JavaScript enabled in your browser.

[mp3] Volcano Choir – Island, IS from Unmap (2009)
28. Bibio – Ambivalence Avenue
I love how colorful and blinding this album gets at times. I am immediately reminded of Boards of Canada, but more upbeat and cartoonish. I thought I knew this record before I wore some nice headphones…boy was I wrong.
Audio clip: Adobe Flash Player (version 9 or above) is required to play this audio clip. Download the latest version here. You also need to have JavaScript enabled in your browser.

Bibio – Fire Ant from Ambivalence Avenue (2009)
27. Noah And The Whale – The First Days Of Spring
I usually dislike 'break-up' records when I'm no longer going through times like that. But this is beyond your normal story of woe-is-me heartbreak sob story. This an entertaining story that forces the listener to care about the 'character' involved in this story. The lush percussion, carefully picked guitars, and string arrangements briskly guide the listener to feel loneliness, hope, and rebirth. An amazing achievement of a record.
Audio clip: Adobe Flash Player (version 9 or above) is required to play this audio clip. Download the latest version here. You also need to have JavaScript enabled in your browser.

[mp3] Noah And The Whale – Blue Skies from The First Days Of Spring (2009)
26. Various Artists – Dark Was The Night
Dark Was The Night, the best indie music compilation ever, was produced by Aaron and Bryce Dessner of The National and founder of the Red Hot Organization John Carlin. 31 exclusive tracks graces this record from Bon Iver to Spoon, Sufjan Stevens to Arcade Fire. In addition, the double cd/triple viny helped benefit the Red Hot Organization – an international charity dedicated to raising funds and awareness for HIV and AIDS.
Audio clip: Adobe Flash Player (version 9 or above) is required to play this audio clip. Download the latest version here. You also need to have JavaScript enabled in your browser.

Grizzly Bear and Feist – Service Bell from Dark Was The Night (Disc 1) (2009)