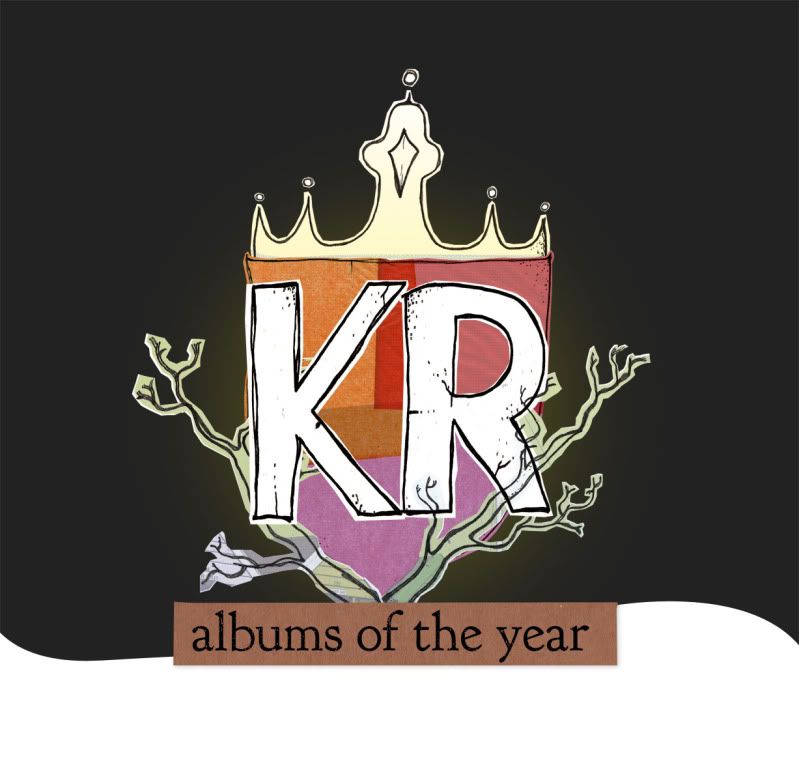 25. Caspian – Tertia
Opening with a whisper and ending with a snarlingly epic conclusion. Perhaps the theme of the album is an ideal reflection of Caspian themselves, a band that insists on finding its own way and settles for nothing less than instrumental perfection.
Audio clip: Adobe Flash Player (version 9 or above) is required to play this audio clip. Download the latest version here. You also need to have JavaScript enabled in your browser.

[mp3] Caspian – Of Foam and Wave from Tertia (2009)
24. Atlas Sound – Logos
As usual Bradford Cox connects to the very heart of the melancholy and joyous side of music. Logos in my opinion is better than anything he's ever done. I know how bold that is, but I love this record.
Audio clip: Adobe Flash Player (version 9 or above) is required to play this audio clip. Download the latest version here. You also need to have JavaScript enabled in your browser.

[mp3] Atlas Sound – Walkabout (w/ Noah Lennox) from Logos (2009)
23. P.O.S. – Never Better
A lyrical mastermind and a thought-provokingly amazing songwriter. This is punk music for the hip-hop soul and done so cleverly with the help of the Rhymesayers. Songs like Low Light Low Life and Goodbye are alone worth purchasing this album.
Audio clip: Adobe Flash Player (version 9 or above) is required to play this audio clip. Download the latest version here. You also need to have JavaScript enabled in your browser.

[mp3] P.O.S. – Goodbye from Never Better (2009)
22. The Antlers – Hospice
The amount of emotion poured into Hospice is unrelenting. Having already heard Bear early in the year, I had to find out what the rest of the album sounded like. Bear ended up being re-translated for me once I had heard the whole album through. Like reading one middle chapter of a book and then going and reading the whole thing in order. Hospice is a gorgeous and delicate record and a sneak attack on the listener's emotions.
Audio clip: Adobe Flash Player (version 9 or above) is required to play this audio clip. Download the latest version here. You also need to have JavaScript enabled in your browser.

[mp3] The Antlers – Bear from Hospice (2009)
21. John Vanderslice – Romanian Names
His craft in songwriting and artful hi-fi production are well represented in Romanian Names. I'm pretty sure the world will end if this man makes one bad record. Keep saving the world my friend!
Audio clip: Adobe Flash Player (version 9 or above) is required to play this audio clip. Download the latest version here. You also need to have JavaScript enabled in your browser.

[mp3] John Vanderslice – Fetal Horses from Romanian Names (2009)
20. Doom – Born Like This
The grittiness is back. Lyrically brilliant and an all out blast to listen to, plus any record with a sample of Charles Bukowski is automatically awesome to me.
Audio clip: Adobe Flash Player (version 9 or above) is required to play this audio clip. Download the latest version here. You also need to have JavaScript enabled in your browser.

DOOM – Ballskin from Born Like This (2009)
19. Sleep Whale – House Boat
As a sucker for ambient music and electro-acoustic soundscapes, Sleep Whale's House Boat is my year's MVP. A friend of mine said they reminded him of The Album Leaf, I responded with, "No, these guys are better."
Audio clip: Adobe Flash Player (version 9 or above) is required to play this audio clip. Download the latest version here. You also need to have JavaScript enabled in your browser.

[mp3] Sleep Whale – Cotton Curls from Houseboat (2009)
18. Jónsi & Alex – Riceboy Sleeps
Drenched in alien-like soundscapes and complex acoustics, "Jónsi" Þór Birgisson (Sigur Rós) and Alex Somers (Parachutes) made the world of ambient music shake with Riceboy Sleeps. The album's ethereal movements and angelic atmosphere made listening an almost supernatural experience.
Audio clip: Adobe Flash Player (version 9 or above) is required to play this audio clip. Download the latest version here. You also need to have JavaScript enabled in your browser.

[mp3] Jónsi & Alex – Boy 1904 from Riceboy Sleeps (2009)
17. Bat For Lashes – Two Suns
This is a more fragile record than people give it credit for. Songs like Moon and Moon and Glass are worth cuddling up with a pair of headphones and letting Natasha Khan's soothing voice take you.
Audio clip: Adobe Flash Player (version 9 or above) is required to play this audio clip. Download the latest version here. You also need to have JavaScript enabled in your browser.

Bat For Lashes – Glass from Two Suns (2009)
16. Mos Def – The Ecstatic
Probably his best record to date. He's been batting 1000 this year and this is no exception. Enlisting Madlib, Chad Hugo, and Georgia Anne to help produce this record was the obvious reason this record turned out so well, but Mos Def still has that lyrical flow everyone knows and loves.
Audio clip: Adobe Flash Player (version 9 or above) is required to play this audio clip. Download the latest version here. You also need to have JavaScript enabled in your browser.

Mos Def – Twilight Speedball from The Ecstatic (2009)
15. Division Day – Visitation
Visitation is a work of structured and dark industrial beauty. Infused with haunting melodies, complex arrangements, vibrant sonic palettes, and infectious rhythms; this eleven-song LP will undoubtedly both challenge and pleasurably reward anyone not familiar with D-Day.
Audio clip: Adobe Flash Player (version 9 or above) is required to play this audio clip. Download the latest version here. You also need to have JavaScript enabled in your browser.

[mp3] Division Day – Devil Light from Visitation (2009)
14. St. Vincent – Actor
The amount of talent Annie Clark exudes on Actor is undeniably amazing. Her beautiful voice melds perfectly with her intricate guitar work and the grand orchestrations make Actor quite possibly her best work so far.
Audio clip: Adobe Flash Player (version 9 or above) is required to play this audio clip. Download the latest version here. You also need to have JavaScript enabled in your browser.

[mp3] St. Vincent – Actor Out Of Work from Actor (2009)
13. Fever Ray – Fever Ray
The atmosphere that lurks in this album is the definition of 'heavy' music. Not heavy as in metal, just weighted and dark. You are instantly transported and free to let your imagination run a muck.
Audio clip: Adobe Flash Player (version 9 or above) is required to play this audio clip. Download the latest version here. You also need to have JavaScript enabled in your browser.

Fever Ray – When I Grow Up from Fever Ray (2009)
12. Clues – Clues
Punch me if you want but I wasn't too impressed with Island's new album, Vapours. However, Alden Penner's (along with Brendan Reed and Bethany Or) Clues pretty much made up for the disappointment of both Vapours and probably never getting another Unicorns record. Penner's voice carries the listener off on an epically fun voyage. It's like a Pixar movie as a record; accessible, joyous, and overwhelmingly creative.
Audio clip: Adobe Flash Player (version 9 or above) is required to play this audio clip. Download the latest version here. You also need to have JavaScript enabled in your browser.

[mp3] Clues – Haarp from Clues (2009)
11. Andrew Bird – Noble Beast
It was almost like he took a step back from his past records and took a different approach on this album. For the better of course, but the songs sound more rich with landscape and heavy on layers. That signature prose and instrumental genius exists, making Noble Beast one of the more fun folkish records of the year.
Audio clip: Adobe Flash Player (version 9 or above) is required to play this audio clip. Download the latest version here. You also need to have JavaScript enabled in your browser.

[mp3] Andrew Bird – Oh No from Noble Beast (2009)
10. Dirty Projectors – Bitte Orca
They are quickly becoming one of my favorite bands. Not only because of their performance with Björk but because of their uncategorizeable style on Bitte Orca. Their complex arrangements of harmonies and jazzy melodies make this record a pleasure never to be guilty over. My only complaint; too short.
Audio clip: Adobe Flash Player (version 9 or above) is required to play this audio clip. Download the latest version here. You also need to have JavaScript enabled in your browser.

[mp3] Dirty Projectors – No Intention from Bitte Orca (2009)
9. Mew – No More Stories Are Told Today I'm Sorry They Washed Away No More Stories The World Is Grey I'm Tired Let's Wash Away
Despite having one of the worst albums covers this side of a community college photoshop submission (something they're kind of famous for), No More Stories is an dark and epic giganotosaurus of a record. Some call them progressive rock from another planet, I agree…except for the prog-rock part.
Audio clip: Adobe Flash Player (version 9 or above) is required to play this audio clip. Download the latest version here. You also need to have JavaScript enabled in your browser.

Mew – Beach from No More Stories Are Told Today I'm Sorry They Washed Away No More Stories The World Is Grey I'm Tired Let's Wash Away (2009)
8. Animal Collective – Merriweather Post Pavilion
As a casual fan of Animal Collective, I approached this album like I approach all AniCol records, an open mind. Well, my mind was properly blown thank you very much. This album will forever be known as their most important record of not only their career but in independent music in general.
Audio clip: Adobe Flash Player (version 9 or above) is required to play this audio clip. Download the latest version here. You also need to have JavaScript enabled in your browser.

Animal Collective – Summertime Clothes from Merriweather Post Pavilion (2009)
7. Phoenix – Wolfgang Amadeus Phoenix
It's extremely difficult to make pop music art again. Last year MGMT almost made it but their record fizzled out midway. No band this year could match the sheer catchiness and addictive rhythms of Phoenix. No wonder commercials and radio have been jumping at the chance to play their music.
Audio clip: Adobe Flash Player (version 9 or above) is required to play this audio clip. Download the latest version here. You also need to have JavaScript enabled in your browser.

[mp3] Phoenix – 1901 from Wolfgang Amadeus Phoenix (2009)
6. The Flaming Lips – Embryonic
Booming with fuzzed up entertainment and free minded lyrics. This is evidence that there is always room for growth in a band that has already perfected it's craft.
Audio clip: Adobe Flash Player (version 9 or above) is required to play this audio clip. Download the latest version here. You also need to have JavaScript enabled in your browser.

The Flaming Lips – The Sparrow Looks Up At The Machine from Embryonic (2009)
5. BlakRoc – BlakRoc
When some one says 'rap-rock' I want to punch a puppy…just want to get that out there. But when I heard BlakRoc, I heard the roots of two genres meshing together and creating something that probably should have been done a long time ago. Mixing the Black Keys with the likes of Q-Tip, Raekwon, RZA, Pharoahe Monch, etc; you get a potent mix that requires the listener to crank the volume.
Audio clip: Adobe Flash Player (version 9 or above) is required to play this audio clip. Download the latest version here. You also need to have JavaScript enabled in your browser.

BlakRoc – Ain't Nothing Like You (Hoochie Coo) (feat. Jim Jones & Mos Def) from Blakroc (2009)
4. Fanfarlo – Reservoir
Criminally underrated and perhaps annoyingly overhyped. Either way it's undeniable that the humble Fanfarlo entered this year with one of the most heartwarming and lovable records. I see bright lights in their future, catch them while you can.
Audio clip: Adobe Flash Player (version 9 or above) is required to play this audio clip. Download the latest version here. You also need to have JavaScript enabled in your browser.

[mp3] Fanfarlo – Luna from Reservoir (2009)
3. Jeremy Enigk – Ok Bear
While not exactly another Sunny Day Real Estate album, Jeremy Enigk's Ok Bear is a grower, and boy does it grow on you. Covering all aspects of his music that I love and even touching on new ground, Enigk made the long drives to work that much more beautiful.
Audio clip: Adobe Flash Player (version 9 or above) is required to play this audio clip. Download the latest version here. You also need to have JavaScript enabled in your browser.

[mp3] Jeremy Enigk – Mind Idea from Ok Bear (2009)
2. Portugal. The Man – The Satanic Satanist
They have been perfecting their brand of progressive beach rock for years and finally have made the record that truly embodies the real talent that is Portugal. The Man. Bonus points for the fantastic album art. Well done men.
Audio clip: Adobe Flash Player (version 9 or above) is required to play this audio clip. Download the latest version here. You also need to have JavaScript enabled in your browser.

[mp3] Portugal. The Man – People Say from The Satanic Satanist (2009)
1. Grizzly Bear – Veckatimest
It didn't take long for me to love every inch of this album and have it grow into one of my favorites of all time. The very genius of this record is the gentle journey that it takes you on. You are instantly transported and forced to pay attention like a book you can't put down. A smart and aurally perfect record on every level.
Audio clip: Adobe Flash Player (version 9 or above) is required to play this audio clip. Download the latest version here. You also need to have JavaScript enabled in your browser.

[mp3] Grizzly Bear – Cheerleader from Veckatimest (2009)