Remember that thing called Coachella that happened last weekend? Well if you're like me, you've been keeping up with other music blogs and websites on how everything went. Over at Speed of Dark you've got a plethora of live tracks and performance reviews from the festivities. Over at losanjealous they've got some pretty sweet pictures of Crystal Castles, The Cure, Okkervil River, and more. Oh and then there's this naked batshit insane wizard hippie getting tased by some cops (NSFW).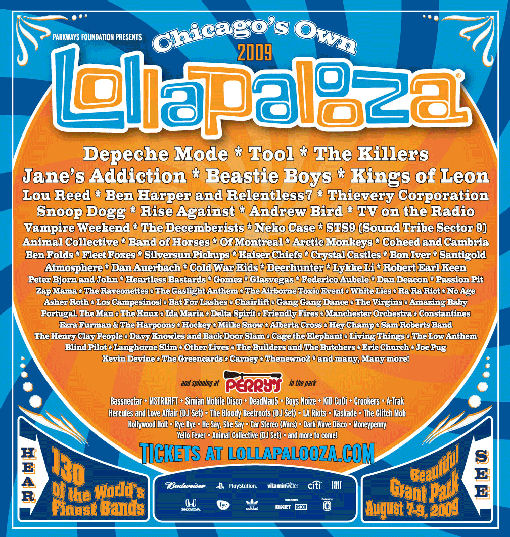 Speaking of crazy festivities, Lollapalooza's line-up was announced this week. Nothing new aside from Lou Reed and few others deciding they'd like to jump on the festival bandwagon. Most of these artists are already on plenty of festival line-ups so it seems everyone will be getting their fair share of TV on the Radio, Beastie Boys, and Band of Horses.
Band of Horses – No One's Gonna Love You
dredg put out another new song this week entitled, I Don't Know. Apparently it's about not knowing anything about the origins of our existence and humbly admitting so. It's got that "ring" to it that would make it a pretty good single.
listen to it here.
Not too much going on when it comes to new releases last week. Brit-punk band Art Brut released Art Brut vs. Satan, Depeche Mode released Sounds of the Universe, Empire Of The Sun goes worldwide with the US release of Walking On A Dream, Jane's Addiction releases their b-side collection called A Cabinet of Curiosities, and Manchester Orchestra impresses me again with Mean Everything To Nothing.
Manchester Orchestra – I've Got Friends