Day Two of Outside Lands had a lot less compromise between bands and a shitload of great performances. I ended up getting there a little early to get a good spot for dredg and Lupe Fiasco.
First up was Goapele. To my pleasant surprise, this beautiful songstress can put on an amazing show. Her soul & neo-jazz combo was a very nice sound to kick off the day. I might have to check out a little more of her music for those lazy Sunday mornings.
I was really pumped to see one of my favorite bands play today. Not only do I love their live shows, but they have been playing a lot of new material off their unnamed fourth album. dredg hit the stage with a brand new intro that could be easily mistaken for a Explosions in the Sky b-side. After a few older hits, they played 3 new tunes that were a bit more refined and tighter than the live recordings I've heard. It seems like this new album they're working on is going to be pretty unbelievable. Once they finished their set, drummer Dino Campanella extended the outro song by walking around on stage with air drums . It was quite a show to say the least.
After talking with a few people on how friggin' awesome dredg was, Lupe Fiasco hit the stage. From what I've heard from my brother (who dispises Lupe for screwing up a Tribe Called Quest song at last years Hip Hop Honors), Lupe's performances are hit-or-miss. However, this was a direct hit. He played hits like Kick/Push, Superstar, Dumb it Down, and Sunshine. The guy was all over the stage and even pulled off a back flip at the end of his set. Just a great performer and a master showman. Bravo, Lupe!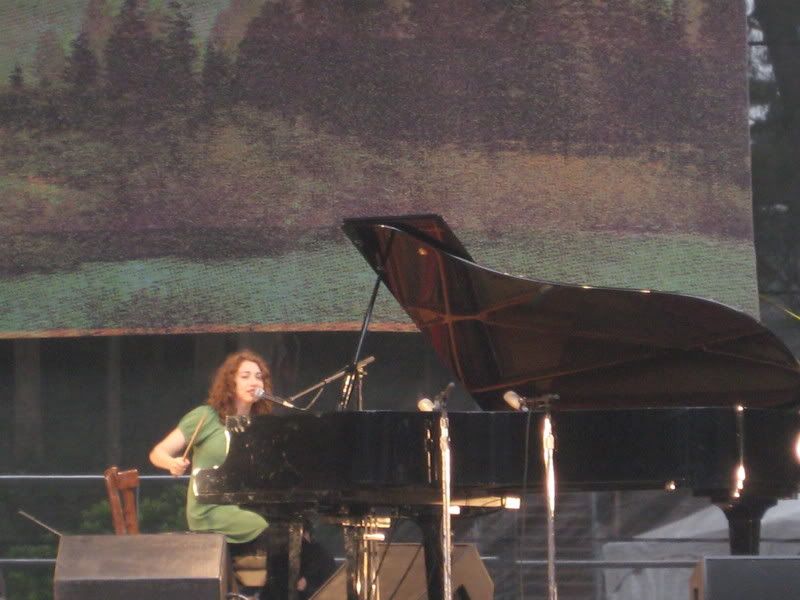 Once Lupe finished up, I wandered over to the long lines at the porta-johns. After relieving myself and eating my Powerbar and drinking my Red Bull, I went over to see Regina Specktor play her brand of goofy piano chick music. I love her style, so I was interested to see how she was going to represent that in her live performance. First off, she is absolutely adorable. She just gets up there and seems to have an absolute blast. The more fun she was having, the more the audience fell in love with her. Regina ended up playing a lot of old songs and a few off her latest album, Begin To Hope. I'll definitely be checking her out again when she swings by the Bay Area again.
Cake. A band that isn't easily characterized. Indie rock and roll? I won't waste your time trying to figure it out. All I know is that their live show was fan-fucking-tastic. As you can see on the right of the picture, it's a baby tree. They ended up giving it away to anyone who knew what it was. I guess there was a dendrologist in the audience tonight because it didn't take long for someone to guess what it was. A Live Oak. The stipulation was to email Cake every so often to give status updates on the growth process of the tree. Seems like a fair enough trade off. Anyway, Cake provided their fair share of audience interaction and radio hits as well as older tunes that they claimed no one has heard before. Overall, great show.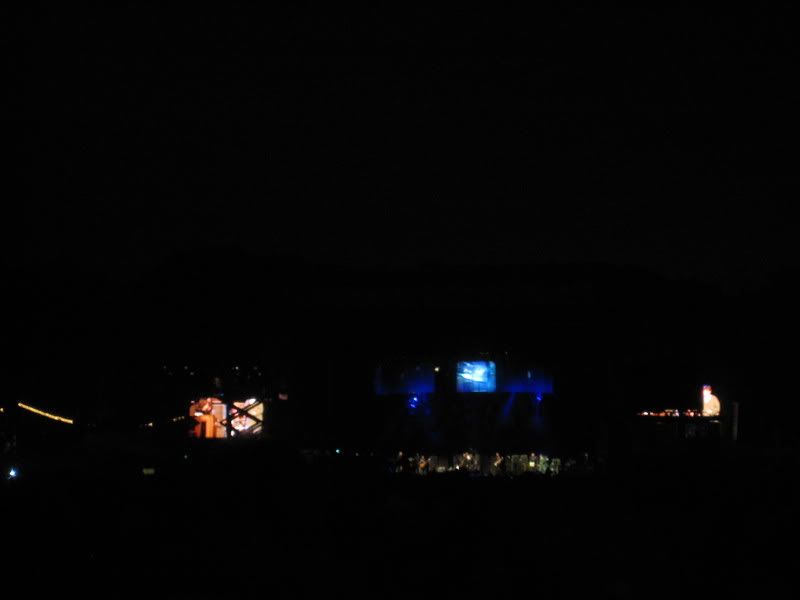 I left Cake with a couple cool people I met while waiting for them to hit the stage. We walked over to watch Tom Petty and The Heartbreakers play some of my childhood favorites and a few covers. During Tom I walked around the emptying grounds and listened to songs that remind me of being in my dad's car when I was 8 years old. So many memories are attached to his songs. It was nice to hear them in person. After he played American Girl, I tried my best to escape and find my car. No issues this time around. I think I'm starting to enjoy this festival thing.
Tomorrow is Andrew Bird, Broken Social Scene, and Wilco. After I report on that performance, I'll post a link to the pictures from the shows as well as a video collage of performances.
Goapele – Love Me Right
dredg – Redrawing The Island Map
Lupe Fiasco – Little Weapon (ft. Bishop G and Nikki Jean)
Regina Specktor – Samson
Cake – Nugget