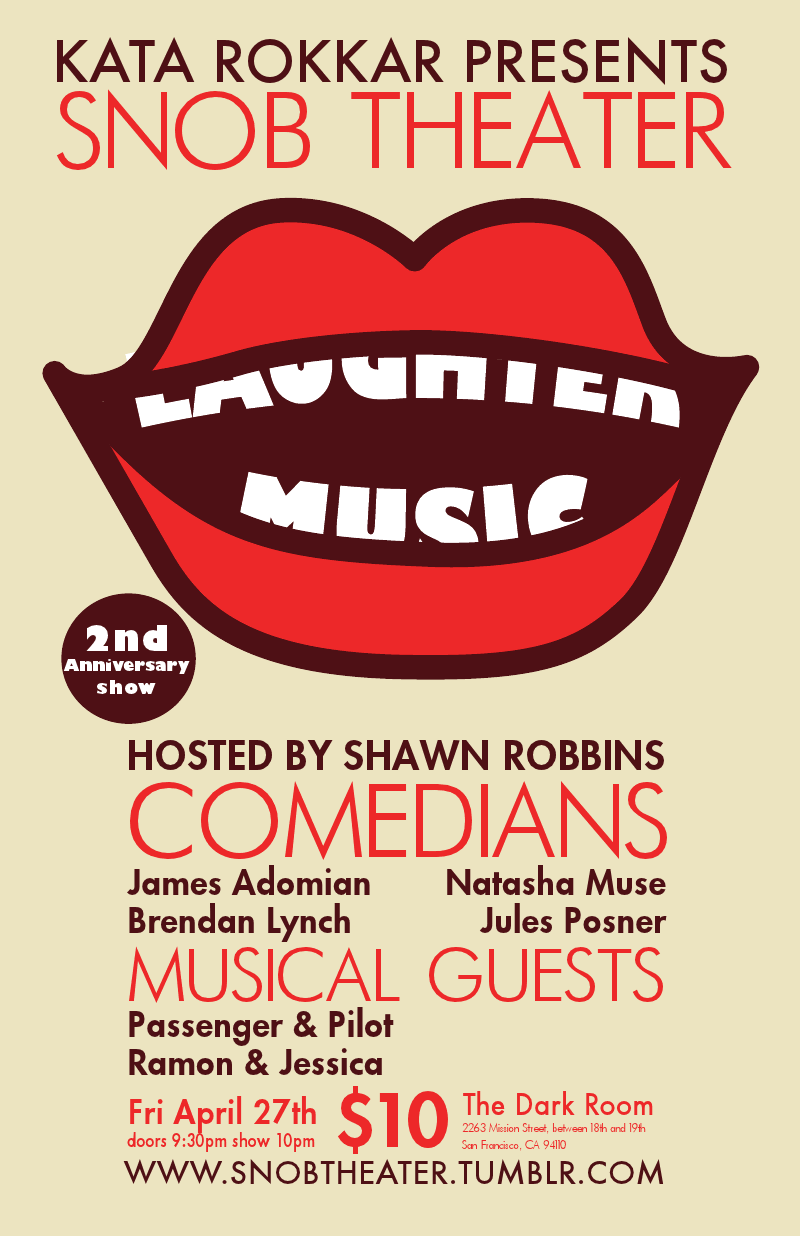 Ladies and gentlemen! Snob Theater will be celebrating two years of showcasing the best in Bay Area based music and stand-up comedy on April 27th at The Dark Room Theater! This night of smart humor and brilliant music will be accompanied by Snob Theater alumni (and performers at our first show) Jules Posner and Natasha Muse; as well as the brilliant Brendan Lynch. In addition, the amazingly talented James Adomian (Comedy Bang Bang, Last Comic Standing) will grace the Snob Theater stage.
And of course our musical guests will include indie-pop duo Ramon & Jessica and the uplifting folk rock outfit Passenger & Pilot.
This is a rare chance to experience these artists in an intimate environment, in affect, seating is very limited.
SF folk artists and skillful a cappella duo Ramon & Jessica will grace the stage of Snob Theater for the first time to celebrate our one year of snobbishness. Not only that but their album, Fly South was released this year to much critical acclaim. Witty lyrical quips and gorgeous harmonies that have been known to silence a room of noisy drunks, violinist Dina Maccabee and multi-instrumentalist Jesse Olsen have created a charming entity that is a splendid and imaginative display of true Bay Area creativity.
So witness the duo in all their glory at Snob Theater this Friday.
MP3: Ramon & Jessica – Diamond in the Sky from Fly South (2012)
Audio clip: Adobe Flash Player (version 9 or above) is required to play this audio clip. Download the latest version here. You also need to have JavaScript enabled in your browser.

The folks of Passenger & Pilot, Jonathan Hirsch (Vocals, Guitar), China Langford (Vocals, Guitar), Lara Cushing (Cello), Chikin (Violin/Viola), Nathan Smith (Bass), and Jeffrey Blair (Percussion) – are an amiable group of day dreamers who craft folkie pop songs for the sensitive and weathered soul. With a wide variety of instruments including cello, violin, various percussion, and guitar filling any of the gaps left by the stellar vocal harmonies, Passenger & Pilot have clearly latched onto a winning formula within their genre. The two lead vocalists could both easily carry an album on their own, but it is the blending of their voices that sets the band apart from any act that could be considered their competition.
You can purchase The Calm Before here for only $9. Or listen to it in it's entirety below…
MP3: Passenger & Pilot – Will My Love from The Calm Before (2011)
Audio clip: Adobe Flash Player (version 9 or above) is required to play this audio clip. Download the latest version here. You also need to have JavaScript enabled in your browser.
This month's stand-up comedians include Jules Posner (SF Sketchfest 2011), Natasha Muse (Winner of the 2010 Battle of the Bay competition, producer and host of "A Funny Night for Comedy" at Actor's Theater),  Brendan Lynch (SF Sketchfest), and James Adomian (Harold & Kumar, Comedy Bang Bang, Last Comic Standing).
So come out, invite friends, and spread the word. It's going to be a good night.
________
Tickets are $10
________
$1 off drink tickets will be provided for anyone willing to visit the nearby bars.
________
Doors open at 9:30pm
Show starts at 10pm
________
The Dark Room
2263 Mission Street, between 18th and 19th
San Francisco, CA 94110
Call 415-401-7987 for info.