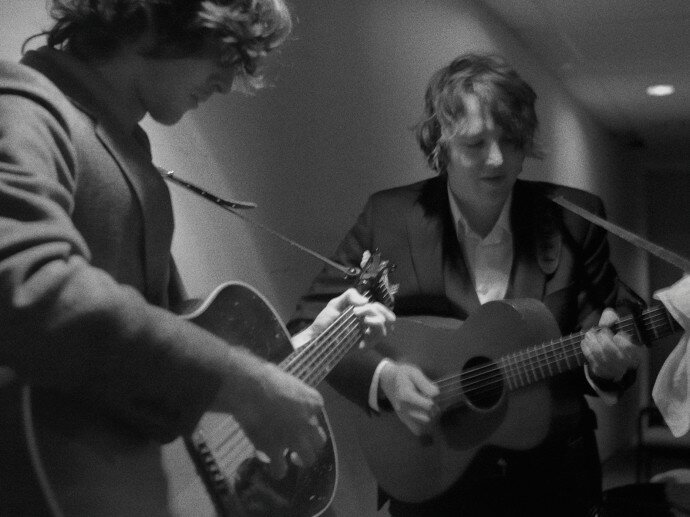 Full of mature, breezy coffehouse tunes interwoven with mellow instrumental passages, Prologue shows The Milk Carton Kids to be a terrific folk and blues duo, a basic pair of witty storytellers, and–in the murky visions of these talented two, the album never feels the least bit cluttered. Whether in a tantalizing upper harmonies that recalls CSNY or their sandy-throated midrange, there's not a weak moment on this dark-horse gem of an album. Which by the way is free via their website.
You can catch The Milk Carton Kids tomorrow (Jan. 17th) at Cafe Du Nord with The Brendan Hines at 8PM.
The humble return of the Kuestionnaire features one half of The Milk Carton Kids, Joey Ryan as he shares a pretty impressive answer to question #4 (we LOVE Largo too!).
_________________________________________________________________________
1. Could you state your name and what you do in the band?
Joey Ryan
2. How would you describe your sound?
At the risk of sounding difficult, it's easier to create a sound than describe it. We've made a habit of leaving that to those who professionally endeavor toward it – writers and such.
3. What is your favorite local band?
I think Blake Mills is on to something.
4. Any concerts that blew your mind recently?
Joe Henry's album release concert at Largo in Los Angeles was a wonder to behold – sonically, visually, intellectually, lyrically – more adverbs I'm sure should be included in the list.
5. Any non-musical influences you would like to mention?
Lately: Herman Melville, Alan Ball, birth, birthdays, and marriages.
6. If your music was to be the theme of a film/TV show, what would it be?
If Thomas Newman hadn't composed it so fittingly, I'd have liked to have gone back in time to submit a piece for the Six Feet Under theme.
7. What musician/artist would you like to collaborate with for a day?
Mavis Staples
8. What is the album you listen to on a cold rainy day?
The Band – The Band.
9. List four songs you would listen to on a roadtrip?
Randy Newman – "Burn On (Big River)"
John Prine – "Pretty Good"
Gillian Welch – "I Dream A Highway"
Radiohead – "Nude"
10. Where do you see yourselves in 7 years?
Hopefully doing exactly what we're doing now. A few more people in the crowd, a few more in the family, but basically the way things are is how I hope they stay.
11. What is the last book you read?
In the middle of Moby Dick now. Should be done by the new year.
12. Is image a factor in music or is it a waste of time?
It depends on the genre. What we're doing hinges greatly on the authenticity of expression and the honesty of presentation, so focusing on an image doesn't seem to be to the point. For a musical act based on other virtues, if that's what they are, the image presented can be as central to their creativity as any lyric written for them.
13. Any favorite tour locations?
HOME
_________________________________________________________________________
The Milk Carton Kids – Michigan from Prologue (2011)
Audio clip: Adobe Flash Player (version 9 or above) is required to play this audio clip. Download the latest version here. You also need to have JavaScript enabled in your browser.
Blake Mills – Wintersong from Break Mirrors (2010)
Audio clip: Adobe Flash Player (version 9 or above) is required to play this audio clip. Download the latest version here. You also need to have JavaScript enabled in your browser.