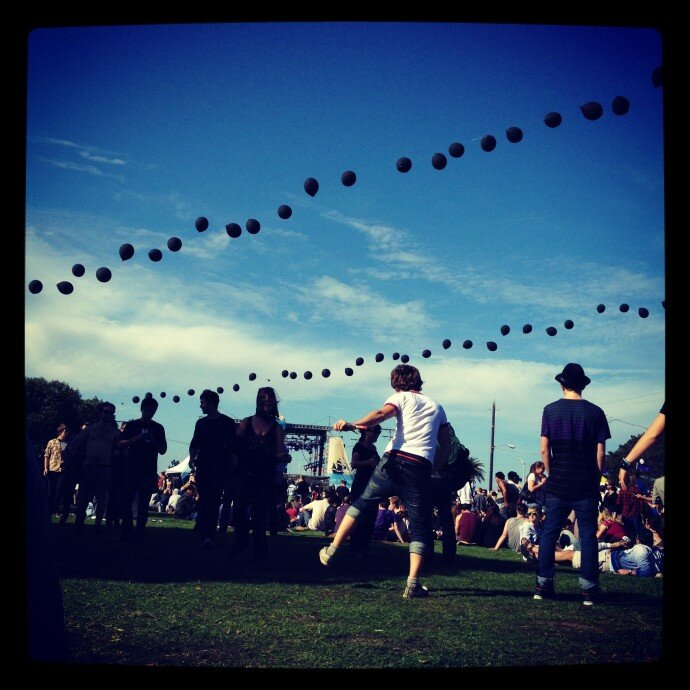 So I went to this year's Treasure Island Music Festival, probably one of the best music festivals around with it's San Francisco skyline backdrop and two days of amazing weather, oh yeah and music, they had that too. I didn't have my DSLR camera this time around so you're going to have to deal with iPhone 4S pictures with Instagram filters. Enjoy!
Best Warm-Up Act – Geographer
It was nice to hear new material as I've been patiently waiting for it since their amazing EP, plus seeing how the crowd dug them almost instantly was nice. The major plus was a guy I aptly named "Cartwheel Guy." This guy was already without a shirt and dancing throughout Geographer's short but fantastic set. More importantly, whenever the band played a song he liked, he would run out into the grassy area and perform several cartwheels and run back into the crowd to continue dancing and singing along.
Best Substitute to Mayer Hawthorne – Aloe Blacc
The name sounds like a body lotion but the music is hip, Motown-inspired, and oh-so charming. Plus the guy's outfit was quite tasteful.
Most Surprising Performance – Shabazz Palaces
I'm always iffy about hip-hop group live performances, sometimes it's all hype and no substance. However, this eclectic and dark duo pull it off with synchronized dance moves, perfectly timed secret handshakes put to their music, and actually playing their beats on instruments while they rhymed and rapped with ease. Since their recent album is probably one of my favorite hip-hop records in years, it was nice to see some consistency and flow.
Audio clip: Adobe Flash Player (version 9 or above) is required to play this audio clip. Download the latest version here. You also need to have JavaScript enabled in your browser.
Shabazz Palaces – Swerve… the reeping of all that is worthwhile (Noir not withstanding) from Black Up (2011)
Best B-52 Cover Band Performance – Yacht
Alright alright I take it back; it was pretty entertaining if you've been a fan to this highly energetic electro-pop act. Jona Bechtolt and Claire L. Evans donned opposite black and white outfits and danced and jumped across stage, much to the crowd's delight.
Best Time For Me To Grab a Beer and Hang-Out With Friends – The Naked & Famous
It was good background music…..
Best Display of Instrumental Talent – Battles
Fuck yes! This was the first time I've seen this math rock juggernaut of experimental goodness. While they did have some visual troubles in the early portion of their set, for the most part they brought a whole 'nother level of energy to the day. The group enlisted guest vocalists Matias Aguayo and Gary Numan to record themselves strictly for the live show and the result was pretty neat. These 6 foot tall narrow screens projected their faces as they sung along to Ice Cream and My Machines (Gary is beginning to look like Robert Smith with a haircut). To quote the person standing next to me after Battles' set was over, "That was fucking spectacular!"
Favorite Performance of the Day – Dizzee Rascal
As a fan of Dizzee for a few years now, it was so great to finally see the man himself absolutely floor the unsuspecting audience that day. So much energy and charisma exuded from this UK import as he blasted new tunes and a handful of my favorites from Boy in the Corner. No one can understand what he's ever saying but I think that's part of the fun.
Best Showcase of Unabashed Dance Moves – Buraka Som Sistema
Honestly before out Kuestionnaire with group, I was unaware of the bombastic electro-tribal Buraka Som Sistema. It was definitely one of the more visually entertaining acts of the day as they bumped and grinded to some of the more thrash-heavy dance songs I've ever heard. I would love to catch these guys at the Mezzanine at some point.
Act That Clearly Had The Most Fun Performing – Flying Lotus
Steven Ellison was all smiles during his short but sweet set at the Tunnel Stage. Out of the three times I've seen Flying Lotus this had to be the most comfortable I've seen him on stage. Not only that but he completely floored his growing audience. The set was so good that when he wrapped up, he requested that someone approach him about doing an impromptu DJ set at a house party anywhere nearby for 2 hours for FREE! (It should be noted that I posted this on twitter and meticulously checked twitter for announcement with no results. So I don't know if it happened at all).
Best Reason of Dance Like an Idiot – Chromeo
While it's pretty clear the duo have not moved past their lovable 2007 Fancy Footwork album, they were still able to pull off a clean-cut set for the already hyped up and energetic audience. No one could resist singing along to Fancy Footwork or busting a move to Bonafied Lovin' even if you aren't a fan of Chromeo's 80s cheese style charm.
Audio clip: Adobe Flash Player (version 9 or above) is required to play this audio clip. Download the latest version here. You also need to have JavaScript enabled in your browser.
Chromeo – Night By Night from Green Light Sound (2009)
Most Surprisingly Enjoyable Set of the Night – Cut Copy
Why was it surprising? While I am a fan of their work, especially this year's Zonoscope (Best Album Cover of the Year?) I had this feeling the show wasn't going to hold up to the uplifting feeling Lights and Music or Hearts on Fire radiate, I was wrong…dead fucking wrong. Even the new tunes took on a new life for (probably) the largest crowd of the night.
Best Reason to Start a Moshpit – Death From Above 1979
Sebastien Grainger and Jesse F. Keeler took the stage and did not waste any time going right into Turn It Out. No new tunes were heard but that was not what any of us were looking forward to the most. The combination of seeing the boys on stage again and seeing how much fun they were having was quickly overshadowed by them playing DFA1979 classics like Black History Month, You're A Woman I'm A Machine, and Romantic Rights.
Best Use of Costumes from Princes' Upcoming Tour in 2023 – Empire of the Sun
I was still surprised to see these guys as headliner for this festival. They did an amazing job last year at Outside Lands Festival, but I was still unsure about their draw. Well despite performing the hell out of every track from the almost 4 years old album, Walking On A Dream (especially Swordfish Hotkiss Night, they rocked this song) people started to make their way back to the shuttles. I guess I wasn't the only one wishing they'd put out a new album already.