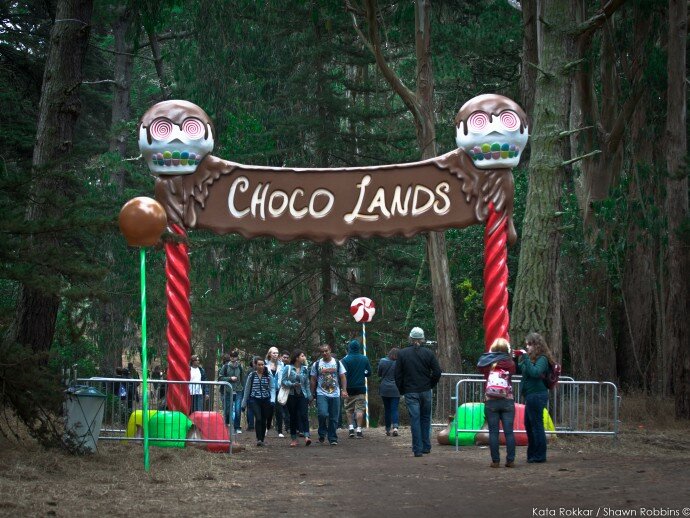 IVAN: Uncharacteristically clear skies heralded the second day of Outside Lands.
IVAN: Chilean rapper Ana Tijoux made up for the previous night's lack of hip-hop satisfaction. Taking the stage with a band and DJ, her set combined jazzy, sample-laden grooves recalling Do You Want More?!!!??!-era Roots with a constant yet smooth flow akin to a Ghostface Killah. Rapping mostly in Spanish save for a brief English freestyle, Tijoux alternated from hard-hitting socio-political conscious rhymes like Suve to laid-back romance jams like Problema de Dos, which she introduced by asking the crowd "How many people here are in love? How many people here are horny? It's the same thing." Tijoux bantered expertly despite a language barrier, stating "A lot of people don't understand Spanish, we don't understand English, it's all about the music."
Audio clip: Adobe Flash Player (version 9 or above) is required to play this audio clip. Download the latest version here. You also need to have JavaScript enabled in your browser.
Ana Tijoux – 1977 from 1977 (2010)
IVAN: Ximena Sariñana provided a brief interlude before the Stone Foxes, one of the day's few conflicts. Opening by plugging her newly released self-titled album, the Mexican pop star began with a pair of songs which veered towards dance pop more than the adult contemporary singer-songwriter vibe of her 2008 debut Mediocre.
IVAN: Across the park, the Stone Foxes exploded the Sutro stage with thrashing blues rock. Extended guitar riffs and growling vocals would give way to elaborate, Hawkwind-like space jams and triple harmonies. Members switched instruments and lead singer duties. A local act, the group's Shannon Koehler explained that playing Outside Lands was a dream of theirs. The crowd only grew more intense for the hometown boys throughout songs like the criminal lament Passenger Train and tribute to a straight edge woman Psycho. By the end of the performance, three audience members walked away with tambourines the Foxes lobbed off stage and the rest with the knowledge that they had been thoroughly rocked.
IVAN: Sonny & the Sunsets provided a palate cleanser with their mellow summertime garage rock. Their retro sound stands at a crossroads of shoegaze, Buddy Holly, beach parties, and Phil Spector. Songs mostly revolved around females, most notably on the sci-fi saga Planet of Women which lead singer Sonny Smith introduced by asking the audience to choose between a "song about a planet where women keep men as slaves," and another song whose description was not nearly as rad.
Audio clip: Adobe Flash Player (version 9 or above) is required to play this audio clip. Download the latest version here. You also need to have JavaScript enabled in your browser.
Sonny & The Sunsets – Too Young to Burn from Tomorrow is Alright (2010)
IVAN: The Barbary tent played host to various sideshows and jazz ensembles, as well as a series of packed comedy performances. Headlining Saturday was Paul F. Tompkins, with openers including Moshe Kasher. Tompkins's current style is to open with riffing, followed by intricately detailed punchline-filled stories built as impeccably as he dresses. I arrived in time to hear a trio of stories describing his experiences in the films Magnolia, There Will Be Blood, and The Informant, followed by an experienced during his run of Best Week Ever in which Paul embarrassed himself in front of Weird Al Yankovic.
Audio clip: Adobe Flash Player (version 9 or above) is required to play this audio clip. Download the latest version here. You also need to have JavaScript enabled in your browser.
Moshe Kasher – I'm an Amazing Lover from Everyone You Know is Going To Die, Then You Are (2009)
IVAN: After briefly attending electronica outfit Starfucker, who played a technofied cover of Girls Just Want to Have Fun, it was off to indie folk locals Vetiver. Their sound is in the milieu of 70s gypsy rock ala Fleetwood Mac, with a Grateful Dead cover reinforcing the sensibility. A set of pleasant jams such as Another Reason to Go was marred only by a vicious attack by the forces of nature.
Audio clip: Adobe Flash Player (version 9 or above) is required to play this audio clip. Download the latest version here. You also need to have JavaScript enabled in your browser.
Starfucker – Death as a Fetish from Reptilians (2011)
A bee sting during Vetiver's closing number caused me to patronize the Rock Medicine tent, of which there were several scattered about the grounds. After some minimal paperwork, a wiry hippie doctor slathered meat tenderizer on my cheek as the Arctic Monkeys played their hits on the main stage. It was a speedy, amiable experience. If you're going to get punched in the face, break a bone, or faint of dehydration, you couldn't have finer people looking after you.
Audio clip: Adobe Flash Player (version 9 or above) is required to play this audio clip. Download the latest version here. You also need to have JavaScript enabled in your browser.
">Vetiver – Wonder Why from The Errant Charm (2011)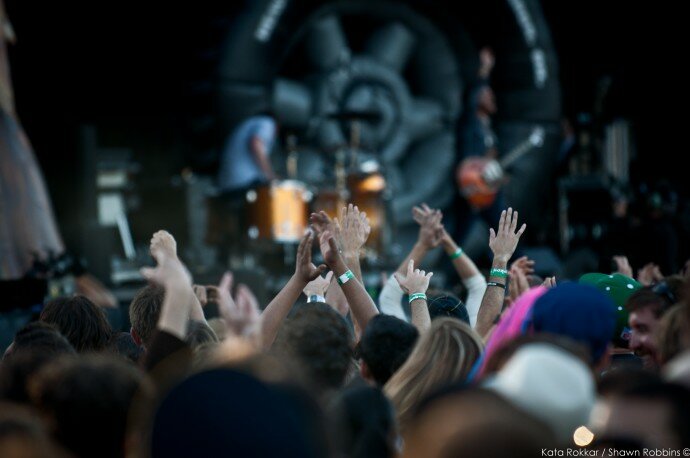 IVAN: After an appearance by San Francisco mayor Ed Lee, The Black Keys proceeded to tear it up immediately. Dan Auerbach and Patrick Carney emerged as a duo and laid into their pre-full band discography, including Girl Is on My Mind from 2004's Rubber Factory and Busted from 2002's The Big Come Up. After four songs, they were joined by more musicians and transitioned into a Brothers-heavy set. As much as these songs destroy on the album, they do it even more live. Added instrumentation and subtle note changes and pure intensity revitalize material which anyone who enjoys rock has likely listened to never quite exhaustion. They paused only to reminisce about playing a show at SF venue the Bottom of the Hill, before proceeding into I'll Be Your Man. A cowbell break and a magnificent guitar solo on I Got Mine closed the show, the only blemish on the performance being that it ended a few minutes early.
IVAN: The worst conflict of the entire weekend was between The Black Keys and The Roots. Every Roots show is a breakneck journey through music, with covers including Immigrant Song, Jungle Boogie, Move on Up, and Gil-Scott Heron tribute Livin' In a Bottle. Songs continuously segue into each other, never letting up for a second. Black Thought rhymes with abandon, proving why he's one of the best MCs in the game with monster raps like Thought @ Work off Phrenology and his masterful impressions of Big Daddy Kane and Kool G Rap on Boom from The Tipping Point. ?uestlove's trademark afro was disappointingly restrained, which did not prevent him from leading the unarguably best band in late night and arguably best band in live music.
SHAWN: As Ivan said, The Roots took live music to a whole 'nother level on Day Two of Outside Lands. The miraculous aspect of their show is the simple fact that they literally do not stop. No breaks for audience banter, no speeches, no sound issues, just an hour plus long barrage of limitless talent from some of the best musicians in modern hip-hop (or even modern pop music). Whether you're listening to Black Thought display why he's one of the top 10 MCs in the world, witnessing electric guitarist Captain Kirk's masterful display of showmanship, or ?uestlove's (sans afro) inhuman beat precision and timing, you can not deny that The Roots is one of the most important live bands in the world.
SHAWN: One of the more noticeable aspects of seeing Muse live is how utterly dramatic it is. You almost feel like you're watching a rock opera or high production play about the history of prog-rock (scary, I know). However, Matthew Bellamy does not hold back his mutated Jeff Buckley howl with songs like Hysteria, Resistance, and Citizen Erased. Even with all the bright lights, lasers, and graphics coming from the screens, Bellamy's ability to play effortlessly on the guitar and grand piano (which they rolled out) was quite impressive. More surprisingly was Muse playing Plug in Baby from 2001's Origin of Symmetry during the encore. This hour and a half set seemed dedicated to the true fans and felt that much more special to those in attendance.
IVAN: Muse's headlining performance made a bid for them being the last real English rock stars. Their pomp was backed by a kickass light show, as Matthew Bellamy belted out prog epics such as United States of Eurasia alongside hits like Starlight. They brought stadium-level theatrics to the stage, spewing smoke and littering the crowd with balloons decorated as giant eyeballs. Theirs was one of the few performances with an encore, closing on Knights of Cydonia and a guitar solo fitting with which to end a night.
Audio clip: Adobe Flash Player (version 9 or above) is required to play this audio clip. Download the latest version here. You also need to have JavaScript enabled in your browser.
Muse – House of the Rising Sun (The Animals Cover) from 1 Love: Nme Warchild Album (2003)
SHAWN: Girl Talk aka Gregg Gillis was exactly what one would expect from the sweat pant wearing, lap top DJ, one man party machine. There was no "performance" involved but if that was what you were looking for, you probably weren't familiar with his work. The set consisted of an hour plus of mixed and mashed up modern day pop music from the best of his latest album All Day and newer material that featured the latest in radio hit pop music. With about 40 people on stage, toilet paper flying into the audience, beach balls pelting people in the face, and confetti shooting up at the end of his set, you could say those who wanted a pure maniac music experience got what they wanted. I however, was ready to watch Muse close out the night.
Audio clip: Adobe Flash Player (version 9 or above) is required to play this audio clip. Download the latest version here. You also need to have JavaScript enabled in your browser.