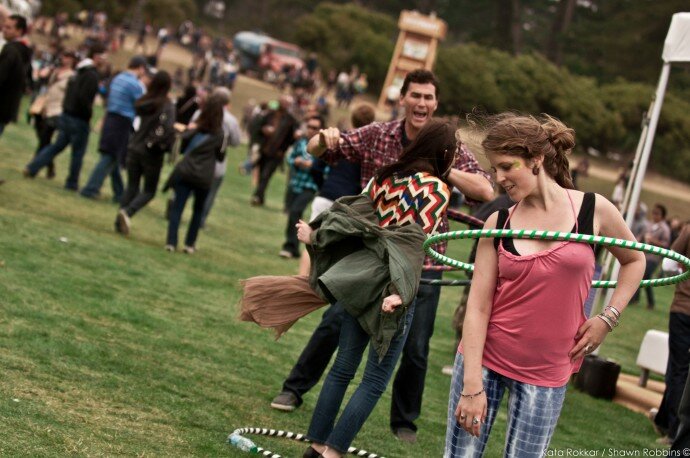 IVAN: The final day of Outside Lands would prove the most jam-packed, beginning with local gypsy punk act Diego's Umbrella. Clad in matching gypsy outfits, they sounded as if a more ska-influenced Gogol Bordello. After a song about cowboys and a cover of Rihanna's Umbrella, it was over to The Fresh and Onlys. Their 80s sad rock throwback vibe was something to make the goth kids sway.
IVAN: Across the park, Daptone recording artists Charles Bradley and the Menahan Street Band took the main stage to church. The Daptone name is the most reliable indicator of classic soul since Motown, and Bradley is the perfect jumpsuited funk godfather to complement labelmate soul queen Sharon Jones. Throughout songs like the politically motivated The World (Is Going Up In Flames) and a funkified cover of Neil Young's Heart of Gold, Bradley's wails proved his moniker of the Screaming Eagle of Soul. After descending into the crowd to shake hands, the band played Bradley off like the soul star he is.
IVAN: A buzzing crowd amassed for tUnE-yArDs, the creation of loop master Merrill Garbus. Weaving layers of sound together with an army of loops, screams, strums, and drums, she created aural soundscapes only intensified by the addition of live saxophones. Reggae thumps and self-made harmonies collide on tracks like Real Live Fresh, while You Yes You recalls Graceland-era Paul Simon as filtered through Reggie Watts. Garbus remarked that this was "the biggest crowd we've ever had at a festival." By the time she finished laying her sonic spells, it was one of the most satisfied crowds at the festival.
Audio clip: Adobe Flash Player (version 9 or above) is required to play this audio clip. Download the latest version here. You also need to have JavaScript enabled in your browser.
tUnE-yArDs – Gangsta from W H O K I L L (2011)
IVAN: tUnE-yArDs ended exactly in time to hear Mavis Staples rip into The Weight, a song she and the Staples Singers had sung alongside The Band in their farewell concert The Last Waltz. Unexpectedly, Win Butler of the Arcade Fire joined her for a moment that served as a great passing of the torch from one of Canada's great old rock bands to one of Canada's great current rock bands. Mavis is one of the most consistent voices in soul, aging like such fine wine. Even an atheist has to get down with gospel as masterfully sung as her version of Wade in the Water.
IVAN: One of the festival's most anticipated appearances was the reunion of Bay Area hip-hop legends Latyrx following a dormancy lasting over a decade. Lyrics Born and Lateef the Truth Speaker burst on stage accompanied by band the Jazz Mafia and singer Joyo Velarde, delivering a non-stop scorching old-school hip-hop party beginning with Aim for the Flickering Flame off 1997's The Album and including solo work like anthem Callin' Out from Lyrics Born's Later That Day. New material seemed to get away from their established sound, one song effectively pounding out speed party rhymes. Another hearkened to early 80s disco rap complete with half-singing rappers, to less success. The duo hasn't lost their ability to play off each other, alternating, harmonizing, and counter rapping each other with nary a misstep. At the show's close Lyrics Born assured the crowd this was a reunion meant to last. If these are the kinds of performances that will ensue, it's in the best interest of great hip-hop that it does.
Audio clip: Adobe Flash Player (version 9 or above) is required to play this audio clip. Download the latest version here. You also need to have JavaScript enabled in your browser.
Latryx – Bad News from The Album (1997)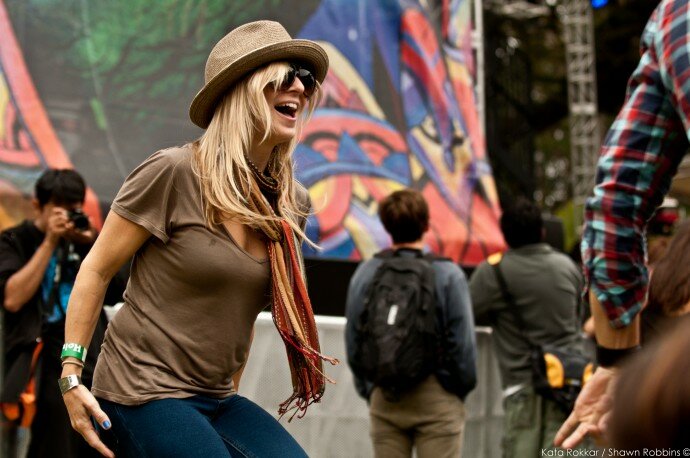 IVAN: Ty Segall played the kind of murky psychedelic garage rock most contemporary to Black Lips and Jack White. Thrashing and sinister, songs like Imaginary Person combine droning guitars, fierce drumming from Emily Rose, and doomy lyrics to create an effect like riding a surfboard into a blackhole.
IVAN: Dancehall club thumpers Major Lazer assembled a massive crowd for a scene reminiscent of the rave from Matrix Reloaded, aided by a hype man delivering incredibly location-specific shout-outs to various sites of audience members. In all fairness to a genre of music in which I have no interest, it was the most dancing observed at any performance outside the techno domes. On exit, I overheard someone say "Everyone who's here's parents are at John Fogerty," which was absolutely true. Fogerty played an even mix of Creedence hits and solo work, occasionally throwing in covers like Pretty Woman. Like Mavis Staples before him, age hasn't diminished his playing, still hitting the full range on classics like Have You Ever Seen the Rain. It was the best bit of counter-programming in the weekend.
IVAN: Swedish electronic outfit Little Dragon played synthy dance pop, elevated by the soulful voice of singer Yukimi Nagano. The band's artificial sound plays against the soulful naturalism of Nagano, to some effect.
Audio clip: Adobe Flash Player (version 9 or above) is required to play this audio clip. Download the latest version here. You also need to have JavaScript enabled in your browser.
Little Dragon – Nightlight from Ritual Union (2011)
IVAN: The Decemberists played the literate, lush indie rock for which they're known, lead singer Colin Meloy offering an amiable air throughout. Unlike some of the wordless singers encountered throughout the weekend, Meloy offered quips and commentary for much of the set. Before Calamity Song, he mentioned that they had offered the song to the Michelle Bachmann campaign, and he prefaced Rox in the Box with "This is a song about labor disputes in Butte, Montana. I know my crowd." They closed on The Mariner's Revenge Song, urging the audience to scream as if they were being swallowed by a whale.
Audio clip: Adobe Flash Player (version 9 or above) is required to play this audio clip. Download the latest version here. You also need to have JavaScript enabled in your browser.
The Decemberists – Down By The Water from The King is Dead (2011)
The orchestral sounds of Beirut grew only more immediate in a live setting. With their European influences on full display, the band led by Zach Condon marshaled accordions and horns into truly rousing songs as the almost Final Fantasy-like Carousels and even poppier material like Scenic World.
Audio clip: Adobe Flash Player (version 9 or above) is required to play this audio clip. Download the latest version here. You also need to have JavaScript enabled in your browser.
Beirut – East Harlem from The Rip Tide (2011)
SHAWN: Joel Thomas Zimmerman, better known by his stage name deadmau5 stood upon his throne of lights and lasers, ready to control the mass of people that ave waited all day to dance their collective asses off. Sporting the usual "mau5 head" and controlling an array of lights that would make last night's Muse jealous, deadmau5 played a mix of songs from 4×4=12 and even bringing along Sofia Toufa herself for One Trick Pony and Sofi Needs a Ladder. The admirable aspect deadmau5's set was the fact that Joel himself wasn't simply cutting and pasting beats, but making original songs and compositions on the spot, giving the frequently questioned music genre a more organic feel. However those the crowd weren't exactly thinking that. The audience was at the will of deadmau5's pulsing set and while I was enjoying myself, it was time to witness the great Arcade Fire.
Audio clip: Adobe Flash Player (version 9 or above) is required to play this audio clip. Download the latest version here. You also need to have JavaScript enabled in your browser.
Deadmau5 – Raise Your Weapon (Madeon Extended Remix) from Raise Your Weapon (2010)
SHAWN: Having seen the indie rock giants before, I knew what to expect. Grandiose arrangements, highly energetic band chemistry, and a charm that one would think had disappeared due to recent fame. Gone was the dramatics and lasers of the night before and the dullness and smell of the Friday; what was replaced was a youthful optimism that was shared by the entire audience. Songs like Neighborhood #1 (Tunnels) and Rebellion (Lies) was welcomed as were Neon Bible and No Cars Go. But it was songs from the more recent Suburbs that brought the crowd to it's knees. With Arcade Fire's recent nudge in mainstream popularity, it was expected that they would have a new set of fans. But rather than be bitter about one of my favorite bands becoming a mainstream success, I sat back watched as one of the most hardworking and musically inspirational bands closed one of the finest music festivals around.
IVAN: Seeing The Arcade Fire is the closest an indie kid can get to a religious experience. Win Butler and his squad of Canadians, including joyous pixie Regine Chassagne, opened with bombast which hardly abated. Indeed, Arcade Fire is a band so bombastic and pompous that the only direction to go for surprising live versions is to strip them down, done effectively on Rococo and parts of Intervention; The Suburbs began with a 50s Archie pop arrangement which subtly melted into the original production. A usual complaint of indie rock lacking in lasers was allayed by a kickass light show, with Neighborhood #3 (Power Out) singlehandedly responsible for giving the crowd epilepsy. The one quibble is that it felt like they could have kicked up the volume two notches. It was the only way it could have improved that moment during Wake Up when the entire crowd and band merged into one beautiful harmonious being.
With an almost perfect balance of indie rock, soul, jam bands, hip-hop, and electronica, along with few schedule clashes, detailed organization, and ideal weather, the 2011 Outside Lands festival came into its own as one of the country's great cultural events.