Editor's Note: Like last year, we decided to have two writers go this year and provide two perspectives of this year's Outside Lands Music Festival. We have myself and local comic personality, Ivan Hernandez. So enjoy our little journey through San Francisco's largest and most popular music festival.
IVAN: The 2011 Outside Lands festival was going to great by virtue of line-up alone. How many weekends could there ever be in which you could see The Black Keys, The Roots, Arcade Fire, Latyrx, and a host of other bands perform in Golden Gate Park? With the roster setting expectations this high, it was enlivening to see them lived up to and exceeded.
SHAWN: While last year's Outside Lands line-up was probably a disappointment to many (probably the festival organizers too), this year boosted some impressive artists and a perfect mix of local bands, indie rock buzz bands, jam bands, world famous DJs, and a who's-who in the modern rock world, not to mention some glorious food, wine, and an atmosphere that was unlike any other festival.
SHAWN: I head into the empty festival grounds heading right for the Sutro Stage to catch Rogue Wave's Zach Rogue and members of Grand Lake perform as Release The Sunbird. They sounded like a softer and sweeter version of Rogue with a bit of Iron & Wine poured…well, all over it. It's very earthy and modest, I'll give it that. And songs like Always Like The Son with back up vocals from the boys in Grand Lake was a great thing start off the first day of the fest.
Audio clip: Adobe Flash Player (version 9 or above) is required to play this audio clip. Download the latest version here. You also need to have JavaScript enabled in your browser.
Release the Sunbird – Always Like The Son from Come Back To Us (2011)
SHAWN: Twangy folk rockers Arann Harris and the Farm Band provided a very enthusiastic and interesting showcase of brooding, earthy, Southern-rock-on-laudanum. Complete with wash boards, banjos, violins, and stand up bass, the bald headed Arann Harris fronted the group to a surprisingly growing crowd of youngsters. Some even brought signs of lyrics to song. I stayed long enough to hear a fair share of jam sessions and organic folk music and moved onto catch K.Flay.
SHAWN: Oakland's K.Flay brought a sizable crowd to the Twin Peaks stage that was ever growing from the beginning of her striking performance. Performing all her own beats herself with a solo drummer providing live arrangements, K.Flay showed everyone present that she was not your average female hip-hop artist. Her balance of old school Beastie Boys like flow and electro-rock samples (she sampled The xx on the track, Less Than Zero) made for an impressive performance, not to mention she seemed focused and determined on stage. Her set was definitely a proud moment for local Bay Area based hip hop music.
Audio clip: Adobe Flash Player (version 9 or above) is required to play this audio clip. Download the latest version here. You also need to have JavaScript enabled in your browser.
K.Flay – Less Than Zero from I Stopped Caring In '96 (2011)
SHAWN: Performing back at the Sutro Stage was a female fronted duel assault. The Joy Formidable and Phantogram. Now The Joy Formidable may be getting praise from Garbage's Shirley Manson and Courtney Love, there's more to the London based act and it lays within their explosive live performance. Lead guitarist and singer Ritzy Bryan runs around on stage, connects with the audience and fellow band members, and just rocks the fuck out like a true seasoned performer. The rest of the band matches her energy and that fired up myself and the rest of the impressed Outside Lands audience.
Audio clip: Adobe Flash Player (version 9 or above) is required to play this audio clip. Download the latest version here. You also need to have JavaScript enabled in your browser.
The Joy Formidable – Whirring from The Big Roar (2011)
SHAWN: While The Joy Formidable was very absorbing to watch, Phantogram was absorbing to listen to. The band strolled in and brought their layered and assessable trip-hop street style pop to an already hyped up audience. I have seen them perform on various occasions and this time was no less impressive. The duo provided plenty of heavy bass that leveled the crowd and a few new songs that are apparently going to be featured on a new EP by the end of the year. I will say that I am always impressed by lead singer Sarah Barthel's intensity on stage. She does not hold her breathy vocal style back, which absolutely helps fuel the already exciting performance.
Audio clip: Adobe Flash Player (version 9 or above) is required to play this audio clip. Download the latest version here. You also need to have JavaScript enabled in your browser.
Phantogram – When I'm Small from Eyelid Movies (2010)
SHAWN: The Panhandle Stage boosted some of the less then popular acts (although I wouldn't call Best Coast, unpopular) but definitely not the less talented. While some people were not impressed with Tamaryn's recent Noise Pop performance, the San Francisco lo-fi psych-rock vocalist must have since sharpened her chops since that show. Her set was a moody and mysterious mix of 80s style goth and modern eclectic rhythms that surprisingly garnered some positive attention from the surrounding audience. I say this because there was no band that sounded like Tamaryn that day, so it was nice to see local folks pay attention to this well deserved artist.
Audio clip: Adobe Flash Player (version 9 or above) is required to play this audio clip. Download the latest version here. You also need to have JavaScript enabled in your browser.
Tamaryn – Love Fade from The Waves (2010)
IVAN: The day began at the Twin Peaks stage to witness Toro y Moi, the alias of musician Chazz Bundwick. From behind his keyboard, Bundwick and band produced thumping funk beats which evoked the best qualities of overproduced late seventies to early eighties R&B while still achieving a naturalistic sound. Toro y Moi is great utility music, the kind of thing you can listen to whether you're hanging out with buddies, on a lone drive, or even freaking a lady. Through songs like Talamak and New Beat, the performance vacillated from balls-out psychedelic freak jams to booty-shake inducing dance pop to straight-up babymaking grooves. Bundwick's presence was genial if quiet, only pausing to ask "You guys doing okay?" and imploring the crowd to "feel free to move around a little more." They needed little prodding but the music to get those asses rocking.
Audio clip: Adobe Flash Player (version 9 or above) is required to play this audio clip. Download the latest version here. You also need to have JavaScript enabled in your browser.
Toro Y Moi – Saturday Love from Freaking Out (2011)
SHAWN: With MGMT, it was nice to hear a few songs from last year's Congratulations, but those choice few songs from Oracular Spectacular don't ever get old for some reason. After I heard what I wanted to hear from them I made my way to get some delicious pork sandwiches from Maverick and catch The Limousines. The band was joined by two masked percussionists that provided some heavy beats from a handful of songs, but overall it was Eric Victorino and Giovanni Giusti that rocked what was apparently the largest crowd they have ever performed in front of. While the sound did cut out here and there, the band remained professional and playful. It was pretty cool to see these guys get the kind of attention they're getting.
Audio clip: Adobe Flash Player (version 9 or above) is required to play this audio clip. Download the latest version here. You also need to have JavaScript enabled in your browser.
The Limousines – Internet Killed The Video Star from Get Sharp (2010)
IVAN: Playing at the adjacent Panhandle stage was LA-based funk soul collective Orgone, named so after the universal life energy. For any wondering, at least five band members is a group and at least eight is a collective. Vocalists Fannie Francis's entrancing presence and the band's latin tinge produce a sound as if Sharon Jones joined Ozomatli. Their enthusiasm and energy were boundless, even causing the sound guys to tap their heads. Francis worked the crowd like an old-school soul act, complete with audience call and response. Few bands work in as cohesive a unit, the most impressive test coming during a sound mishap that left only the bongos and horns as the only audible instruments and resulted in back to back ridiculous extended bongo and horn solos without missing a single beat. Orgone closed with an electrifying cover of Funkadelic's Cosmic Slop, the use of a female singer beautifully recontextualizing the song's story of a woman doing what she can to survive and guitarist Sergio Rios massacring with a guitar solo of which Eddie Hazel would be proud.
SHAWN: I'll be honest here, I fell asleep during Big Audio Dynamite. I know, I get it, it's fucking Mick Jones from The Clash but I can only take so much punk-styled reggae rock for so long before I literally pass out in front of a giant speaker. Yeah, I wasn't 700 yards away from the stage, I was counting sheep right by the stage. Granted I was exhausted, but Big Audio Dynamite was just an absolute struggle to watch or listen to seriously. Maybe it was the 30-plus year olds that took up the majority of the audience or the fact that punk infused dance music is better on paper than in person, either way, I was bored and took a cat nap to get ready for the rest of the night.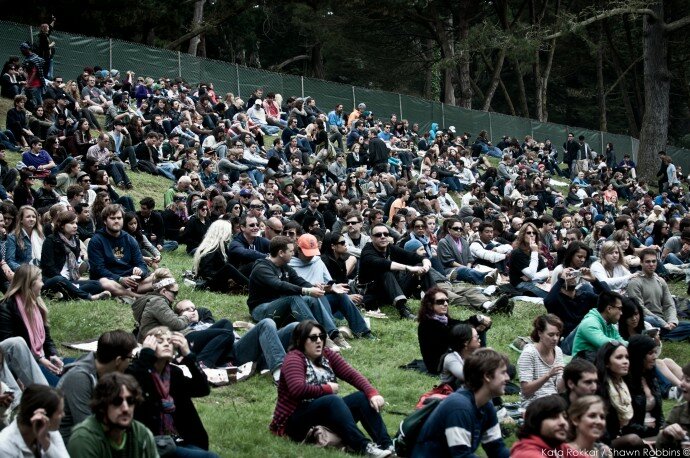 IVAN: One of the festival's few cancellations was also one of its most anticipated acts. After a delay of more than half an hour resulted in murmurs of a no-show, Big Boi appeared on stage to announce that he had been at the festival for hours and grabbed lunch with Dave Chappelle, only delaying the show because of computer difficulties. Chappelle walked on for a moment, picking up the mic to express his appreciation for the crowd before explaining that as a black youth, he had not attended many concerts where beach balls were thrown around, so this was to be his first beach ball concert. He then kicked a beach ball into the crowd and walked off, disappointing those who thought they might receive a comedy performance to weather the delay. After an hour and a half, Big Boi's manager explained that, though they had fixed their tech problems, they had to cede time to Erykah Badu and would rather have no show at all opposed to a half-assed show. Chunks of the crowd moved on despite a few insincere cries of "Half-assed show" and calls to riot.
IVAN: Erykah Badu wasted little time in resuscitating the ebbing crowd. Appearing in an ersatz Darkwing Duck-like outfit she shed over the course of her performance, Badu and her backing band engaged in the mellow neo-soul with sociopolitical undertones for which she's known. Jazz riffs and fist pumps abounded in equal measure during tracks like The Healer and Soldier. She moved from trip-hop to 80s dance beats to reggae with ease and aplomb, at one point banging away on a drum machine before neatly segueing into scatting. Badu was a fiery presence on stage, asking the management "Can we play one more song? No? Well, fuck you," before launching into Danger.
IVAN: Phish was Phish.
SHAWN: I must say, I have avoided listening to The Shins for probably three or four years now. I'm not saying Phantom Limb or any of their previous albums aren't enjoyable, it's simply because I have forgotten about them. Even through the whole Broken Bells stage, I didn't have any inkling to go back and listen to Oh, Inverted World. It wasn't until Mercer and crew pulled off a flawless showcase of rousingly epic indie pop for the hungry crowd was I rekindled with my love for The Shins. Mercer, who in my experience isn't always the most enthusiastic performer, exuded a simple happiness with each song. Whether it was from the ragged surf-rock that propels Pam Berry to the flickering rhythms of Caring is Creepy, The Shins are clearly still going strong.
Audio clip: Adobe Flash Player (version 9 or above) is required to play this audio clip. Download the latest version here. You also need to have JavaScript enabled in your browser.
The Shins – New Slang from Oh, Inverted World (2001)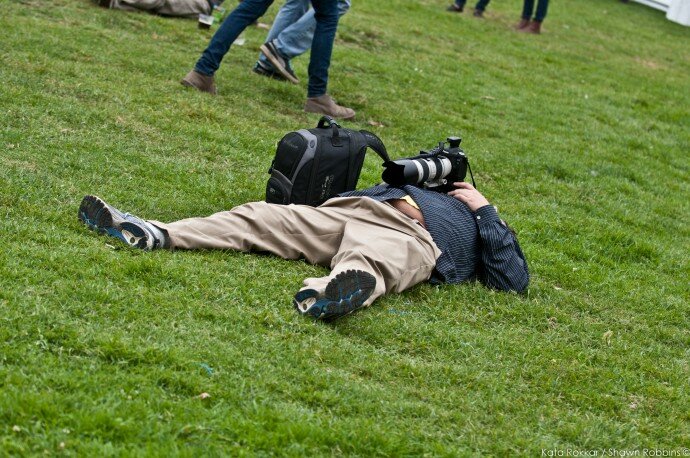 IVAN: Despite a major let-down, the first day of Outside Lands proved to be a relaxing, enjoyable warm-up for what promised to be one of the finer festival weekends in recent memory.