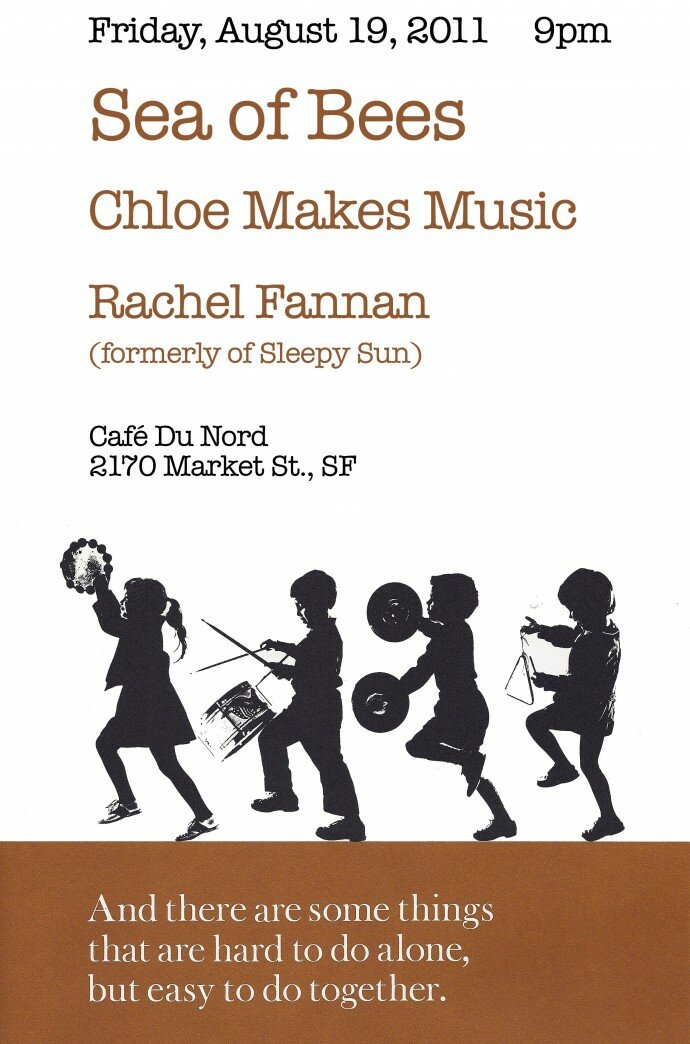 This coming Friday will be a "who's who" showcase of the Bay Area's finest in female folk-rock.
We have ex-Sleepy Sun co-vocalist Rachel Fannan, who was in my opinion the driving force behind the band. Her solo material (formally called Birds Fled From Me) is lighter and more experimental than her previously desert rock Goddess persona in Sleepy Sun. Listening to the loose and lo-fi recording of The Pressure is an exciting glimpse into what one can expect from this impressive vocalist.
In addition we have Chloe Makes Music (Chloe Roth), a celebration of heartfelt 70s-folk instrumentation and harmony. Her latest album, The Puppeteer, is a Pacific Coastline soundtrack that highlights CMM's dedication toward carefully composed Americana that has true spirit and vulnerability. It's breathtakingly gorgeous and smart music, so try to catch her this Friday.
Finally we have the one and only Sea of Bees. Last year, singer/songwriter/guitarist Julie Ann Bee released Songs for the Ravens, an album full of sad, beautiful, weird moments of spacey rural folk-rock that contains the blueprint to intelligent acoustic music. Dreamy arrangements, lofty vocals, and slivers of electronic feedback add to Sea of Bee's down-to-earth melancholy and made Songs for the Ravens spontaneous, happy, sad, loud, and quiet. This Friday, she will return to SF and dominate Cafe Du Nord in addition to this already killer line-up. Oh and check out her recent video for Skinnybone (below).
Purchase tickets here.
Audio clip: Adobe Flash Player (version 9 or above) is required to play this audio clip. Download the latest version here. You also need to have JavaScript enabled in your browser.
Chloe Makes Music – The Duel feat. Christopher Chu from The Puppeteer (2011)
Audio clip: Adobe Flash Player (version 9 or above) is required to play this audio clip. Download the latest version here. You also need to have JavaScript enabled in your browser.
Sea of Bees – Marmalade from Songs For the Ravens (2010)
Audio clip: Adobe Flash Player (version 9 or above) is required to play this audio clip. Download the latest version here. You also need to have JavaScript enabled in your browser.
Rachel Fannan – The Pressure from Pressure/Thank You Single (2011)