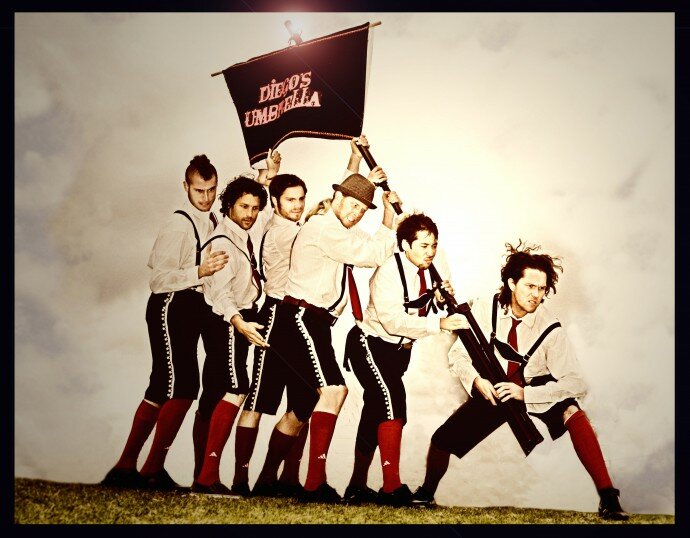 San Francisco's own uniformed gypsy progressive pirate rock band, Diego's Umbrella, has already had their brush with success with three unique and feisty albums, a sizable fan base, and their music inserted into numerous films and TV programs. However, you've probably not experienced the band live yet have you? Well now is probably the best time to do so considering the band will be bring their wacked out version of gypsy rock to this year's Outside Lands Festival. Diego's Umbrella have the theatrics of a headlining act and the attitude of a carnival house band, making them a particular and extraordinary act to witness live. So make sure you cut yourself some time to catch these guys explode their side of Golden Gate Park this weekend at Outside Lands Music Festival. Also check out their new single entitled Richardson (download below).
You can catch Diego's Umbrella at the Twin Peaks Stage on Sunday, August 14th at 12PM at Outside Lands Music Festival.
Today features Part 5 of our ongoing Outside Lands Music Festival Kuestionnaire Series with Diego's Umbrella guitar player Tyson Maulhardt as he provides an interesting non-musical influences.
_________________________________________________________________________
1. Could you state your name and what you do in the band?
Tyson Maulhardt – guitar, manager, Ulysses S. Grant.
2. How would you describe your sound?
Gypsy Rock. Where Gogol Bordello meets Muse and they go on vacation in Mexico together.
3. What is your favorite local band?
Loyd Family Players
4. Any concerts that blew your mind recently?
My Morning Jacket at High Sierra was fun….then again, the ecstacy may have had something to do with it.
5. Any non-musical influences you would like to mention?
Danny Glover and Taylor Swift.
6. If your music was to be the theme of a film/TV show, what would it be?
Vagina Monologues
7. What musician/artist would you like to collaborate with for a day?
Sade
8. What is the album you listen to on a cold rainy day?
Slayer – South of Heaven
9. List four songs you would listen to on a roadtrip?
Paul Simon – Graceland
Talking Heads – This Must Be the Place
Elliot Smith – Somebody that I Used to Know
Pinback – Penelope
10. Where do you see yourselves in 7 years?
Raising Justin Timberlake's child.
11. What is the last book you read?
Kavalier and Clay
12. Is image a factor in music or is it a waste of time?
Huge factor. People want to be visually stimulated by a band, not just audibly.
13. Any embarrassing moments on stage you would like to share?
The time I spilled a beer on a power strip that must have been used for the entire sound system at a festival in the Czech Republic because all of a sudden, everything cut out. Having 3,000 Eastern Europeans waiting for you to get your shit back up and running is not the most pleasant feeling….I was waiting for the pitchforks to come out, but they were super cool.
14. Any favorite tour locations?
Amsterdam, Austin, NYC, Berlin, Denver, Seattle and of course our hometown of SF!
15. Lastly, what is your present state of mind?
Fussy. We partied with some locals after our show last night in Thomas, WV and they are quite generous with the sauce.
_________________________________________________________________________
Audio clip: Adobe Flash Player (version 9 or above) is required to play this audio clip. Download the latest version here. You also need to have JavaScript enabled in your browser.
Diego's Umbrella – Richardson from Richardson/Downtown (2011)
Audio clip: Adobe Flash Player (version 9 or above) is required to play this audio clip. Download the latest version here. You also need to have JavaScript enabled in your browser.
Diego's Umbrella – Lasers 'n Lesbians from Double Panther (2009)