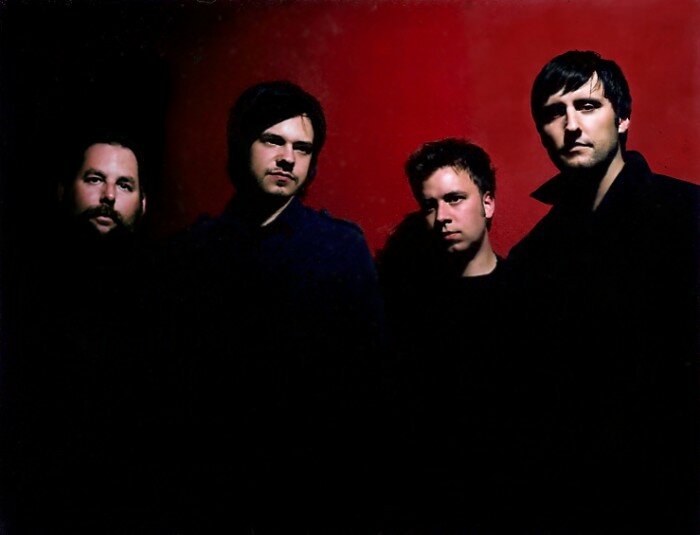 Known for bringing an emotional heft and sense of hope to a usually placid genre, San Francisco's The Union Trade have taken their monumental sound to new heights with this year's Why We Need Night EP. A moody but gorgeous EP infused with youthful sincerity, it is cinematic in scope with soothing soundscapes of atmospheric, ambient, and shimmering chimes interspersed with crashing interludes that are guided by the modest vocals from lead vocalist Nate Munger. This isn't average post rock that drags and bores the listener, this is tight and well thought out songs that burst with color and expand with repeated listens.
You can purchase Why We Need Night here.
This week we snag bassist/singer Nate Munger as he tempts us to do a Google search for Union Trade embarrassing moments. Challenge accepted!
_________________________________________________________________________
1. Could you state your name and what you do in the band?
Nate Munger- bass, vocals
Don Joslin- guitar,
Eric Salk- guitar, keyboard
David Elrod- drums
2. How would you describe your sound?
Post-rock with vocals
3. What is your favorite local band?
Geographer. They are great live, great on record.
4. Any concerts that blew your mind recently?
Sufjan Stevens – Paramount Theater, Oakland. It was a beautiful spectacle.
5. Any non-musical influences you would like to mention?
Driving in cities on rainy days, travel.
6. If your music was to be the theme of a film/TV show, what would it be?
Something sweeping and epic.
7. What musician/artist would you like to collaborate with for a day?
1960's Phil Spector
8. What is the album you listen to on a cold rainy day?
The National – High Violet
9. List four songs you would listen to on a roadtrip?
Mogwai – Folk Death 95
Sigur Rós – Íllgresi
Interpol – Untitled
Willie Nelson's – "Stardust"
10. Where do you see yourselves in 7 years?
Retired to academia
11. What is the last book you read?
Mother Night by Kurt Vonnegut Jr.
12. Is image a factor in music or is it a waste of time?
It is obviously not a factor in making it, but in every other situation, yes it's a factor.
13. Any embarrassing moments on stage you would like to share?
If you can't find them on the Internet, they don't exist.
14. Any favorite tour locations?
Beauty Bar – Austin, TX
15. Lastly, what is your present state of mind?
Like a break in the clouds.
__________________________________________________________________________
Audio clip: Adobe Flash Player (version 9 or above) is required to play this audio clip. Download the latest version here. You also need to have JavaScript enabled in your browser.
The Union Trade – Headlands from Why We Need Night (2011)
Audio clip: Adobe Flash Player (version 9 or above) is required to play this audio clip. Download the latest version here. You also need to have JavaScript enabled in your browser.