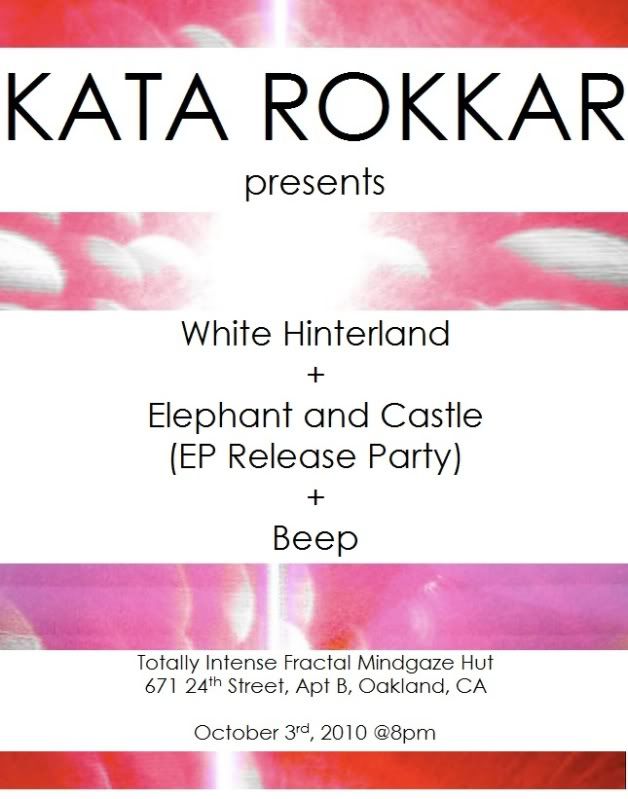 We usually don't announce shows that are happening over the weekend (we leave that duty for fellow blogger, Epicsauce), but there are a lot of things we are excited about. First off we have our own show with soulful chillwave group White Hinterland, experimental electro act Elephant and Castle (EP Release Party!), and avant-jazz group Beep at Oakland's Totally Intense Fractal Mind Gaze Hut on Sunday, October 3rd. Festivities begin at 8pm and cover is only $5. You want to go to this show; it's a very impressive line-up.
Audio clip: Adobe Flash Player (version 9 or above) is required to play this audio clip. Download the latest version here. You also need to have JavaScript enabled in your browser.

[mp3] White Hinterland – No Logic (Alan Wilkis Remix) from Kairos (Remixed) (2010)
Next up we have First Aid Kit performing at the Bottom of the Hill this Sunday, October 3rd.  Still supporting their recently released debut LP The Big Black And The Blue, which has received critical acclaim from Spin and Nylon magazine as well as plenty of attention from fans of heartfelt harmonies and delicate folk melodies.
When I Grow Up by First Aid Kit

It looks as though the "classic lineup" of Guided By Voices will descend on San Francisco's Warfield Theatre this Thursday, October 5th. Apparently tickets are still available but I can't imagine they'll be around for much longer. Lord knows when the prolific American rock band will perform under this line-up again so pick up your tickets now.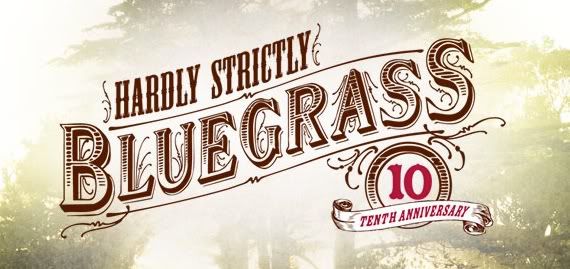 Probably the most important concert happening this weekend will be the 10th annual Hardly Strictly Bluegrass Festival. A free concert series that begins today with acts like Jenny & Johnny, Patty Griffin, and Michael McDonald (featuring The Dukes of September Rhythm Revue). Saturday shines best with Jonathan Richman, Trombone Shorty, Conor Oberst, Bonnie "Prince" Billy, and Joan Baez (among many others). Sunday boosts big names like Randy Newman, Patti Smith, Sharon Jones and the Dap Kings, The Avett Brothers, and Lucero. Did I mention it's free? Well don't be surprised if every homeless captain weirdo decides to join in on the festivities. Also watch out for people deciding it's okay to camp out in front of a stage. Hardly Strictly is the very definition of a beautiful disaster.
Exclusive Song for The Sound Strike "Coyote Song" by Bright Eyes. from Producciones Cimarrón on Vimeo.
Audio clip: Adobe Flash Player (version 9 or above) is required to play this audio clip. Download the latest version here. You also need to have JavaScript enabled in your browser.

[mp3] Bonnie "Prince" Billy – I've Seen It All (Bjork Cover) from Ask Forgiveness (2007)
Audio clip: Adobe Flash Player (version 9 or above) is required to play this audio clip. Download the latest version here. You also need to have JavaScript enabled in your browser.

[mp3] Jenny and Johnny – Big Wave from I'm Having Fun Now (2010)
Finally we have Arcade Fire and Calexico performing at the Greek Theatre at UC Berkeley for two nights this Saturday and Sunday. We'll be there for the final night and we expect nothing short of something epic.
Audio clip: Adobe Flash Player (version 9 or above) is required to play this audio clip. Download the latest version here. You also need to have JavaScript enabled in your browser.

[mp3] Calexico – Two Silver Trees from Carried To Dust (2008)
Have a safe weekend!