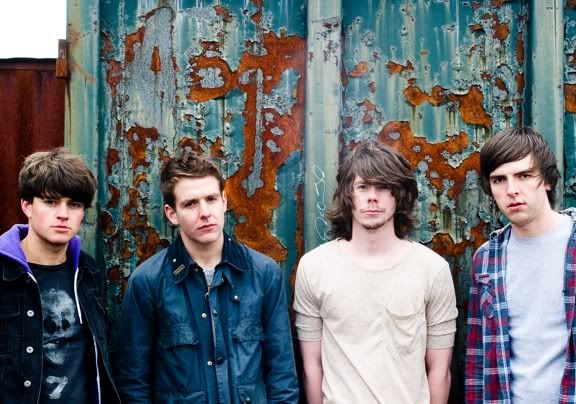 When I first listened to the UK's Fetch the Witches, I noticed a specific atmospheric sound not found in most space rock bands these days. They noticeably draw influence from OK Computer Radiohead but maintain a similar individual sound found in bands like the recently reunited Codeseven and the Bay Area's own Stomacher. Diverse and textured, their more recent self titled single allows Fetch the Witches to push their own creative boundaries, taking their music to breathtaking heights of expression and challenging listeners to explore each startling soundscape the group conjures. Not to mention they're huge Bjork fans, which is always a plus in my book.
This Friday, Fetch the Witches will be part of 'The Aftershow,' hosted every last friday of the month. It's known as 'Manchester's biggest indoor festival which will be featuring Beatbullyz and more to be announced. Click here for official listings on MOHO and tickets.
You can get more (FREE) music from Fetch the Witches here.
This week we have guitarist (keyboardist and…glockenspielist?) Nick Donovan answer the Kuestionnaire.
_________________________________________________________________________
1. Could you state your name and what you do in the band?
Nick Donovan, I play guitar, keys and glockenspiel.
2. How would you describe your sound?
As BBC6Music presenter Tom Robinson described it on his show recently: "Dark and Ferociously ambitious". Or 'dark pop', maybe?
3. What is your favorite local band?
We're really into an electronic artist called Bash. He's got some crazy sounds and an incredible live set. Think Flying Lotus performing at Global Gathering.
4. Any concerts that blew your mind recently?
We saw Mew a little while back in Manchester. They we're incredible – such great visuals and conceptual ideas in their performance.
5. Any non-musical influences you would like to mention?
Collectively, Victorian erotica, brown hair and sailor Jerry's.
Individually, we have a great many disparate interests that manifest in our music and in arguments.
6. If your music was to be the theme of a film/TV show, what would it be?
The Moomins, there's something fun but subtly disturbing about the whole thing.
7. What musician/artist would you like to collaborate with for a day?
Bjork, would be great to collaborate with. She's the Queen of collaboration and every album makes such an interesting chapter to her career.
8. What is the album you listen to on a cold rainy day?
The Queen is Dead – The Smiths or…. Geogaddi by Boards of Canada (this may divide the band).
9. List four songs you would listen to on a roadtrip?
Like a Rolling Stone – Bob Dylan
Jockey Full of Bourbon – Tom Waits
Weather to Fly – Elbow
Introducing Palace Players – Mew
10. Where do you see yourselves in 7 years?
Recording in an old French house surrounded by the ghosts of the rural ex-occupants.
11. What is the last book you read?
The Artistic Turn: A Manifesto (I'm doing a Ph.D which means most of my days are reading and that I tend to bore everyone else in the band with my lengthy analyses and research moods.. sorry guys.
12. Is image a factor in music or is it a waste of time?
It's important for different people at different times…. For us right now it's secondary. We're concentrating more on our artwork and website image rather than clothes and things – our listeners can't keep those.
13. Any embarrassing moments on stage you would like to share?
Tom (our singer) hit me in the face with his guitar at our last gig and our bassist Simon had a few too many ales one time and kept falling over on stage…
14. Any favorite tour locations?
Fuel in Manchester was a good gig for us recently – it's tiny and hot as a sauna but a great intimate place.
15. Lastly, what is your present state of mind?
Peripatetic/hungry
_________________________________________________________________________
Audio clip: Adobe Flash Player (version 9 or above) is required to play this audio clip. Download the latest version here. You also need to have JavaScript enabled in your browser.

[mp3] Fetch The Witches – Fetch The Witches from Fetch The Witches (2010)