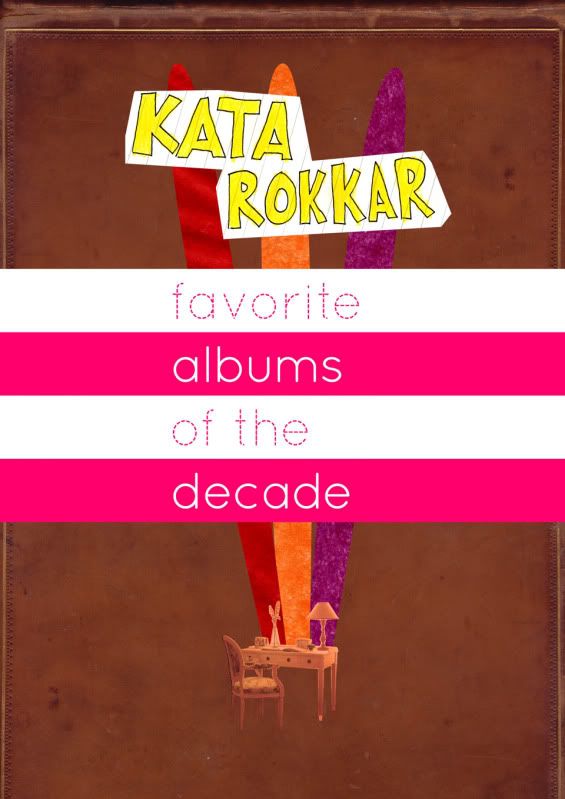 Like most people, I didn't exactly have the best taste of music right away. In fact it took a better part of this decade to figure out I needed to re-evaluate my tastes. I had to let go of my safety harnesses and start listening to music that wasn't in my comfort zone. A decade ago I was 16 yrs old…so back then I was listening to angry rock music and angry techno music. Basically I was listening to nothing but Deftones and Aphex Twin. While both amazing, no one can live solely on cheeseburgers and fries (as much as we'd like to).  Once I moved from my suburban hometown, I was introduced to artists and bands that spoke to me in ways I had never imagined. I bought endless back catalogs, practically lived in used CD stores, and discovered the joy of listening to music on vinyl. I found that the internet is an equally amazing tool to discover music as going to shows on a regular basis (also cheaper). This decade I found that I loved music so much that I wanted to tell everyone in world about what I had found. I created a website for friends to read, so that when they asked me about a band I liked I could refer them to it. The website turned into something way bigger than I ever expected. I've interviewed heroes of mine, gotten on guest lists of concert I would have payed twice the amount for, and more importantly, I've made good friends with people with amazing tastes in music. So here I am, telling you the albums that shaped my tastes over the years. I hope you enjoy and listen to these if you can. Lets hope for another amazing decade in music….
26. Minus The Bear – Highly Refined Pirates
Release Date: November 19, 2002
Label: Suicide Squeeze
"And then we all bought yachts!" That's what this album opens with; a hope for adventure and probably and endless income. I've always been a fan of math rock and perfected time signatures but I never thought it would morph into something as fun as this. If I could pick one album to be the soundtrack of a roadtrip it would be Highly Refined Pirates. Minus the Bear have since been perfecting that danceable and unique atmospheric rock sound their known for, but they have yet to even come close to the blue sky soundscapes and joyful lyrics (not to mention their ridiculously awesome track titles) of Highly Refined Pirates.
Audio clip: Adobe Flash Player (version 9 or above) is required to play this audio clip. Download the latest version here. You also need to have JavaScript enabled in your browser.

[mp3] Minus The Bear– Absinthe Party at the Fly Honey Warehouse from Highly Refined Pirates (2002)
25. Stars of the Lid –
And Their Refinement of the Decline
Release Date: April 7, 2007
Number of Discs: 2
Label: Kranky
I love film soundtracks and have since started listening to them again (Vangelis' Bladerunner Soundtrack = amazing). So when I finally picked up Stars of the Lid's And Their Refinement of the Decline, I was drowned in ambient movements that were the musical equivalent of trekking through a snow capped mountain side. The music is epic yet relaxing and requires the listener to release themselves from the world around them. However, the one track that really stuck out for me was Humectez La Mouture. The track samples from the 1986 French film Betty Blue (37°2 le matin) set a creepy atmosphere and it drones on like a foggy afternoon in a post apocalyptic landscape. It's very moving and releases so many emotions in five minutes and thirty one seconds. Ambient music is very difficult to perfect and I think Stars of the Lid have gone beyond that and have become the genre's Miles Davis.
Audio clip: Adobe Flash Player (version 9 or above) is required to play this audio clip. Download the latest version here. You also need to have JavaScript enabled in your browser.

[mp3] Stars of the Lid – Dungtitled (In A Major) from And Their Refinement of the Decline Disc 1 (2007)
24. Cage – Hell's Winter
Release Date: September 20, 2005
Label: Definitive Jux
Of all the hip-hop albums released this year, Cage's Hell's Winter was not the best, it was however, my favorite hip-hop album of the decade. It's mainly because this album is very personal and does not hold anything back. With production by mentor El-P, RJD2 and Blockhead and guest appearances by Jello Biafra, DJ Shadow, Aesop Rock, Daryl Palumbo (Glassjaw), James McNew (Yo La Tengo) and the late great Camu Tao, the album is a star studded and disturbing view into a man that has been through some pretty tough shit. While the album is lyrically troubling, it is equally fun to listen to.
Audio clip: Adobe Flash Player (version 9 or above) is required to play this audio clip. Download the latest version here. You also need to have JavaScript enabled in your browser.

[mp3] Cage – Perfect World from Hell's Winter (2005)
23. Bon Iver – For Emma, Forever Ago
Release Date: February 19, 2008
Label: Jagjaguwar
I threw this album up as #10 on my Best Albums of 2008 last year. In retrospect, it should have been #2 (you'll see what should have been #1). After carefully listening to this one for the past two years, For Emma has become one of the most important albums of not only the decade, but for me as well. It's fragile nature and depth of loneliness was easy to relate to  and reminded me of those cold New England nights I missed so much. Justin Veron's voice represents what I love about emotionally charged solo musicians; it's raw and a heart-achingly gorgeous record that sets the standard for delicate acoustic music.
Audio clip: Adobe Flash Player (version 9 or above) is required to play this audio clip. Download the latest version here. You also need to have JavaScript enabled in your browser.

[mp3] Bon Iver – Skinny Love from For Emma, Forever Ago (2008)
22. The Decemberists – Her Majesty
Release Date: September 9, 2003
Label: Kill Rock Stars
This album was the soundtrack to my long drive to work in Maine. It's whimsical lyrics and charming folk rock arrangements still make Her Majesty my favorite Decemberists album. While it was hard to pick a favorite Decemberists album (I love them all), this one holds a special place in my heart. When I tried to name off my favorite Decemberist songs (The Gymnast, High Above the Ground, The Soldiering Life, I Was Meant for the Stage), it became clear that Her Majesty was number one. It speaks off camaraderie, leaving someplace you love, and discovering exotic territory; lead singer Colin Meloy describes it all with intricate detail and soothing delivery.
Audio clip: Adobe Flash Player (version 9 or above) is required to play this audio clip. Download the latest version here. You also need to have JavaScript enabled in your browser.

[mp3] The Decemberists – The Gymnast, High Above the Ground from Her Majesty (2003)
21. M.I.A. – Arular
Release Date: May 17, 2005
Label: Interscope Records
Hated and loved by many, M.I.A. is undeniably talented. Before the Boyz and the Paper Planes, there was the masterpiece that is Arular. I can safely say that urban beats and politically charged lyrics never sounded so good. Arular is as ridiculously fun as it is ridiculously weird, but that's why it's such a perfect dance record. It was different from anything I had ever heard and I found joy in looking at people's faces when I forced them listen to it. Arular is now the blueprint for 21st century hip-hop and will be constantly referenced as an influence throughout the genres exciting evolution.
Audio clip: Adobe Flash Player (version 9 or above) is required to play this audio clip. Download the latest version here. You also need to have JavaScript enabled in your browser.

[mp3] M.I.A. – Fire Fire from Arular (2005)
20. Shearwater – Rook
Remember when I said Bon Iver should have been #2 on my Best of 2008 list? Well, meet #1. If this year could highlight one band that I was unabashedly obsessed with, it was Shearwater. Rook's heavy atmosphere and crushing instrumentation makes the record such an onslaught on the senses and a viciously haunting journey. Thanks to singer/ornithologist/ex-Okkervil River keyboard player Jonathan Meiburg, the album's bleak visuals come alive with his crooning and Nick Cave-influenced bellow. Rook is a cinematic masterpiece that is hypnotizing on execution.
Audio clip: Adobe Flash Player (version 9 or above) is required to play this audio clip. Download the latest version here. You also need to have JavaScript enabled in your browser.

[mp3] Shearwater – Leviathan, Bound from Rook (2008)
19. DJ Shadow – Private Press
Release Date: June 4, 2002
Label: MCA
From what I know, this supposedly angered people being that it wasn't Entroducing 2. It isn't exactly influential or remotely groundbreaking for electronic music. It is also easily his most accessible record. However, Private Press is massive, gorgeous, and humorous record. This record for me was a stress reliever and a relaxing yet fun work of art from one of the most respected and loved electronic artists. His imagination is translated onto the turntables and fiercely rocketed back to the listener.
Audio clip: Adobe Flash Player (version 9 or above) is required to play this audio clip. Download the latest version here. You also need to have JavaScript enabled in your browser.

Dj Shadow – Giving Up The Ghost from Private Press (2002)
18. At The Drive-In –
Relationship of Command
Release Date: September 12, 2000
Label: Virgin Records US
Once I hit the age of 18, I was done with punk music and disgusted with the mediocrity of what eventually became a plague of nu-metal bands. I needed something angry and revolutionary. I needed Relationship of Command. This flying side-kick to the throat of a record was worn out my the end of my senior year of high school and I had to eventually buy it again just to keep up with my high demand of pulsating post-hardcore punk rock. The song One Armed Scissor became the theme of my departure from adolescence and the will forever be known as the record that lifted me out of the boring genre of modern rock.
Audio clip: Adobe Flash Player (version 9 or above) is required to play this audio clip. Download the latest version here. You also need to have JavaScript enabled in your browser.

[mp3] At The Drive-In – Sleepwalk Capsules from Relationship of Command (2000)
17. Saul Williams – Saul Williams
Release Date: September 21, 2004
Label: Fader Label
You can try to classify his music but you'll just end up in circle. Each album he creates is a vicious attack on system and our sad state of entertainment and his self titled sophomore effort is no exception. With borderline industrial beats, a Prince-like confidence, and a razer sharp delivery of Chuck D from Public Enemy, Saul Williams instantly became not only one of my favorite musicians but a personal hero of mine. Whether it was speaking about the current state of hip-hop, sexual awakening, or the our inevitable self destruction, Saul made an album that is both inspiring and entertaining.
Audio clip: Adobe Flash Player (version 9 or above) is required to play this audio clip. Download the latest version here. You also need to have JavaScript enabled in your browser.

[mp3] Saul Williams – African Student Movement from Saul Williams (2004)
16. The Album Leaf – In A Safe Place
Release Date: June 22, 2004
Label: Sub Pop
The chilling and beautiful work of The Album Leaf is flawlessly displayed on his 2004 album, In A Safe Place. With the addition of vocals, In A Safe Place became a more personal record than previous efforts. Featuring vocals by The Black Heart Procession's Paul Jenkins, Sigur Ros' Jon Thor Birgisson, and Jimmy LaValle himself, tracks like Over the Pond and On Your Way come alive. In A Safe Place is meant to be listened to in a window seat on a plane hovering over the morphing Mid-West landscape. What are you waiting for? Get your ticket!
Audio clip: Adobe Flash Player (version 9 or above) is required to play this audio clip. Download the latest version here. You also need to have JavaScript enabled in your browser.

[mp3] The Album Leaf – Over The Pond from In A Safe Place (2004)
15. Cursive – The Ugly Organ

The brilliant concept and utter intensity of this record have been constantly referenced and replicated yet no one has even come close to it. Tim Kasher's self-loathing, tortured artist persona (?) on Ugly Organ mirrored the sacrifices that so many artists have gone through and still battle. The crushing guitars, moving cello (a welcome and missed addition), and fragile melodies went past their typical emo tag and transcended into an album that became the traveling artist's guide to "be careful what you wish for." I still like to rock out to this album and will continue to return to it's magic for a long time coming.
Audio clip: Adobe Flash Player (version 9 or above) is required to play this audio clip. Download the latest version here. You also need to have JavaScript enabled in your browser.

[mp3] Cursive – The Recluse from The Ugly Organ (2004)
14. Jeremy Enigk – World Waits
Release Date: October 16, 2006
Label: Reincarnate Music
This may confuse anyone that has been a fan of Sunny Day Real Estate and Jeremy Enigk. Mainly because this album at times seems overly dramatic and meaningful. Funny; because that may be why I like it. The album speaks of forgiveness, rebirth, and letting go so eloquently and effortlessly all thanks to the Peter Gabriel/Phil Collins vocal style of Enigk and it's chamber pop atmospheric instrumentation. This album entered my life in a time where I needed guidance and a voice to assist me in surviving the day-to-day. The very sound of World Waits still chokes me up and the crushing piano in Canons still reminds me of the feelings I felt when I was at my lowest. The is Enigk's masterpiece in my eyes and I can't thank him enough.
Audio clip: Adobe Flash Player (version 9 or above) is required to play this audio clip. Download the latest version here. You also need to have JavaScript enabled in your browser.

[mp3] Jeremy Enigk – World Waits from World Waits (2006)
13.
Explosions in the Sky – The Earth Is Not a Cold Dead Place
Release Date: November 4, 2003
Label: Temporary Residence
The grandeur of this record is undeniable. No wonder the filmmakers of Friday Night Lights wanted to feature the very music from Earth Is Not A Cold Dead Place to represent the weight and atmosphere of a West Texan high school football team's journey to state champion. Consisting of only 5-tracks, Explosions' second album is nothing short of breathtaking.  With bands like Mogwai and Godspeed You Black Emperor! dominating the instrumental music genre, this album came along and crushed everything anyone ever knew about orchestrated rock music. There are two kinds of instrumental music right now. Instrumental music before this record and instrumental music after this record. It will take a lot to change that.
Audio clip: Adobe Flash Player (version 9 or above) is required to play this audio clip. Download the latest version here. You also need to have JavaScript enabled in your browser.

[mp3] Explosions in the Sky – Your Hand in Mine from The Earth Is Not a Cold Dead Place (2003)
12. dredg – Leitmotif
Release Date: September 11, 2001
Label: Interscope Records
While people were gushing over how much Tool was changing the landscape of modern rock music, dredg already had them beat. Instead of mastering their masculinity, dredg built their debut record from the ground up with layer upon layer of full out tribal progressive rock music. Subtle, thoughtful, sober, they're a far cry from anything that had come out at the time. The concept is equally fascinating; the story focuses on a man visited by a spirit who tells him he has a moral disease and must travel the world on a quest for higher spirituality. If he succeeds, he will evolve; if he fails, he will die. Ultimately, the character learns to put faith in the religion found in the spiritual awakening of humankind, rather than buy into the religion of commerce and greed. The result of Leitmotif's exploratory, experimental union of music and text is a mystical sound odyssey [1].
Audio clip: Adobe Flash Player (version 9 or above) is required to play this audio clip. Download the latest version here. You also need to have JavaScript enabled in your browser.

[mp3] dredg – Traversing Through the Arctic Cold We Search for the Spirit of Yuta from Leitmotif (2001)
11. Radiohead – Kid A
Release Date: October 3, 2000
Label: Capitol
Where to begin? If any record could represent the progression of all types of intelligent and sophisticated music in the beginning the new millennium, it is Radiohead's Kid A. Thom Yorke was no longer known as the band's tortured soul of a frontman, but as an instrument in a whirlwind of electronic soundscapes and mountain size songs. How can a band reinvent themselves so eloquently and drastically over and over and still remain one of the best bands in the world? When this album was released, nothing even remotely sounded like it, forcing listeners to surrender to it's genius. It still stands as one of the most influential records of all time and one I will admire forever.
Audio clip: Adobe Flash Player (version 9 or above) is required to play this audio clip. Download the latest version here. You also need to have JavaScript enabled in your browser.

Radiohead – How to Disappear Completely from Kid A (2000)
10. The Arcade Fire – Funeral
Release Date: September 14, 2004
Label: Merge Records
I feel like a kid again whenever I hear this record. It's innocence and blind love for adventure is as admirable as the album's lush dreamscapes and romantic arrangements. Listening to Funeral is like entering another realm where freedom of expression is not an idealistic fantasy, but a sweet reality. If I ever feel pessimistic or depressed, this record is like a best friend telling me exactly what I need to hear. Plus they created the blueprint to 'popular indie music' and everyone else is trying to catch up.
Audio clip: Adobe Flash Player (version 9 or above) is required to play this audio clip. Download the latest version here. You also need to have JavaScript enabled in your browser.

[mp3] The Arcade Fire – Une Annee Sans Lumiere from Funeral (2004)
9. Radiohead – In Rainbows
Release Date: January 1, 2008
Label: Ato Records / Red
Not only will the distribution method go down in history, but the record is proof that bands cannot be washed up as long as they never lose the spirit of why they love playing music in the first place. Just as Kid A was a revolutionary step toward modern experimental electronic music, In Rainbows was a step toward accessibly creating moving and inviting electronic rock music. While less experimental than previous records and more daring than some predicated, the album was simple and haunting in execution. Tracks like Reckoner, House of Cards, and All I Need remain some of my favorite songs of all time and reach a level of artistic perfection that will be difficult to match in the coming future.
Audio clip: Adobe Flash Player (version 9 or above) is required to play this audio clip. Download the latest version here. You also need to have JavaScript enabled in your browser.

[mp3] Radiohead – All I Need from In Rainbows (2008)
8. Sean Hayes – Alabama Chicken
Release Date: September 8, 2003
Label: Self Released
When you listen to the first track off Alabama Chicken, it is required that you close your eyes and imagine a moonlit field with fireflies swarming around you. For the next track, a sunrise drive in the back of an old truck with an overweight dog and a few fishing poles. You get the idea. Each track from Sean Hayes' Alabama Chicken is an accurate soundtrack to laid back country life and Northern California landscapes. My discovery of Sean came through a late Jolie Holland (a guest on the album) show in mid-2005 at the Great American Music Hall. I was mesmerized by his naturally earthy voice and his closeness with rhythm and melody. From the sunny slow drive of Diamond in the Sun to the outdoor dance tune Rattlesnake Charm (Dream Machine), Alabama Chicken is a record that relaxes the soul. Let go and listen.
Audio clip: Adobe Flash Player (version 9 or above) is required to play this audio clip. Download the latest version here. You also need to have JavaScript enabled in your browser.

[mp3] Sean Hayes – Diamond in the Sun from Alabama Chicken (2003)
7. Sufjan Stevens – Illinois
Release Date: July 5, 2005
Label: Asthmatic Kitty
This enormous record is an exhausting listen and even frightening that one person could create such a monumental album. The unmistakable instrumentation, charming choruses,  fragile voice, and immensely complex arrangements surround Illinois and make it one of the most admirable records of the decade. It was a symbol of the lack of limitations you had to make an addictive record. Cynics called the album gimmicky, utter hipster trash, long, weird, and kind of wussy. But it is without a doubt one of the most gorgeous records of all time.
Audio clip: Adobe Flash Player (version 9 or above) is required to play this audio clip. Download the latest version here. You also need to have JavaScript enabled in your browser.

[mp3] Sufjan Stevens – Chicago from Illinois (2005)
6. The Mars Volta –
De-Loused in the Comatorium
Release Date: June 24, 2003
Label: Umvd Labels
As an obvious fan of At The Drive-In, I was devastated when the band called it quits and went their separate ways. So when I found myself at a special listening party at the Museum of Science in Boston, seated in their famous Charles Hayden Planetarium to hear De-Loused in the Comatorium a week before it's release, I honestly had doubts. Until the lights dimmed and the music started. I left the building that day a changed man. I felt every Bad Brains, Floyd and Zeppelin album I loved destroyed and molded into a juggernaut of a record. The monstrous drums, the perfected time signatures, and it's universe of jagged funk intensity still lives as fresh as it did the day I first listened to it. I don't have many records I can listen to on repeat for months on end. They have yet to replicate the epic nature of this record (probably because they stopped doing drugs), but at least it still translates well live.
Audio clip: Adobe Flash Player (version 9 or above) is required to play this audio clip. Download the latest version here. You also need to have JavaScript enabled in your browser.

[mp3] The Mars Volta – Drunkship of Lanterns from De-Loused in the Comatorium (2003)
5. onelinedrawing – Visitor
Release Date: May 14, 2002
Label: Jade Tree
Jonah Matranga is a complex human being. That may be quite an understatement but with dozens of bands, records, and brilliant and inane ideas, Jonah seems to never stop moving. However, of all his projects though, Jonah struck gold with his most personal and free spirited record of his seemingly endless career. Visitor tugs at the heart and at the same time lifts you up all with a short 40 minutes. The is heartfelt songwriting at it's best; aerial, graceful, and intensely emotional. His voice echoes across bedroom walls and into ears that know betrayal, loss, lust, and joy in something as simple as a smile.
Audio clip: Adobe Flash Player (version 9 or above) is required to play this audio clip. Download the latest version here. You also need to have JavaScript enabled in your browser.

[mp3] onelinedrawing– Softbelly from Visitor (2002)
4. The One AM Radio – A Name Writ In Water
Release Date: April 19, 2004
Label: Level Plane
I found out about One AM Radio in a pretty interesting way. It was a cold day at a Boston University coffee-shop and this skinny jeaned hipster-zilla making cappuccinos put on A Name Writ In Water and I did something I hadn't normally done at that time, I asked him who he was playing. Since then, the album has become one of my favorites, due to it's melancholy and gray atmospheric beats. Hrishikesh Hirway knows he emotion of leave-less trees and abandoned buildings. He knows how to represent tranquility with vocal harmonies, carefully plucked guitars, and Brain Eno simplicity. This album is must be heard during a rainy drive through forests of New Hampshire or on a deck watching a passing thunderstorm. Nice headphones required.
Audio clip: Adobe Flash Player (version 9 or above) is required to play this audio clip. Download the latest version here. You also need to have JavaScript enabled in your browser.

[mp3] The One AM Radio – Untied from A Name Writ In Water (2004)
3.
Sigur Rós
–
Ágætis Byrjun
Release Date: May 22, 2000 (Reissued)
Label: Play It Again Sam
Think about it, have you ever heard anything like this album? Ágætis Byrjun is like some sort of alien-like transmission to Earth, letting us know they come in peace. It's disarming and otherworldly sound blooms with full orchestras, deeply ambient soundscapes and angelic vocals from frontman Jon Por Birgisson singing in a language that Sigur Rós dub "Hopelandic"–an otherworldly mutation of Icelandic. When playing guitar with a violin bow was out of this world and groundbreaking, Sigur Rós captured the hearts of legions of music lovers with this majestic and hope filled album.
Audio clip: Adobe Flash Player (version 9 or above) is required to play this audio clip. Download the latest version here. You also need to have JavaScript enabled in your browser.

[mp3] Sigur Rós – Starálfur from Ágætis Byrjun (2000)
2. dredg – El Cielo
Release Date: October 8, 2002
Label: Interscope Records
Unfairly underrated, El Cielo is a moving masterpiece that flows together gracefully and takes off with epic grandeur. Repeatedly layered with a plethora of instruments and jazz-like drumming, El Cielo accurately presents the soundtrack to sleep paralysis and lucid dreaming. The concept of the album follows the theory of dreaming and the subconscious; like what is more real? Our dream-state or when we are 'awake'? Inspired by the Salvador Dali painting, Dream Caused By The Flight Of A Bee Around A Pomegranate One Second Before Awakening, the album does an excellent job at representing the chaos and confusion of the piece. It's whirling guitar work mixed with organs, crackling tape, echoing vocals, and calming instrumental interludes, dredg's sophomore effort is by far their best work yet and a chillingly beautiful record.
Audio clip: Adobe Flash Player (version 9 or above) is required to play this audio clip. Download the latest version here. You also need to have JavaScript enabled in your browser.

[mp3] dredg – Whoa Is Me from El Cielo (2002)
1.
Björk – Vespertine
Release Date: August 28, 2001
Label: Elektra
What did you expect? The freaking website is named after a Björk song! This album completely threw me off and became the only record to ever get me choked up. Björk herself is already an elemental being in the world of music, so when she decided to make her most personal record to date, it was no surprise that what came out of it was an album alive with emotion and deep intimacy. Enlisting the work of the likes of Matmos, jazz composer/arranger Vince Mendoza, and harp virtuoso Zeena Parkins, Vespertine became a rich and oceanic record that pushed the boundaries of both electronic and pop music. You can feel the snow blowing through your clothes with Aurora, the unconditional love of Harm Of Will, and the will to sacrifice with my favorite love song (EVER!) Unison. Björk showed me another world of music that I never knew existed. Her voice carried me out off my little bubble of a mind and showed me how passionate a musician can be and what it's like to translate that flawlessly on a record. I love this album so much and it is my favorite of the decade.
Audio clip: Adobe Flash Player (version 9 or above) is required to play this audio clip. Download the latest version here. You also need to have JavaScript enabled in your browser.

[mp3] Björk – Sun In My Mouth from Vespertine (2001)