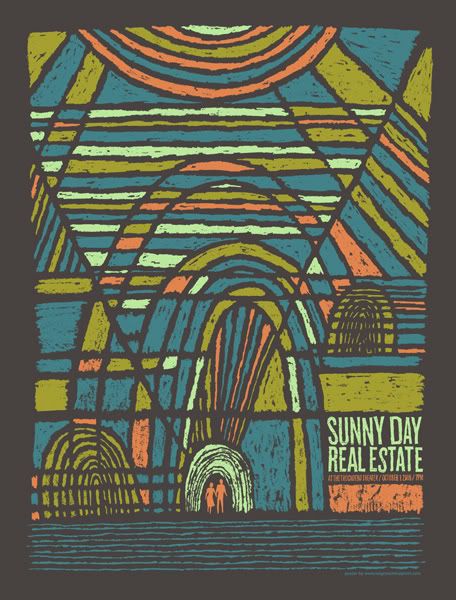 I had a nice little trip out to NY, saw family & friends, caught an improv show in the city (Magnet Theater….it was hilarious) and saw Paranormal Activity (It did what it was supposed to…scare the fuck out of me). Now it's back to business…
No Kuestionnaire today, I just back yesterday and barely had time to piece one together, but I'll make that up for you this weekend as we will be getting exclusive access to the Treasure Island Festival! So expect some surprises and awesome 'treasures' to come your way.
I don't know what happened this past weekend in the Bay…I'm kind of out of the loop on that. But I am aware that Vampire Weekend will be doing a gig in Lafayette at the Lafayette Town Hall Theatre [weird]. Get tickets as soon as you can and if you haven't already heard their new tune, Horchata, it's downloadable from here.
I listened to mostly the new Karen O / Where The Wild Things Are Soundtrack, new Flaming Lips, and the Sunny Day Real Estate re-releases on vacation and all have made my trip all the more relaxing. More on that this week…
And now…your 'To See' list…
Today! Sunny Day Fucking Real Estate at The Fillmore! With Jealous Sound nonetheless! I've been sneaking a peak at the setlists and they do not disappoint. If you're missing out one a Kuestionnaire, read our short and informationless Kuestionnaire with lead vocalist Jeremy Enigk from last year. Also happening is Junior Boys at the Mezzanine, The Pogues, DeVotchKa, Zander Schloss and Sean Wheeler at The Warfield, and A Wilhelm Scream, The Riot Before, Living With Lions and Heartsounds at Thee Parkside.
Wednesday, Great Lake Swimmers, Laura Gibson and The Wooden Birds grace The Great American Music Hall and These Arms Are Snakes, dd/mm/yyyy and Glaciers rock out at the Bottom of the Hill.
Thursday, Say Anything, Eisley, Moneen and Moving Mountains play Slim's, Gogol Bordello and Apostle of Hustle play The Fox Theater, Moby will be at The Warfield, and doom metalers Nadja rock Oakland's Terminal.
Friday, Brand New do an acoustic set at San Fran's Rasputin Music at 4pm and then go to the San Jose State Event Center Arena with Manchester Orchestra and The Builders and the Butchers, Butthole Surfers and Melvins play the Grand Regency Ballroom, hardcore terrors HORSE the band take on San Jose's PBSJ, and Nellie McKay & The Aristocrats do Yoshi's San Francisco.
Saturday, Treasure Island Festival takes over the night scene as well with Dan Deacon, Edward Sharpe & The Magnetic Zeros, Teeth Mountain, Nuclear Power Pants, and DJ Aaron Axelson at the Mezzanine and A Place To Bury Strangers plus These Are Powers, All The Saints, and Geographer at The Independent. More info here.
Also on Saturday, WHY? with Mount Eerie, Au and Serengetti & Polyphonic at The Great American Music Hall and Conor Oberst, Mike Mogis, M. Ward, and Jim James (aka Yim Yames) also known as Monsters of Folk do The Fox Theater.
Sunday, stylish synthpoper La Roux plays The Great American Music Hall and Straylight Run does the Rickshaw Stop.
Lots to do if you didn't get your Treasure Island tickets in time. Have fun!
Sunny Day Real Estate –
Seven from Diary (2009 Edition)
Laura Gibson –
Come By Storm (Hinah Session) from hinah session (2007)
dd/mm/yyyy –
White Lines from Are They Masks? (2008)
These Arms Are Snakes –
Horse Girl from Easter (2006)
Nadja –
One Hundred Years [The Cure Cover] from The Cure's Pornography (2008)