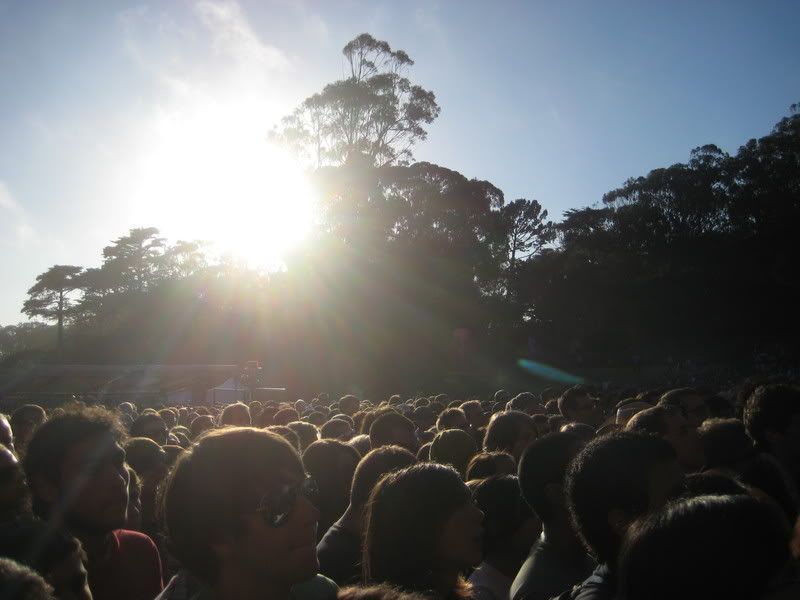 Day Three of the Outside Lands Festival involved no running around at all. I just stayed at the Twin Peaks Stage all day long to watch act after act perform wonderfully. I arrived early like I have for the rest of the days, however there seemed to be little more people than I expected this morning.
The first act of the day was ALO, or Animal Liberation Orchestra. A surfer rock band that has your typical happy-go-lucky lyrics about being true to yourself and all that sappy shit. I didn't dig'em, but the meathead "bros" loved them to death. Surfer Rock is catnip for meatheads. They love it! Jack Johnson, Ben Harper, Dispatch, G. Love, etc etc. They have a monster hard-on for surfer rock. One of the "bros" even had a t-shirt that said, "Do You Like My Pecs?" Lots of "Woos!" and "Yeahs!" coming from them. If you know what I mean.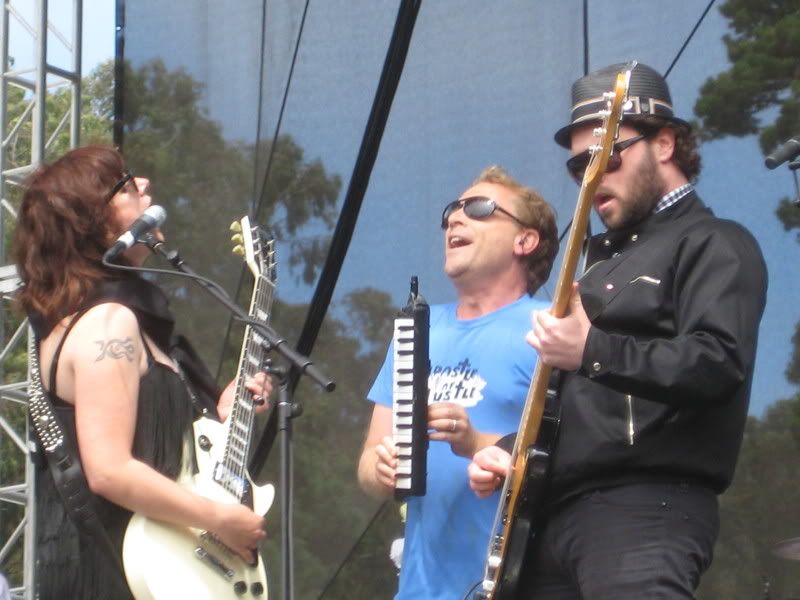 Stars is that special kind of band. They play like a band that have been together for decades. There seems to be some sort of camaraderie when they play together. Plus Amy Millan is cute as all hell. This Canadian indie-pop band played songs from Heart, Set Yourself on Fire, and last year's In Our Bedroom After the War. They were also chucking flowers into the crowd in between songs. It was quite a fun show.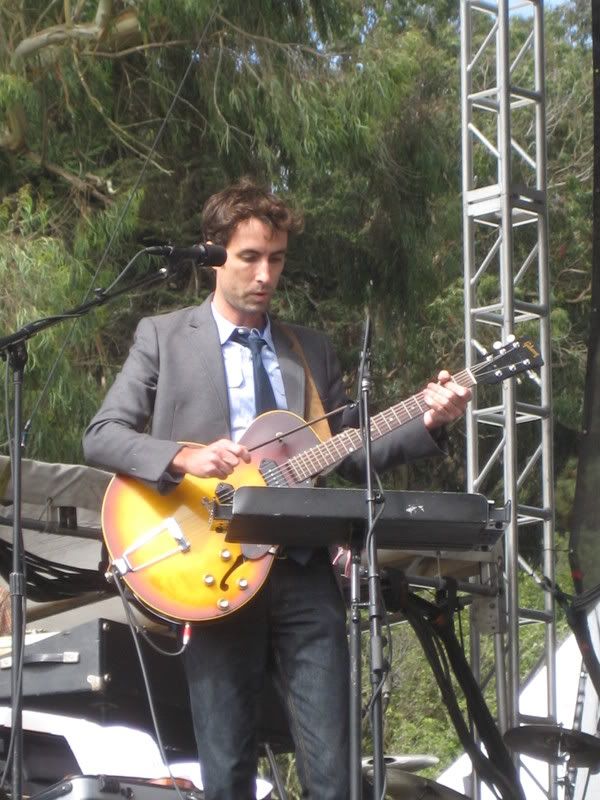 Now, I love Andrew Bird. I love his records and his brand of jazzy neo-folk. But I had never seen him live before this day. Freakin' Wow! This guy is talented far beyond the conventional singer-songwriter. Not only does he play nearly every instrument on stage but he can also whistle like nobodies buisness. While he plays the violin, guitar, and xylophone. If he swings by your town, don't miss him. His records don't do him any justice, you need to see this guy live.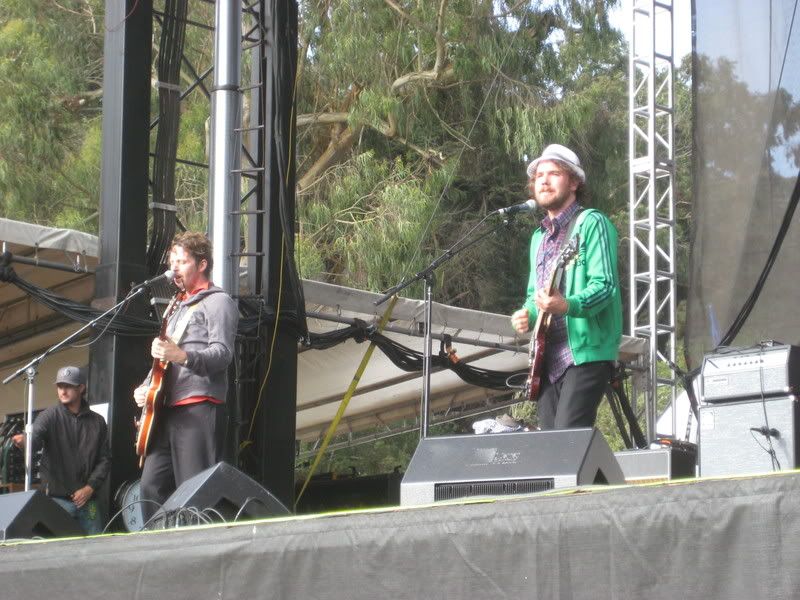 Broken Social Scene was always that type of band I liked but never bothered to check out their live shows. So I figured now was my opportunity to see them in all their glory. They did not disappoint. Kevin Drew, Brendan Canning and their band of misfits look like they are having way too much fun up there. There were times where you'd have up to 15 people on stage playing trumpets, trombones, five guitars, and all sorts of percussion instruments. There aren't that many bands like this out there.
After talking with what seemed like the biggest Wilco and Jeff Tweedy fan on the planet, I had high expectations for Wilco's performance. Well it was nothing short of brilliant. The whole band is such a genuine and likable group of guys who are extremely talented. Mr. Tweedy's songwriting and Nels Cline's master guitar work made this live performance a massive highlight at this festival for me and probably everyone else lucky enough to catch the magic of Wilco.
Jack Johnson, or like my friend calls him, Jack-Off Johnson; was okay. I guess. I honestly wasn't paying much attention except when I was on line for an Angus burger. I took the opportunity to wander around the festival grounds one last time and see the shops and artwork that people had displayed. I bought myself a neat little Obama T-shirt that say "Forward" on it. Seems appropriate. Particularly with his recent Joe Biden pick. Anyway, I listened to a few of Jack's songs that I recognized. Then I left to hang out with my friends who lived nearby.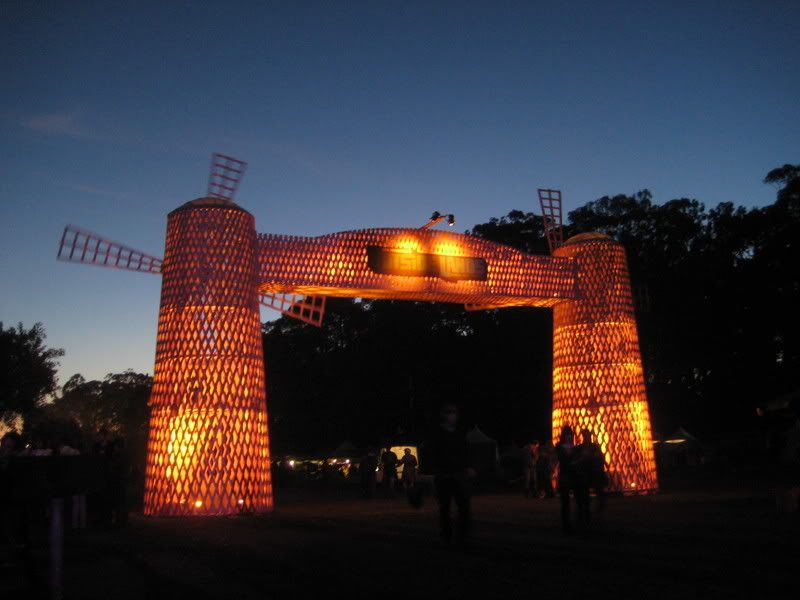 Well that's it. It was definitely the best festival I've ever been to. However I've only been to a handful. I did have to miss Kaki King, Sean Hayes, Little Brother, Beck, Cool Kids, and M. Ward. But all these acts will be around here soon enough. I mean come on, I live in the Bay Area for Christ's sake! One of the best music scenes on the planet. And this festival proved that fact.
Wilco – Jesus, Etc
Andrew Bird – First Song (Live)
Stars – The First Five Times
ALO -Lady Loop